Interest

Zombie Land Saga's Undead Idols Appear in Rolling Stone Japan Magazine

posted on by Karen Ressler
The girls of Franchouchou are making their debut on a cover of Rolling Stone!... Sort of. Zombie Land Saga's Sakura, Saki, and Lily feature on a bonus poster, designed to look like a magazine cover, that will bundle with Rolling Stone Japan vol.5.

The poster accompanies a feature on the Zombie Land Saga anime, which Rolling Stone Japan refers to as "this seasons anime dark horse." The feature will include an interview with voice actors Kaede Hondo (Sakura), Asami Tano (Saki), Minami Tanaka (Lily), and Mamoru Miyano (Kotaro).
Rolling Stone Japan vol.5. will ship on December 25. The actual cover will feature RADWIMPS, the band behind the music in Makoto Shinkai's anime film your name.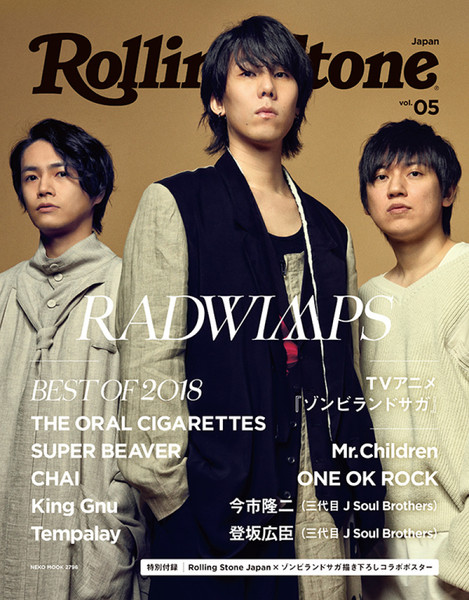 Zombie Land Saga follows Sakura Minamoto, who dreams of being an idol, but is hit by a car and wakes up as a zombie. A man named Kōtarō Tatsumi appears and tells her he's recruiting her into an idol group made up of zombies, dead girls he has "recruited" from several eras of Japanese history.
The anime premiered on October 4. Crunchyroll is streaming the series as it airs in Japan, and Funimation is streaming an English dub.
Munehisa Sakai (One Piece Film Strong World, Suite Precure, Sailor Moon Crystal) is directing the anime at MAPPA. "Kōhōkōchōka Zombie-gakari" (PR Zombie) is credited for the original work. Shigeru Murakoshi (Kakegurui, Garo -Vanishing Line- epsisode scripts) is in charge of series composition. Kasumi Fukagawa (Persona 3 the Movie #1 Spring of Birth assistant animation director) is designing the characters, Kazuo Ogura is the art director, Takashi Yanagida is the director of photography, and Masahiro Goto is the editor. Azusa Sasaki is in charge of color design, and Yasuharu Takanashi is composing the music. Avex Pictures is credited for music production, while dugout is credited for sound production.
Source: Rolling Stone Japan
---