News

Shueisha to Launch Super Strong Jump Mag for Kids

posted on by Egan Loo
---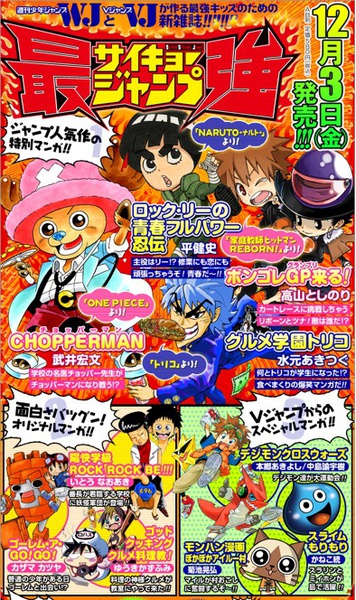 The Japanese publisher Shueisha will be launching a new magazine called Super Strong Jump (Saikyō Jump) "for the most powerful kids" on December 3. The magazine will contain special manga spinoffs from four popular series that run in Weekly Shonen Jump magazine:
Rock Lee no Seishun Full-Power Ninden (from Naruto) by Kenji Taira
Chopperman (from One Piece) by Hirofumi Takei
Vongola GP (Grand Prix) Kuru! (from Katekyo Hitman Reborn) by Toshinori Takayama
Gourmet Gakuen Toriko (from Toriko) by Akitsugu Mizumoto
The magazine will also have three special manga from the video-game/manga magazine V Jump:
Digimon Xros Wars by Akiyoshi Hongo/Yuuki Nakashima
Slime MoriMori (from Dragon Quest) by Osamu Kaneko
MonHun Manga PokaPoka Airū-mura (from Monster Hunter) by Akihiro Kikuchi
Finally, the manga will have three original manga:
Yōkai Gakkyū Rock Rock Be!!! by Naoaki Itō
An army of supernatural creatures appears at a school ruled by a gang leader
God Cooking Gourmet Ryōri-Kyō! by Kazufumi Yūki
Divine gourmet cuisine in the classroom
Golem a Go! Go! by Katsuya Kazama
An ordinary boy encounters a golem one day
The December 3 issue will include five bonus cards from popular card games and a special poster from a popular work. More details will be provided in Weekly Shonen Jump and V Jump.
Thanks to Liam for the news tip.
---