News

Akame ga KILL! TV Anime's Supporting Cast, Staff Unveiled

posted on by Lynzee Loveridge
Yuu Asakawa, Souma Saitou, Katsuyuki Konishi, Yukari Tamura, Risa Mizuno, Mamiko Noto join cast
---

The June issue of Square Enix's Gangan Joker magazine is announcing the supporting cast and staff for the Akame ga Kill television anime on Thursday.
The series will star:
Yuu Asakawa (Fate/stay night, Ikki Tousen) as Leone
Souma Saitou (Haikyu!!) as Tatsumi
Katsuyuki Konishi (Kill la Kill, Silver Spoon) as Braht
Yukari Tamura (Kill la Kill, Steins;Gate) as Mein
Risa Mizuno (Nura: Rise of the Yokai Clan: Demon Capital, Gunslinger Girl: Il Teatrino) as Najenda
Mamiko Noto (Lagrange - The Flower of Rin-ne, Freezing) as Schere
Satomi Akesaka (Wake Up, Girls, Suzuka) as Esdese
Yoshitsugu Matsuoka (Sword Art Online, No Game, No Life) as Rabac
Sora Amamiya (THE [email protected] MOVIE: Kagayaki no Mukōgawa e!'s Shiho, One Week Friends' Kaori) will play the role of heroine Akame in White Fox's television anime of Takahiro and Tetsuya Tashiro's Akame ga Kill! manga. Amamiya will also perform the series' opening theme, and Miku Sawai is performing the ending theme.
The dark action fantasy manga follows the title character, Akame, a girl who was bought, and raised by the Empire as an assassin. After meeting Akame, a boy named Tatsumi vows to stand up to the evil of the corrupt Empire with the secret assassin group Night Raid and special weapons known as Teigu.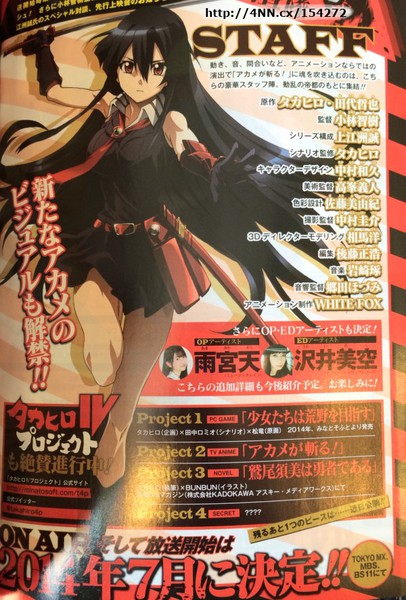 Tomoki Kobayashi (Tears to Tiara, Sola) is directing the anime, and Makoto Uezu (Danganronpa The Animation, Qwaser of Stigmata) is in charge of the series scripts with original creator Takahiro supervising the scenario. Kazuhisa Nakamura ( Jormungand) is designing the characters, and Taku Iwasaki ( Black Butler, JoJo's Bizarre Adventure, Gatchaman Crowds) is composing the music.
Additional staff includes:
Art Director: Yoshito Takamine
Color Design: Miyuki Sato
Director of Photography: Keisuke Nakamura
3D Director, Modeling: Hiroshi Souma
Editing: Masahiro Goto
Sound Director: Hozumi Goda
The series will premiere on Tokyo MX TV, MBS, and BS11 television stations in July.
The manga began in Square Enix's Monthly Gangan Joker magazine in 2010, and the ninth compiled volume of the manga shipped in January. Takahiro launched the Akame ga KILL! Zero prequel with artist Kei Toru in Square Enix's Big Gangan magazine last October.
Esdese cast member added, thanks Takeshi13
---