News

One Piece Film Gold Earns 4.8 Billion Yen After 37 Days

posted on by Rafael Antonio Pineda
Film opened on July 23, has since sold 3,582,115 tickets
---
As of Sunday, the One Piece Film Gold movie has earned 4,778,856,000 yen (about US$46.02 million) and sold 3,582,115 tickets in the 37 days since its opening on July 23. Toei is projecting that One Piece Film Gold will earn more than 6 billion yen (about US$56 million).
Starting on September 3, participating theaters will begin handing out an A5 illustration card (seen below) with original illustration by Eiichiro Oda, and signed by 15 cast members.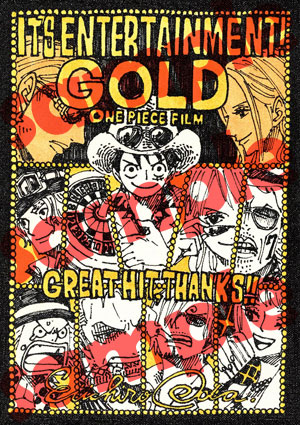 Japanese entertainment company T-Joy held screenings of the film with English and Chinese subtitles in five Japanese cities from July 23 to August 5. The film also has 3D, 4DX, and MX4D screenings.

Kazuhiro Yamaji (Kamen Rider Blade's Kei Karasuma, Psycho-Pass' Jouji Saiga, One Piece's Senor Pink) guest stars in the film as the main antagonist Gild Tesoro (pictured far left in image at right). Gild Tesoro a casino king who controls the huge golden ship Gran Tesoro. He is a devil fruit user who ate the "Gol Gol fruit." He is an extremely rich man who is said to possess 20% of the monetary "Beli" that exist in the world.
Hikari Mitsushima as Carina, a popular and mysterious songstress in Gild Tesoro's crew, with ties to Nami's past.


Gaku Hamada as Mr. Tanaka, a devil fruit user who ate the "nuke nuke" fruit. With his secretive devil fruit powers he is in charge of Gran Tesoro's internal security.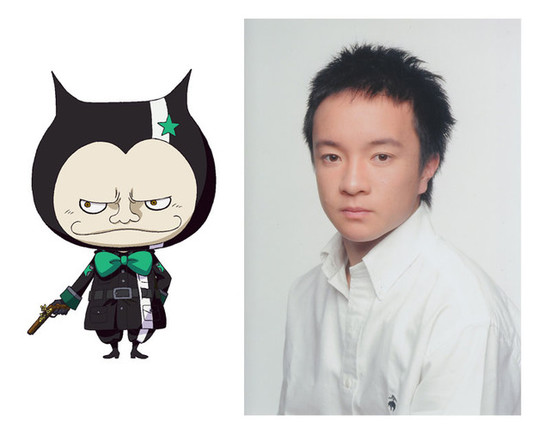 Nanao as Baccarat, a devil fruit user who ate the "lucky lucky" fruit. When she touches someone, their luck changes. She is a mysterious and elegant woman who acts as an escort for the Straw Hat pirates. She is Gran Tesoro's concierge who attends to VIPs visiting the area.


Kinya Kitaōji as Reizu Max, a famous gambler who is actually a key figure in the Revolutionary Army.


Comedian Kendo Kobayashi as Dice, a gigantic card dealer and part of Gild Tesoro's crew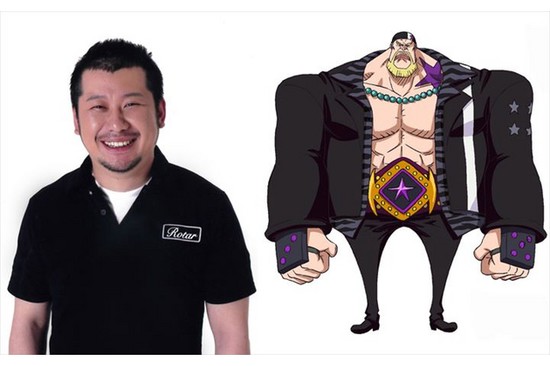 Actor Arata Furuta as Kent Beef Jr. and Pork, two partners who compete in the turtle car race with Luffy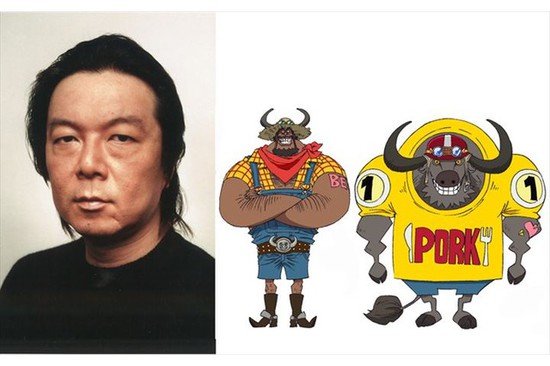 Comedian Korokke as Jimmy Myers, another turtle car racer, and the Red Eyed Owls that cry out when intruders are detected


Comedian Nadaru as Morkin, a member of the Long Long Pirates who attack the Straw Hat Pirates



Original manga creator Eiichiro Oda served as the film's executive producer as well as being credited with the original work. Oda also served as the executive producer for the previous film in the franchise, One Piece Film Z. Additionally, Oda designed the various new costumes for the Straw Hat crew for the film, drew the rough drafts for the new characters, and also drew the film's first visual (pictured at left).
Hiroaki Miyamoto (One Piece episodes 352-679, assistant director for One Piece: Baron Omatsuri and the Secret Island) directed the film, and Tsutomu Kuroiwa (live-action Black Butler film, live-action Liar Game: The Final Stage film, live-action The Perfect Insider TV series) wrote the script. Masayuki Sato designed the characters for animation, and also served as chief animation director. Kazuo Ogura is the art director, while Nobuhito Sue is credited for art setting.
Source: Animate Times
---