Otakon Vegas Welcomes Prolific Voice Actor and Director Jamie Marchi
Las Vegas, NV (December 24, 2013) – We are pleased to welcome Voice Actor and Director Jamie Marchi to Otakon Vegas' first show.

Jamie Marchi is the voice behind the Witchblade (Masane Amaha) from Witchblade, large and in charge Ellie from Borderlands II, and the lovably filthy Panty from Panty and Stocking with Garterbelt.

Some of her other popular voice roles are from Soul Eater (Liz), Hetalia (Narrator), Deadman Wonderland (Karako), Sgt. Frog (Aki), Shin Chan (Miss Polly), YuYu Hakusho (Juri), Fruits Basket (Motoko), High School DxD (Rias), Fairy Tail (Cana), Black Cat (Rinslet), Spice and Wolf (Chloe), Tenchi Muyo: War on Geminar (Mexiah), Rin (Mimi), Blassreiter (Amanda), Negima (Haruna), Burst Angel (Meg), Claymore (Helen), One Piece (Miss Valentine), Ouran (Chizuru), Strike Witches (Shirley), Freezing (Rana), Sekirei (Uzume), Legend of the Legendary Heroes (Milk), Baka and Test (Shouko), as well as Heaven's Lost Property (the unforgettable Mikako Satsukitane).

Jamie's behind the scene experience adapting scripts include: Space Dandy, Panty and Stocking, Hetalia(s), Spice and Wolf(s), Sgt. Frog(s), Yamada's First Time, Baka and Test(s), High School DxD, Blood-C, Oh! Edo Rocket, Tenchi Muyo: War on Geminar, Strike Witches, and Negima?! amongst others. She's also directed Hetalia (Season 3), Spice and Wolf, Sgt. Frog and Negima?!.

Otakon Vegas 2014 will be held January 3-5 at the Planet Hollywood Casino in Las Vegas, NV.

ABOUT OTAKON VEGAS AND OTAKORP, INC.: Otakon Vegas is the first annual celebration of Japanese and East Asian popular culture presented by Otakorp in Las Vegas, Nevada. Otakon Vegas celebrates popular culture as a gateway to deeper understanding of Asian culture. Otakon Vegas is a ticket based convention sponsored by Otakorp, Inc., a Pennsylvania-based 501(c)3 educational non-profit whose mission is to promote the appreciation of Asian culture, primarily through its media and entertainment. Otakorp, Inc. is directed by an all-volunteer, unpaid staff – we are run by fans, for fans.

For more information about Otakorp, Inc., see http://www.otakon.com/otakorp/index.asp
For more information and the latest news on Otakon Vegas 2014, see http://www.otakonvegas.com/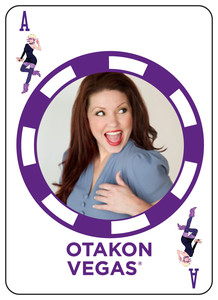 ---
this article has been modified since it was originally posted; see change history