×
remind me tomorrow
remind me next week
never remind me
Subscribe to the ANN Newsletter • Wake up every Sunday to a curated list of ANN's most interesting posts of the week.
read more
Tankobon Tower
Groundhog Day Goodness
by Allen Divers,
When last we met, I only managed to put a list together of the best titles for the month. In an attempt to achieve some form of normality around here, I'm back to the standard format of Buy It, Borrow It and Bury It. I've also managed to grab a couple of honorable mentions that aren't really in the manga category. Also, I've read your feedback so I'll try to include some plot details without giving away the big surprises. I always try to avoid spoilers, but ye be warned!
So for the first week in February, let's see what's out there!
---
Buy it!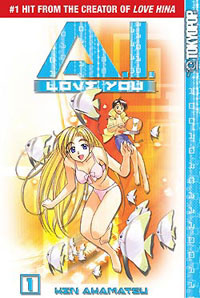 A.I. Love You Vol 1
Released by TOKYOPOP
Story & Art by Ken Akamatsu
$9.99 U.S.

Ken Akamatsu fans rejoice! While many of you are probably waiting for Del Rey's release of Mahou Sensei Negima!, you can get your geek buzz on with A.I. Love You. Ok, so it's not exactly the most original story around; geeky guy, poor in sports and academics creates a girlfriend on his computer. He promises her that should she ever become a Real Girl, he'll be her boyfriend. Well, since it wouldn't be much of a story otherwise, guess who pops out of the computer. While the story is a bit predictable, the artwork and the fun story are what help make this a classic Ken Akamatsu story. It's still quite heavy on the fan service, the obvious pleaser for the guys, it's also a simple love story that can keep the ladies happy as well.


Alien Nine Emulators Vol 01
Released by Central Park Media
Story & Art by Hitoshi Tomizawa
$9.99 U.S.

The girl's have managed to survive sixth grade, and now it's on to middle school. With weirdness becoming the norm, the girl's face a new challenge when they meet another girl hosting an alien. Is she a threat? You'll just have to read it and find out. Alien Nine is a series that manages to keep you guessing and wondering, what else can they possible do to these little girls? The first series proved to be a very radical story and this new series is looking to top the amount of grief it can cause the girls. For those following the anime, you'll have a bit of understanding as to what is going on, but its best to pick up the first three novels first. Alien Nine has been one of the most unpredictable coming of age stories I've seen in a long time. Its plot is sure to keep you on the edge of your seat.


Yū Yū Hakusho Vol 3
Released by VIZ
Story & Art by Yoshihiro Togashi
$7.95 U.S.

Yusuke has finally managed to pass his trials and head back to his body and return to a normal life. Koenma has a slightly different plan for him as three demons have made their escape from the other world and now threaten the world of the living. While the story is heading into the storylines that the anime jumped into, it still manages to carry a certain amount of charm that only the manga can provide. The stories remain witty and the artwork remains solid as we follow Yusuke through his latest trial. At this point, the manga is beginning to take on the form of many other fighting series with new and more powerful villains showing up each week to cause havoc. If you enjoy this kind of thing, best to jump on now as these stories set the standard that the rest of the series will follow.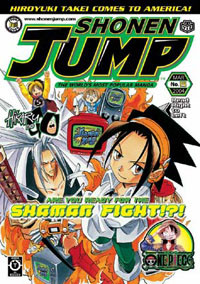 Shonen Jump #15
Released by VIZ
Monthly Anthology
$4.99 U.S.

With Hikaru no Go premiering last month, Shonen Jump is moving away a bit from the hack and slash style series that marked its beginning. While fans were thinking that the more action packed Rurouni Kenshin would take over the slot from Akira Toriyama's Sand Land, Hikaru no Go is moving quickly to establish itself with the other heavy hitters of the Shonen Jump anthology. Hopefully Viz will take notice of the popularity of Hikaru no Go and take more chances in the future with the mix of series. Not everything needs to be a Dragon Ball clone. With the new series running well, Shonen Jump remains one of the best anthologies in the North American market. As for the rest of the titles this month, they are all in the middle of major story arcs. Fans of Shaman King also get a nice extra in the form of an interview with Hiroyuki Takei. Viz continues to pack in value with a nice slew of extras and feature columns, helping to draw in fans to monthly anthology. The only downside at this point is the annoying one-liners at the bottom of most pages encouraging fans to go by the graphic novels. Keep that up, and I will go get the novels, and stop picking up the monthly mag!


Boys Over Flowers Vol 4
Released by VIZ
Story & Art by Yoko Kamio
$9.95

Considered by many one of the best Shoujo series out there, Boys Over Flowers continues on its romantic rampage. Tsukushi is faced with a dilemma when she realizes she can have Rui to herself if Shizuka leaves for France. There's a lot of emotional turmoil involved as she decides what to do. Boys Over Flowers continues to be a complicated romance on par with some of the best soap operas. Readers find themselves praying their favorite characters will do the right thing. It's an emotional roller coaster that any true fan of the Shoujo genre should be on.

---
Borrow it!

Digimon Zero Two Volume 2
Released by TOKYOPOP
Original Concept: Akiyoshi Hongo
Story & Art: Yuen Wong Yu
$9.99 U.S.

Kids and cute cuddly monsters; while a solid mix to keep the younger crowd happy, isn't exactly everyone's cup of tea. There's also not a lot of major plot development going on as the "Digidestined" are off to face yet another emotionally-troubled character. Plot development is fairly simple and it's easy to tell the good guys from the bad guys. The artwork is solid and also cute and cuddly. Those looking for a simple tale of adventure will love this, while the hardcore fans will be looking elsewhere. The entire Digimon series is a tough one to call good or bad, so you'll just have to try it yourself!


Rave Master Vol 7
Released by TOKYOPOP
Story & Art by Hiro Mashima
$9.99 U.S.

Much like Digimon, this one is another fence sitter. Following more of a quest story, the main characters must find the rave stones to save civilization. Along the way, Haru, main character, is also searching for his long lost father. When the travelers come across a city protected by a large force field, they discover the beings attacking the city are lead by a man named Gale. Could this be Haru's father? The artwork and simple pacing of the story are perfect for translation into animation. The plot is also rather simple, following the simple pattern of a quest show mixed with a monster of the week mentality. Again, it's a try before you buy.


Dragon Knights Vol 12
Released by TOKYOPOP
Story & Art by Mineko Ohkami
$9.99 U.S.

While Dragon Knights is one of the longer running series in Japan, spanning seventeen volumes and ten years of publication, it comes across as "been there, done that." Focusing on a fantasy world, while maintaining a solid level of contemporary humor, Dragon Knights is a simple story of swords and sorcery. Had it been on the scene a lot earlier in North America, it could have been viewed in all its glory. But unfortunately, too many other series beat it here. Now, its just more of the same. Also, for a shonen series, it's still got a bit of a shoujo look to it, so it may be a bit of an acquired taste. Best to just borrow this one before taking the plunge.


Initial D Vol 10
Released by TOKYOPOP
Story & Art by Shūichi Shigeno
$9.99

To really get into Initial D, you have to be a big fan of street racing. It also helps to have a basic understanding of the rice rocket phenomenon. The thing is, the segment of fans that are into the whole street racing scene and anime/manga aren't really that big of an audience. TOKYOPOP had a high set of expectations for this series, and went out of their way to create a wider range of appeal with some name changes and a few other cosmetic adjustments to allow more of the mass market to enjoy this series. In the end, they managed to alienate their real audience and build up disappointment for a series that could have done fairly well in its own right without the major push. Initial D is a definite try before you buy deal because most manga fans want as much of the original story as they can get their hands on. While TOKYOPOP didn't change actual dialogue, the changing of the character names was enough to set off most fans. While entrenched in the world of street racing, there's still a lot of character development and drama in the works. Tak blows a race and his engine due to Natalie and things get strange when another 86 is seen on the road. There's still a lot of story to be had here, but you'll probably want to borrow the series first before deciding to plunk down the change for it yourself.


Gravitation Vol 4
Released by TOKYOPOP
Story & Art by Miwa Ueda
$9.99

Pretty boys and romantic entanglements are all the rage these days it seems. So it's no surprise that more and more titles are beginning to appear that reflect this. Actually, this is an old phenomenon in Japan and has only become en vogue in North America recently. What really marks these series is a solid story of drama and angst as the protagonists make their way through life. Heavy on the romantic over tones and focused on the emotional impact of interaction, these stories can suck in a reader and keep her glued to the pages. Then comes the fact that its guys in love with guys, and the turn off for some begins. Gravitation is no different, focusing on a group of guys trying to make it big as musicians. Underneath the boy love is a solid story. You'll just have to borrow the books to decide if you can handle the love affairs and find the true drama in the actual story.

---
Bury it!

Rebound Vol 06
Released by TOKYOPOP
Story & Art by Yuriko Nishiyama
$9.99

I hate basketball. Being short, I was always picked last for this one, and to be quite honest, I never found it appealing in any way. But that's not what landed this book in the trash bin. Not only is it about basketball, it's also about street basketball, which is a lot edgier than in door basketball. Ok, that's still not what really got it in this particular location of the column. What got it here is the lack of any real likable or interesting characters. I honestly don't care what happens to anyone on this team, or their trials and tribulations as they make their way through the National Championships. All it has going for it is a meaner edge than some previous basketball series and that's just not enough to cut it and make this series really stand out from the basketball series that have come before.

---
Honorable Mentions

While not officially Manga releases, the next two novels deserve a bit of attention. Both a part of TOKYOPOP's Manwha line, these are some of the best non-manga titles on the market.



Rebirth Vol 6
Released by TOKYOPOP
Story & Art by Woo
$9.99

The only downside to many of the Manwha books is the fact that I actually got used to reading things backwards. Other than that, these books are often great reads with solid artwork and decent storylines. There are revelations a plenty as Millenear discovers the truth behind the events of 1624. The true nature of the entangled lives of Deshwitat and Kalutika becomes clear. While a bit predictable, its still solid entertainment and worth the time and effort to pick up this title.


Kill Me, Kiss Me Vol 1
Released by TOKYOPOP
Story & Art by Lee Young Yuu
$9.99

What would you do for love? Would you consider trading places with your cousin of a different gender who happens to look like you just to get closer to that person? Well, that's what our heroine in this particular series decides to do. It's comic hijinks and a bit of gender bending as Tae Yeon Im trades places with her cousin Jung-woo Im. Both are pretty happy with the switch, but it wouldn't be a good series if everything fell into place. Bullies, life as a girl; things just go down hill from there. Again, aside from the normal manga format, the artwork is solid and the story is well executed. The basis of the plot is a bit old, but its nice to see it get a new life in this fun tale.


---