×
remind me tomorrow
remind me next week
never remind me
Subscribe to the ANN Newsletter • Wake up every Sunday to a curated list of ANN's most interesting posts of the week.
read more
Anime Spotlight - Mysteria Friends
by ANN Staff,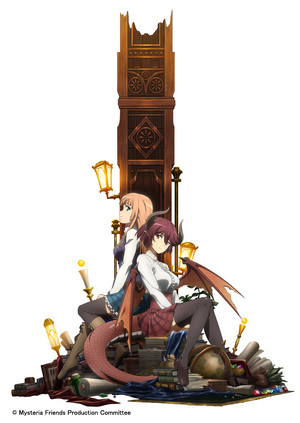 Premieres at 0:30 of January 21, 2019 (JST)


Key Staff
Director: Hideki Okamoto

Series Composition: Satoko Sekine

("Is This a Zombie? of the Dead (TV)" as script)









Introduction
The popular characters Anne and Grea have appeared in not only Rage of Bahamut, but also Granblue Fantasy, Shadowverse, and other games created by Cygames. In the original fantasy anime Mysteria Friends, the two live out their normal lives at the Mysteria Academy of Magic, located in Mistarcia, a place inhabited by humans, gods, and demons.
Hideki Okamoto of Konohana Kitan will direct the series, and CygamesPictures will be producing the animation as its debut TV anime. Just as in the games, the cast includes such great voice talent like Yōko Hikasa as Anne, Ayaka Fukuhara as Grea, Nana Mizuki as Hanna, Wataru Hatano as Owen, Kimiko Koyama as Lou, Kikuko Inoue as Ms. Miranda, Yūma Uchida as William, and Chiharu Sawashiro as Mr. Heinlein.
Story
Welcome back to Mistarcia—the mystical world where humans, gods, and demons exist side by side.
Anne, the spirited princess of the Kingdom of Mysteria.
Grea, the unsociable princess of the Dragonborn.
When these two cross paths, their life at the Mysteria Academy of Magic will never be the same.
Character Names & Descriptions
Anne

Voice: Yōko Hikasa

The daughter of the king of Mysteria, where the Mysteria Academy of Magic is located. She has great magical powers, and despite her young age, she has already learned the spell to summon guardian spirits. She draws people to her with her bright personality, strong sense of justice, and royal charisma, but she can be a bit naive and ditzy at times.

Grea

Voice: Ayaka Fukuhara

A half-human, half-dragon girl. She's never been able to fit in with the other dragons in the nest, which leads her to enroll at the Mysteria Academy of Magic. She is initially self-conscious about her appearance, but she is starting to get over it due to her friendship with the princess of Mysteria, Anne.

Hanna

Voice: Nana Mizuki

The class president at the Mysteria Academy of Magic. She loves the school more than anyone and is respected by many students due to her strong sense of responsibility. She is as proud as she is capable, but there are times when she is unable to say what she is really thinking.

Owen

Voice: Wataru Hatano

A royal sentry who's come to the academy serving as Anne's bodyguard. He's serious and not very flexible, but he really does care for her. He is learning about magical swordsmanship at school.

Lou

Voice: Kimiko Koyama

A spacey but loveable freshman. She becomes friends with an observer, a one-eyed monster that fell from the sky. She's still long way to go when it comes to learning magic, but she enjoys her life at school with a happy and laid-back attitude.

Ms. Miranda

Voice: Kikuko Inoue

A teacher at the Mysteria Academy of Magic whose forte is holy magic. Her strange ways of speaking and acting make her stand out from the crowd, but she is always thinking of her students. Her hobby is making clothes, which is why her office is filled with strange costumes.

William

Voice: Yūma Uchida

A student at the Mysteria Academy of Magic. He's an honor student who serves as a library assistant. However, he has a tendency to speak in the dialect of his homeland when panicked.

Mr. Heinlein

Voice: Chiharu Sawashiro

A teacher of shadow magic at the Mysteria Academy of Magic. His proficiency with shadow magic helps him respond to any challenge with equanimity.

Mr. Bertrand

Voice: Hiroshi Naka

An aged but active teacher of basic magical theory at the Mysteria Academy of Magic. He guides his students with his calm and gentle personality.

Poppy

Voice: Lynn

A student at the Mysteria Academy of Magic. She looks up to class president Hanna, and serves as her trusty secretary. She is knowledgeable, calm, and composed.
Cast
Anne

Yōko Hikasa

Grea

Ayaka Fukuhara

Hanna

Nana Mizuki

Owen

Wataru Hatano

Lou

Kimiko Koyama

Ms. Miranda

Kikuko Inoue

William

Yūma Uchida

Mr. Heinlein

Chiharu Sawashiro

Mr. Bertrand

Hiroshi Naka

Poppy

Lynn
Staff
Original Creator

Cygames

Animation Production

CygamesPictures

Director

Hideki Okamoto

Series Composition/Script

Satoko Sekine

Character Design

Art Director

Music

Director of Photography

Color Design

Editing

Sound Director


© Mysteria Friends Production Committee
---