The List
7 Tezuka Manga for Grown-Ups
by Lynzee Loveridge,

Even for the uninitiated, Osamu Tezuka's work has left a lasting mark. Your dad probably knows who Astro Boy is, even if he doesn't know he's a Japanese creation. Tezuka was a powerhouse creator in his time and is the mind behind some of the longest lasting franchises in Japanese entertainment. To this day, Black Jack and Astro Boy remain in anime and manga's consciousness. Next season's Atom the Beginning is a prequel Tezuka's original robot boy, premiering over 50 years after the original anime adaptation.
This is the legacy most Westerners are familiar with when they think of Tezuka; a creator of ground-breaking children and teen entertainment. However, lesser known to Western readers is the creator's body of experimental adult-oriented titles dealing with sex, drugs, alcoholism, and the would left behind from World War II. If you've shied away from trying out Tezuka's manga because its arguably dated aesthetic or a perception that it's mostly juvenile fair, I recommend you take a second look.

MW One Tezuka's explorations of the horrors of war and good versus evil, MW follows two survivors, Yuki and Garai, of a village destroyed by chemical warfare. Both suffer permanent wounds, one being an overwhelming desire to inflict suffering upon others. Garai is a priest and grapples with his guilt on a spiritual level but finds himself inextricably bound and in love with Yuki, who revels in his crimes. The couple's plight would not exist without the actions of the Japanese and U.S. governments but both institutions deny that their chemical experiments exist, leaving Garai and Yuki without recourse. Make no mistake, this book is darkly graphic and does not shy away from death, including that of children, and stars a violently misogynistic protagonist and his rapist. The depiction is complex but definitely not for the faint of heart.

Barbara The writing scene in 1970s Shinjuku was just as angsty and navel-gazing as anywhere else. One writer, Yosuke Mikura, is in the midst of a writer's block when he takes in an intriguing homeless woman on a whim. To begin with, Mikura is already an unreliably narrator and admits early in the book that he cannot differentiate between the human and non-human and has had romantic relationships with a mannequin and a dog. Over the course of the book, it becomes less obvious whether Barbara is even real or simply a conjured magical muse that Mikura has invented and, at times, abuses. The story goes many strange places while questioning what creativity is and the burdens artists place on their "muses" whether women or vices.

The Book of Human Insects In a world of gender inequality, do the ends justify the means for a woman determined to find success? The Book of Human Insects follows Toshiko Tomura, a genius and sociopath who has survived in a man's world by perfectly impersonating other talents to work her way up the ladder. In this way she's become an actress, architect, and critically acclaimed writer. At her core, Toshiko is a lonely specimen that the reader views at arms reach, first loathing her insincerity and then pitying her desperate attempts to connect to the world as anyone but herself.

Phoenix Famously unfinished, Phoenix is Tezuka's magnum opus, a story that spans space and time and was also 20 years in the making. Chasing the elusive phoenix of legend, characters are continually reincarnated in different places and times to continue their pursuit and perhaps learn something they failed to grasp in a past life or atone for their previous failures. Some succeed, pushing forward in their next life while some fail to ever become more wise. As a whole, the series is very Buddhist, contrasting war and pacifism, love and isolation, and religion and idolization against futuristic and primitive settings.

Message to Adolf Three men named Adolf, one real and two fictional, star in this heart-wrenching historical thriller. Two boys, one a Japanese-German child and the other Jewish, share a friendship and a first name. The Japanese-German Adolf's father is a member of the Nazi party and is involved in retrieving evidence that Hitler is actually Jewish. He believes his son will follow in his political footsteps but Adolf is initially uninterested as it would mean the death of his Jewish friend. The story documents how the lives of two friends grow apart and become victims among WWII's upheaval, one as a target of Jewish hatred and the other transformed into a violent fascist cog. Like previously mentioned titles, Message to Adolf's treatment of its female characters is also shocking.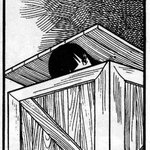 Ayako The story of Ayako is a symbolically cynical look at the self-destruction of the Japanese elite after World War II. Jiro is a veteran and traitor who collaborated with the Americans to survive in a POW camp. He returns home to find his brother is pimping his wife to his dad to get the family estate, and so Jiro has a new sister-niece named Ayako. However, the pure Ayako sees something she shouldn't, and the family (who all speak in an accent associated with poor education) is kept in a basement for something like 20 years. She reemerges from this imposed cocoon as a sexual creator with limited understanding of humans and begins enrapturing the men around her, both relatives and not. Meanwhile the knowledge she gained prior to her seclusion still lurks around the family. Ayako is a spy-thriller, but it (and The Book of Human Insects) puts a microscope on Tezuka's views of female characters. Readers might not like what they see, but it gives a better understanding on how literary conventions have, and have not, changed.



The Crater Fans of The Twilight Zone will enjoy Tezuka's sci-fi short story collection exploring humanity's common dilemmas. One tale takes a look on whether the grass is really greener when a struggling manga artist visits an extra-dimensional mansion and is able to see how life would have been in another career path. Another shows what happens when the Japanese military invent a war hero out of a missing pilot only to have him turn up later and threaten their narrative.










The new poll: Which upcoming Japanese live-action film based on an anime/manga do you think looks the best?
The old poll: One of you is going to have to explain "CHEESE ROLLING" in the comment section. That said, it looks like the majority of fans want to see some elegant archery anime!
Archery 24.7%
Gymnastics 16.4%
Fencing 16.1%
Hockey 13.4%
Beach Volleyball 9.3%
Equestrian 9.1%
Surfing 7.5%
Dodgeball 7.1%
Mixed Martial Arts 6.9%
Roller Derby 6.6%
Judo/Karate 6.0%
Curling 6.0%
Bowling 5.3%
Badminton 4.9%
Wheelchair Basketball 4.3%
Skiing 4.0%
Lacrosse 3.8%
Sailing 3.5%
Giant Robot Racing League (a la IGPX) 3.3%
Snooker 3.2%
Figure Skating/Ice Dancing 3.2%
---
When she isn't compiling lists of tropes, topics, and characters, Lynzee works as the Managing Interest Editor for Anime News Network and posts pictures of her sons on Twitter @ANN_Lynzee
.
---
discuss this in the forum (23 posts)
|