News

Funimation's Escaflowne Dub Adds 6 Cast Members

posted on

2016-03-31

18:00 EDT
---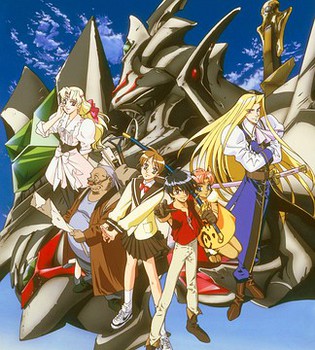 Funimation's Kickstarter campaign for The Vision of Escaflowne anime series' new English dub posted an update on Wednesday, revealing six additional cast members.
The campaign ended on Wednesday with US$318,784 pledged from 2,058 backers.
The campaign previously revealed that Caitlin Glass (Fullmetal Alchemist's Winry, Ouran High School Host Club's Haruhi, Danganronpa's Kyoko, Attack on Titan's Petra) will voice the heroine Hitomi Kanzaki, and Aaron Dismuke (Fullmetal Alchemist's Alphonse Elric, Blood Blockade Battlefront's Leonardo Watch, The Heroic Legend of Arslan's Arslan) will voice the main male character Van Fanel. Alexis Tipton (Rosario + Vampire's Moka, Haganai's Rika, Space Dandy's Honey) will voice the cat-girl Merle. Sonny Strait (Fullmetal Alchemist's Maes Hughes, Assassination Classroom's Koro-sensei, Dragon Ball Z's Krillin) will play the knight Allen Schezar, while Colleen Clinkenbeard (Wolf Children's Hana, Fairy Tail's Erza Scarlet, Fullmetal Alchemist's Riza Hawkeye) will play the princess Millerna Aston. Eric Vale (Hetalia - Axis Powers' America and Canada, One Piece's Sanji, Fairy Tail's Loke) will play traveling merchant Dryden, and Joel McDonald (Fairy Tail's Zeref, Black Butler's Ronald Knox, Baccano!'s Jacuzzi Splot) will play Dilandau. Vic Mignogna (Dragon Ball Z's Broly, Ouran High School Host Club's Tamaki, Vampire Knight's Zero) will play Folken. Felecia Angelle (The Devil is a Part-Timer!'s Emi, Rebuild of Evangelion's Sakura Suzuhara, Seraph of the End's Shinoa) will play Eriya, while Michelle Rojas (Date A Live's Tohka, Assassination Classroom's Toka, Riddle Story of Devil's Suzu) will play Naria.
The company plans to release the director's cut of the series in HD on Blu-ray Disc, including scenes that were not available when Bandai Entertainment's original English dub was released. Kelly Sheridan, Kirby Morrow, and Jocelyne Loewen played Hitomi, Van, and Merle, respectively, in Bandai Entertainment's dub.
Funimation will also make a new matching dub for Escaflowne: The Movie. Funimation will release both a standard edition and a collector's edition for the series. The standard edition will be a Blu-ray Disc/DVD combo pack, and both discs will have the director's cut with the new dub. The collector's edition will have the new dub on Blu-ray Disc and the old dub on DVD. The release will also include an exclusive interview with director Kazuki Akane and creator Shoji Kawamori.
Thanks to Adam for the news tip
---