Interview: Kaoru Mori
by Chih-Chieh Chang,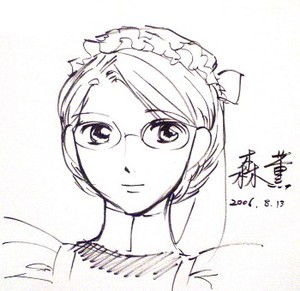 Born in Tokyo on September 18, 1978, manga-ka Kaoru Mori had been creating doujinshi (under the penname Fumio AGATA 県 文緒) about British maids in late 19th century for many years, before having her breakout hit Emma serialized in Comic Beam as her commercial debut in 2002. Emma has won the Excellence Prize in the Manga Division of the 9th (2005) Japan Media Arts Festival.

In addition to the premiere release of manga vol. 6 and novel vol. 1 (written by Saori Kumi and illustrated by Kaoru Mori herself), Kadokawa has also announced at the autograph session that Mori-sensei's another commercial title, Shirley, has been licensed and will be released soon.

Mori-sensei is very shy and has declined interviews and other types of public appearances (including having her picture taken) other than her autograph sessions. However, with the help of Ms. Jackie Kao and the staff at Kadokawa Media (Taiwan) we managed to get a chance to ask a few questions about sensei and her titles via e-mail.

====

ANN: Most of sensei's titles have a strong historical theme, and we can tell that sensei has put a lot of effort into ensuring the smallest details are be historically accurate. However, if the story requires it, have you even toned down or even omitted some historical facts in order to keep the story well rounded?

Mori: I've discovered historical discrepancies when revising my finished works. Sometimes an imperfect or historically inaccurate story was due to lack of sufficient historical knowledge. Nevertheless, I still wish to illustrate stories fitting to a specific era by abiding historical facts and utilize them wisely.

Has sensei considered other titles using the United Kingdom as the historical setting? If so, which historical era? Would it keep a maid as the protagonist?

I really love British and maid-related materials. Therefore, even if the new title does not feature the UK or maids as the main theme I'll try to incorporate those two factors into it.

Why did you create Hakim Atawari, an Indian character, as William's rival of love?

Although Hakim was designed as William's rival in the beginning, before I knew it his position has gradually shifted after a while.

How did sensei gather information about India? You've visited Britain in order to gather more material for the manga; would you like to visit India in the foreseeable future?

Most knowledge about India was gathered from books and documents. If I have a chance I'd love to visit India as well.

Could you tell us more about your experience in Britain?

I was very pleased to discover that my imagination was not too different from what I experienced in Britain in person. However there were many new discoveries as well, such as the fact that British food was not as awful as rumored.

Is there a universal rule for characters' names in your story?

Names were created according to his/her personality and stances in the story to be as fitting as possible, so there is no specific rule for names.

Could you give us some hints about the basic plot of your next project?

I plan on drawing spinoffs for (side) characters in Emma. The first one would be stories of young Kelly.

After the demanding serialization of Emma has ended, would you like to experience a maid café during your break? Furthermore, do you think that your artwork has contributed directly or indirectly to the recent maid café trend?

I have been to one(s) already. However I don't think Emma is closely related to the recent maid trend. What do you think?
---
discuss this in the forum (16 posts)
|
back to Interviews from the 2006 Comic Exhibition in Taipei, Taiwan
Interview homepage / archives