×
remind me tomorrow
remind me next week
never remind me
Subscribe to the ANN Newsletter • Wake up every Sunday to a curated list of ANN's most interesting posts of the week.
read more
Interest

Kamome Hamada Launches 1st Boys-Love Manga Based on True Story

posted on by Jennifer Sherman
The popular manga genre of boys-love, often written by women, depicts romantic relationship between men. Although they showcase gay relationships, some critics have mixed reactions to these stories because they are geared toward straight women. Boys-love manga typically serve to entice women by showing attractive bishōnen characters in idealized relationships rather than providing accurate depictions of members of the real-life LGBT community. However, anime like Yuri!!! on Ice are bringing a fresh face to the genre, and the door is open for a new wave of boy-love manga.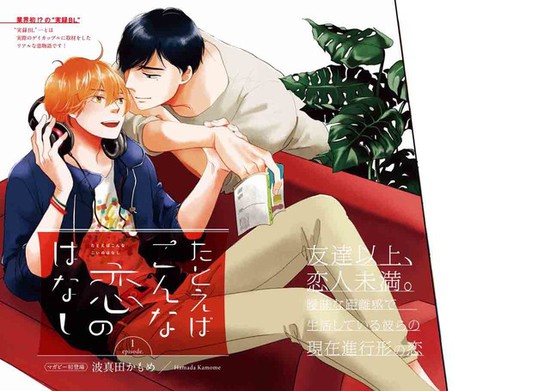 Manga artist Kamome Hamada may be helming a new trend in boys-love. She launched the Tatoeba Konna Koi no Hanashi (For Example, a Story of This Kind of Love) manga as the industry's first "authentic account of boys love" in the February issue of Libre Publishing's Monthly Magazine BExBOY on Saturday. The first chapter has color opening pages.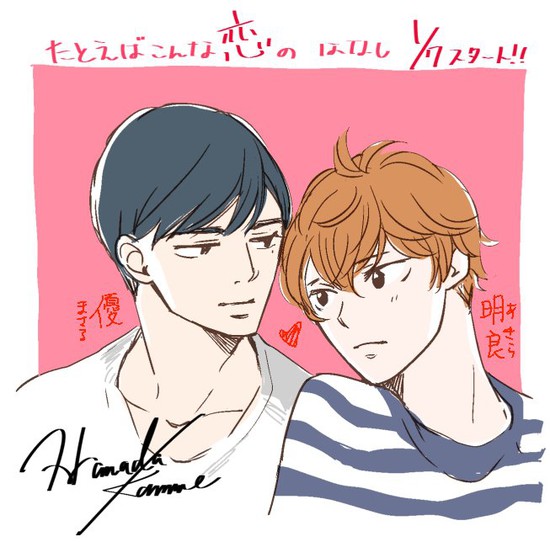 The story is set in the Higashi-Rinkan district of Kanagawa Prefecture, which is part of the Greater Tokyo Area. Akira and Masaru show that "genuine love is painfully sweet."
Akira has never had a real romantic relationship, and he has told himself since high school that he must not fall in love with straight guys. One day, someone comments on his cooking blog, "Is your skill at cooking despite being a man because you're a homo?" Real love between a heterosexual man and a gay man unfolds after their rocky first communication. The true story reveals the couple's tribulations and transformations of heart.
Three pages from the manga show the first in-person meeting between Akira and Masaru. Akira thinks over his apprehensions and bad experiences in high school. He bumps into Masaru and asks if he is the blog commenter known as "Nanjō."



The character Akira is based on a real man named Kento Yanagi. The magazine's editorial department will tweet an interview with him.
Magazine BExBOY labels Hamada as a "daily-life boys-love specialist," and the manga is Hamada's first work in the magazine. The four compiled volumes of her Ohayō to Oyasumi to Sono Ato ni (Good Morning, Goodnight and After) series have more than 150,000 copies in circulation. Hamada's other manga include Koi Kamo Shirenai (It Could Be Love), Hōkago Hachimitsu (After-School Honey), and Seishun Sanka! (Youth Anthem!).
Source: Animate Times
---