Interest

LINE Novel Service Gets Lavishly Animated Ads By loundraw, CloverWorks

posted on by Kim Morrissy
---
The LINE Novel online service where users can publish novels online through the LINE app launched on Tuesday. Two animated ads were released simultaneously with the launch.
loundraw (Tsukigakirei, I want to eat your pancreas character designer) served as supervisor, director, script writer, character director, chief animation director, and background artist on one of the ads, called Mirai Sōzōki (Record of Future Imaginations). He also drew some of the key animation and performed some of the voice work on the ad. The ad features a theme song titled Genjitsu (written as 幻実), which means "real illusion." The lyrics are written by loundraw.
Pine Jam produced the animation for the ad. Chiptune worked on the 2D material designs and the 3DCG. Noriyuki Imaoka was the animation director and a key animator. Kazuomi Goka was unit director.
A second ad, which focuses on LINE Novel's light novels, was produced by CloverWorks. Shingo Fujii served as director, storyboard artist, and supervisor. Toshiyuki Sato is character designer and chief animation director. The ad tells a story about four girls, each with their own ideas of what kind of novels they'd like to submit to LINE Novel.
Both ads were commissioned by Straight Edge, an IP and talent managing company run by former Dengeki Bunko Editor-in-Chief Kazuma Miki. On his Note.mu, Miki describes LINE Novel as a "User (author) first publishing enterprise." Miki is the managing editor of LINE Novel.
LINE Novel launched alongside the LINE Bunko Edge imprint. The latter will publish LINE Novels in print form. As part of the imprint's launch, 43 authors have been announced as part of the lineup, including A Certain Magical Index's Kazuma Kamachi and Nyaruko: Crawling with Love!'s Manta Aisora.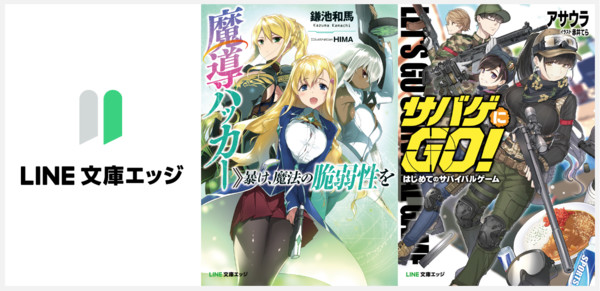 Miki states that his ideal for LINE Novel is to create a web-to-book publishing service that will protect author's rights and avoid situations where new authors are used and cast aside by predatory publishers. The service is partnering with publishers Dengeki Bunko, Kodansha Taiga, Shincho Bunko, Shinco Bunko nex, Shueisha j-books, Bungeishunju, Takarajimasha, Starts Shuppan Bunko, No-Ichigo Bunko, Jitsugyo no Nihon Sha, and Tokyo Sogensha.
LINE, Nihon TV, and Aniplex have also collaborated to hold a "Reiwa Novel Prize" for LINE Novel. The grand prize is 3 million yen (US$26799), a book publishing deal, and a guaranteed screen adaptation of the winning novel. Kazumi Takayama from the idol group Nogizaka46 serves as the ambassador for the novel prize and posted a video message encouraging aspiring authors to submit.
\みなさんの作品応募待ってます/

乃木坂46の高山一実さんから、未来の作家を目指すみなさんにメッセージ📣

大賞作品は賞金300万+書籍化+映像化確約!#令和小説大賞 の応募締切は9/30です🗓

今すぐここからチェック👇#LINEノベル #高山一実 #乃木坂46 #かずみん

— LINEノベル (@novel_LINE_jp) April 16, 2019
The deadline for the prize is September 30, and the grand prize winner will be announced in March next year.
Source: Kazuma Miki's Note.mu and Twitter account, Mainichi Shimbun's Mantan Web, LINE Bunko Edge Blog
---