×
remind me tomorrow
remind me next week
never remind me
Subscribe to the ANN Newsletter • Wake up every Sunday to a curated list of ANN's most interesting posts of the week.
read more
Interview: Naoki Urasawa
by Rebecca Silverman,

Of all of the people I expected to have heard of my home state, manga master Naoki Urasawa was somewhere in the "not a chance" category. And yet he was very pleased to hear that he had a real live Mainer before him, getting the interview off to a good start. Urasawa in general is a very comfortable person, sitting relaxed in his chair and seeming perfectly happy to answer all questions. Perhaps this is due in part to his fame - as the man behind Pluto and 20th Century Boys, to say nothing of Monster, and the sweeter series Yawara! and Happy!, Urasawa has received many accolades and more attention. He has also released a cd, and an hour after my interview he was onstage with Hemenway, singing and playing his guitar. All in all, Urasawa projects a very human air, like he could be just an ordinary fellow you passed on the street or struck up a conversation with in the grocery store. Perhaps this is in part what enables him to write stories about people that we as readers (or viewers) can really care about - because he appears to understand how to be completely ordinary and to put others at their ease.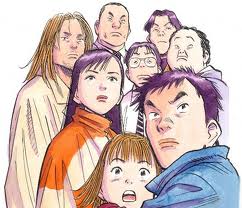 [translator introduces me by mentioning that I am from Maine]
Ah, Maine! Stephan King, Castle Rock! I've always thought that it must be a scary place. [laughs]
ANN: Can you explain your request to delay 20th Century Boys' English edition until after Monster finished its run in that language? What were your concerns?
[visibly surprised] Is that what happened? I didn't know. Viz in America had Monster, 20th Century Boys, and Pluto, and I think they were unsure about what order they should publish them in.
ANN: You have a few times gone back and revisited characters from earlier works and given them their own stories – Jigoro! came from Yawara!, for example. Can you talk a bit about this? Are they always your favorite characters, or just ones you feel have more to say?
The story of Yawara! is very rich. Jigoro! is her grandfather, and I found him so interesting that he essentially, in movie terms, earned his own spin-off. He has so much fantasy in him that he could have many more stories than I wrote. There's so much to tell. Jigoro! ended up with only the one book, but it's one of my favorites.


ANN: What made you decide to revisit Master Keaton after so many years?
There are a couple of reasons. When I first wrote the story, contractual obligations made it difficult to tell the story the way I wanted to. Then after last year's earthquake and tsunami I went to visit the afflicted areas. People I met, victims of the disaster, told me how much they had always liked Master Keaton as a character. I wanted to do something for them, to cheer them up, so I decided to bring him back.

ANN: Pineapple Army has a very unusual premise. Could you speak a little about how you came up with it?
Actually my editor Nagasaki Takahashi came up with it. I thought it was a difficult one, so I tried to add some humor.
ANN: How do you feel about the anime adaptations of your books? I know of several English-language authors who are not pleased when their books are made into films – have you been pleased with the results of yours?
After the Yawara! anime, I requested that I be able to check all of the scripts whenever they made an adaptations. In terms of the films of 20th Century Boys, I checked over the scripts, but they're the property of the director, so there's not much I can do.
ANN: I have to admit that I can still sing the theme song to Yawara!.
[face lights up] Ah! Miracle Girl! [big grin]
ANN:What are your thoughts on the legal digital distribution of manga?
None of my works are [legally] available digitally. I prefer physical books.
ANN: Thank you so much for your time.
You're welcome. (Aside to translator: She's using a cute pen.)
---
discuss this in the forum (21 posts)
|