News

Fuji Producer: No 2nd Aoi Hana Season Due to DVD Sales

posted on

2010-10-31

14:44 EDT by Egan Loo
---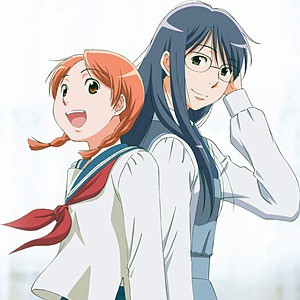 Kōji Yamamoto, Fuji TV's producer for many of the anime in the late-night Noitamina timeslot, confirmed in an interview that a second anime season of Aoi Hana (Sweet Blue Flowers) is not being produced. Writer Kumao Ōyama interviewed Yamamoto along with Asmik Ace publicity producer Fumie Takeuchi on the Tokyo pop culture site Luvits. In the interview, Yamamoto said, "We made an extremely high-quality anime called Aoi Hana, but the DVDs didn't sell so a second season hasn't been made."
The anime adapted Takako Shimura's yuri manga about two childhood friends who reconnect in high school after a decade apart. Kenichi Kasai (Honey and Clover, Kimikiss pure rouge, Nodame Cantabile) directed the anime at J.C. Staff. Crunchyroll simulcasted the anime as it aired in Japan in the summer of 2009.
[Via Uri-Sure Matome+]
Image © Takako Shimura, Ohta Books/Aoi Hana Production Committee
---
discuss this in the forum (87 posts)
|
bookmark/share with:
RightStuf - Anime, Manga and More
Just in time for the royal wedding, these lovebirds have swept viewers away with their uniquely regal flavor of romance. See if your favorite fantasy couples made our list of happily ever afters!
― Today marks the nuptials of Prince Harry and Meghan Markle, which, depending on your emotional investment in the Windsors is either a huge friggin' deal or just another celebrity wedding. The 33-year-old ...
This sci fi series about the procreative responsibilities of one of the last men on earth isn't purely harem cheese, but it won't do enough to hold much appeal for anyone outside the genre either. Theron Martin has the details.
― Late in 2017, Seven Seas Entertainment launched its Ghost Ship imprint as an avenue to bring manga titles specifically for mature audiences to the States. This series joins ...
The world-famous guitarist discusses his transformation into Bleach's Byakuya Kuchiki ahead of his solo concert this Sunday in New York City.
― World-famous guitarist Miyavi scarcely needs an introduction – after lighting hearts on fire all over the world as the guitarist for visual kei smash Due le Quartz in the late 90s, Miyavi launched a spectacular solo career that took him to new heights of inte...
Slice-of-life comedy meets Japanese history in this unusual series about sword boys enjoying springtime. James Beckett finds out if the overall experience is rejuvenating or just a snooze.
― Before last year, I had never even heard of the mobile game that kickstarted the Touken Ranbu franchise; my introduction to it was in covering the premiere of ufotable's take on the series, Katsugeki! Touken Ranb...
How did Keiichi Sigsawa, who is best known for writing the classic road trip light novel Kino's Journey, end up writing a Sword Art Online spinoff? The answers lie within.
― When Sword Art Online Alternative: Gun Gale Online was first announced, many Western anime fans responded with surprise and bemusement. How did Keiichi Sigsawa, who is best known for writing the classic road trip light novel Kino...
Let's say you draw manga for a living. How do you make ends meet when you're not yet successfully published, or if you're in between series? Deb has the answer.
― Q: How do mangaka get by financially when not publishing? Ah, the life of the manga artist…. While several manga creators hit it big and make a LOT of money, many of Japan's manga makers (much like the comics creators all over the world) d...
LOGH: Die Neue These is a daunting title for an intimidating political space opera. Never fear! We're here to explain the character motivations, themes, and surprisingly silly charm of this rebooted classic.
― Legend of the Galactic Heroes: Die Neue These is a daunting title for an intimidating political space opera. This week, Nick and Micchy explain the character motivations, themes, and surprising...
The Spring 2018 Anime Preview Guide covers the entire spring season - and now we're covering all of this season's new English dubs!
Available Now: My Hero Academia season 3 - Legend of the Galactic Heroes - HINAMATSURI - Tokyo Ghoul:re - High School DXD Hero - Steins;Gate 0 - Kakuriyo
― Welcome to Anime News Network's Spring 2018 Preview Guide! Here's how it goes: our team of critics write up their ...
Todd guest-hosts this week with a look at the history of crazy (and crazy obscure) video-game crossovers! Plus Bloodstained goes retro, Guilty Gear returns, and a Famicom full of Shonen Jump!
― Hey, remember me? I used to write this column back when it was called The X Button, when Nintendo's big system was the chronically underfed Wii U, and when all of this was just trees. I'm filling in for Heidi ...
Patty's new familiar Norman is definitely unusual. He's a human, and he's more interested in studying demons like her than helping to find her dad. Rebecca has the details on this goofy fantasy story.
― It is interesting to note that in the spring of 2018 two separate titles bearing remarkable similarities to better-known series have been released. One is The Young Master's Revenge, which conjures up...
Last Period is an RPG-style comedy with a twist, like if Konosuba took place in a freemium game where all the rolls come up 1-star. We find out if this extremely meta adventure is hilarious or just depressing.
― Last Period: the journey to the end of the despair is an RPG-style comedy with a twist, like if Konosuba took place in a freemium mobile game where all the rolls come up 1-star. This week, Ni...
We're catching up with our user rankings this week - My Hero Academia drops a few spots while Lupin climbs the ladder! Find out how your favorite shows fared with our readers and their votes!
― Our team of reviewers are following 27 anime series of the Spring 2018 season and readers are rating each episode as the reviews go up. So let's have a look at what ANN readers consider the best (and worst) o...
To celebrate the Fate/stay night [Heaven's Feel] THE MOVIE I. presage flower English Dub premiere, Fathom Events and Aniplex of America are giving away a pair of tickets to 5 lucky winners!
― The first film of this high-stakes trilogy explodes with epic action and heart-wrenching drama, tied together by the original author Kinoko Nasu's unique storytelling and otherworldly cast of characters. To cele...