News

Boys Over Flowers Musical Casts Ryō Kimura, Nao Furuhata, Nami Tamaki

posted on by Rafael Antonio Pineda
---
The official website for the stage musical adaptation of Yoko Kamio's Boys Over Flowers (Hana Yori Dango) manga revealed additional cast on Friday.

(From left to right): Ryō Kimura (live-action Nodame Cantabile, Hana-Kimi) as Junpei Oribe, Nao Furuhata (SKE48 member) as Shizuka Todō, Nami Tamaki (Gundam Seed Destiny, Argevollen theme songs) as Yuriko Asai.
The website also announced other additional cast.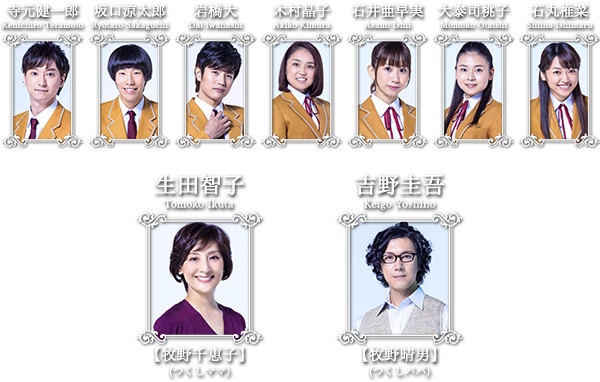 (Bottom row) Tomoko Ikuta as Chieko Makino, and Keigo Yōshino as Haruo Makino, Tsukushi Makino's parents.
The play has also cast (top row) Kenichirō Teramoto, Ryōtarō Sakaguchi, Dai Iwahashi, Akiko Kimura, Asami Ishii, Momoko Otaishi, and Shiina Ishimura, but did not specify their roles.
The new cast will join the previously announced main cast: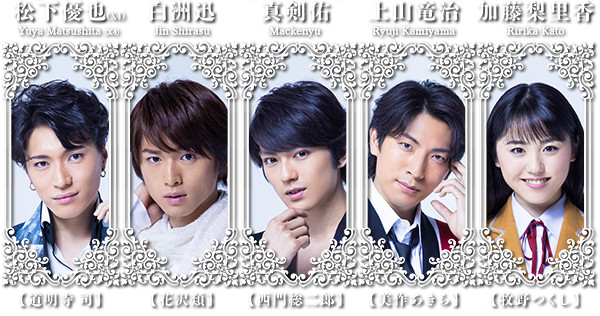 (From left to right): Yūya Matsushita as Tsukasa Dōmyōji, Jin Shirasu as Rui Hanasawa, Mackenyu as Sōjirō Nishikado, Ryuuji Kamiyama as Akira Mimasaka, Ririka Katō as Tsukushi Makino.
Yumi Suzuki is directing the play, Gō Aoki is writing the script, and Akimitsu Honma is composing the music.
The website announced that the play will run at Tokyo's Theater Crea from January 5-24, at Fukuoka's Sun Palace Hotel & Hall on January 28, at Nagoya's Aichi Prefectural Art Theatre from February 6-7, and at Osaka's Sankei Hall bReeze from February 11-14.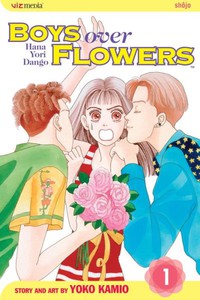 The original Boys Over Flowers manga followed 16-year old Tsukushi Makino, a bright girl from a middle-class family who gets accepted into the ultra elite Eitoku Academy. She finds herself on the bad side of the school's F4, the four most elite male members at the school. The manga has more than 64 million copies in print.
The manga had already been adapted into Japanese anime, a 1995 Japanese live-action film, and a more well-known 2005 Japanese television drama which spawned a sequel and a hit film. Taiwan also remade the manga into a live-action university drama titled Meteor Garden. Crunchyroll streamed a Korean live-action adaptation in 2011. Viz Media released the manga and anime versions in North America.
Since Boys Over Flowers ended in 2004, Kamio drew two side stories in 2006 and 2007. Kamio debuted the Boys Over Flowers Season 2 manga in Shueisha's Shonen Jump+ digital magazine on February 15. The series is titled Hana Nochi Hare ~HanaDan~ Next Season (Flowers, Then Sunny Skies ~Boys Over Flowers~ Next Season) in Japan. The story is set at Eitoku Academy two years after the legendary F4 group graduated and follows the next generation of characters.
Viz Media is publishing the sequel manga in English as a free simultaneous digital release.
Source: Comic Natalie
---