×
remind me tomorrow
remind me next week
never remind me
Subscribe to the ANN Newsletter • Wake up every Sunday to a curated list of ANN's most interesting posts of the week.
read more
News

Kouki Uchiyama, Toshiyuki Toyonaga, More Join High Speed! Free! Starting Days Film's Cast

posted on by Crystalyn Hodgkins
Character designs/profiles revealed for Nagisa, Rei, Rin, Sosuke, Kisumi
---
The official website for the High Speed! -Free! Starting Days- anime film revealed cast members for previously revealed characters on Monday. The website also unveiled the character designs and profiles for Nagisa, Rei, Rin, Sosuke, and Kisumi.
The new cast members include:


Toshiyuki Toyonaga as Asahi Shiina. A first-year at Iwatobi Middle School. His forte in swimming is the butterfly. He is the mood-maker of the team with his bright and energetic personality. He also is a bit full of himself. He has a positive outlook on life that allows him to look forward in any situation, and he has the innocence and passion to face swimming head on.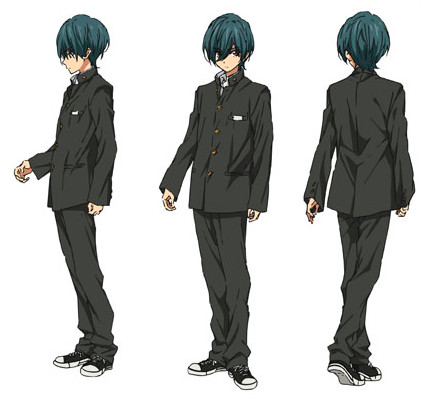 Kouki Uchiyama as Ikuya Kirishima. A first-year at Iwatobi Middle School. His forte in swimming is the breaststroke. Although he is delicate and sensitive, he is bad at showing his true emotions, and sometimes says nasty things on impulse. He has been attending Hanto SC since he was in elementary school. It appears that he has a bit of a rough relationship with his elder brother Natsuya.


Kenji Nojima as Natsuya Kirishima. The third-year student captain of the Iwatobi Middle School swim club and Ikuya's elder brother. A person who is acknowledged by everyone around him.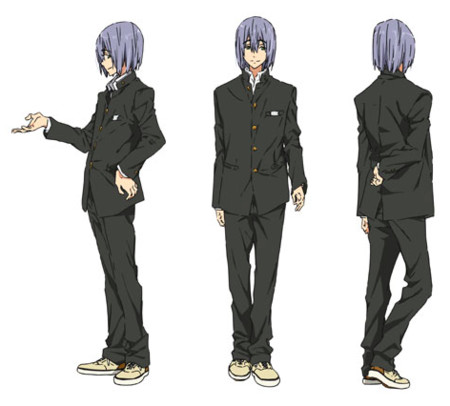 Satoshi Hino as Nao Serizawa. The third-year student manager of the Iwatobi Middle School swim club who serves as Haruka and the others' instructor. Natsuya trusts him.
The website has also revealed more character designs and character profiles: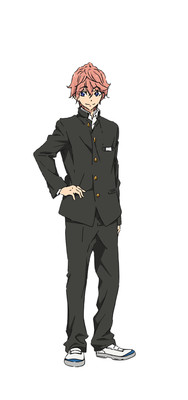 Kisumi Shigino. A first-year student at Iwatobi Middle School. He has a refreshing, bright, and sociable personality. His strong point is basketball, and he keeps inviting Haruka and others to join the basketball club at every chance he gets.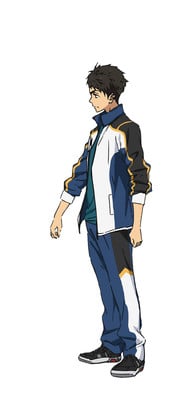 Sosuke Yamazaki. A first-year student at Sano Middle School. During elementary school, he became aware of Haruka and his friends through a swim club tournament. He is an understanding person who is close friends with Rin.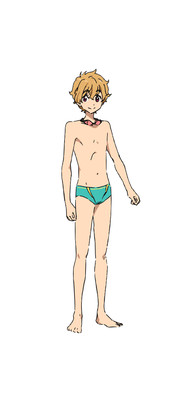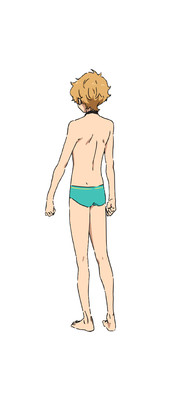 Nagisa Hazuki. A six-year elementary school student who attends he Iwatobi Swim Club. He met Haruka and his friends through the Swim Club and he enjoys himself while also being very zealous about swimming.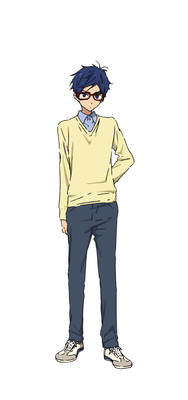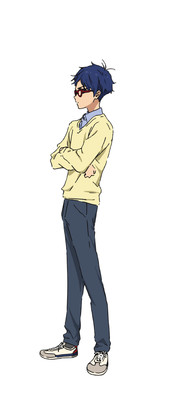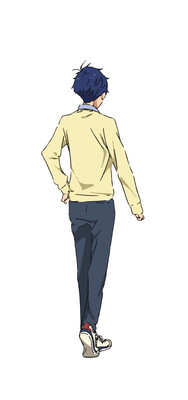 Rei Ryugazaki. A six-year elementary school student. He loves reading and goes to the library often.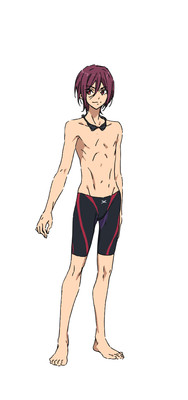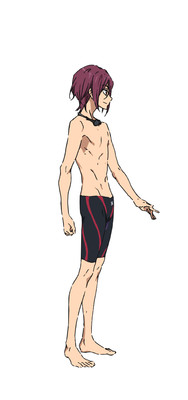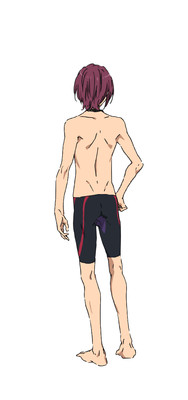 Rin Matsuoka. He swam with Haruka in a relay team together at the Swim Club when he was a six-year elementary school student. He is currently studying swimming abroad in Australia.
The website has also revealed a new key visual with the tagline "We stand at the starting line to our future":

The previously revealed cast members include:


Nobunaga Shimazaki as Haruka Nanase. A first-year at the Iwatobi Middle School who holds special feelings for water. His forte in swimming is freestyle (crawl). He has a strong preference for swimming in freestyle. He has a curt personality and doesn't like dealing with other people, but his skilled swimming dazzles others.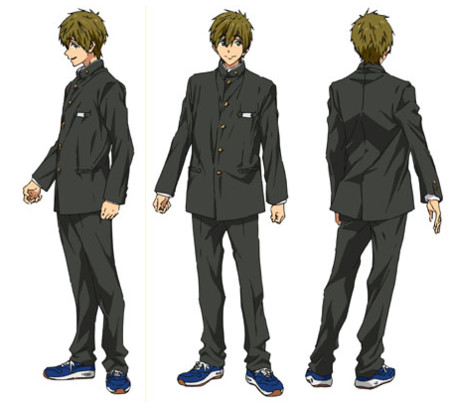 Tatsuhisa Suzuki as Makoto Tachibana. Haruka's childhood friend and best friend. A first-year at Iwatobi Middle School. His forte in swimming is the backstroke. He has a kind and considerate personality, and he often dotes on Haruka and those around him. He has a very good build, and his swimming style is so hearty that it seems to not match his personality at all.

The text in the visual above reads, "Another story on the border between the past and the future."
The website describes the film's story:
Haruka Nanase feels something special when he touches water. The medley relay was the last competition he was able to participate in during elementary school. Haruka, along with Makoto Tachibana, Nagisa Hazuki, and Rin Matsuoka, saw something they'd never seen before.

In spring, with the cherry blossoms in full bloom. Haruka moves on to Iwatobi Middle School with Makoto and starts a new life. Both enter the swim team, and plan to compete in the medley relay together with Asahi Shiina and Ikuya Kirishima.

All four students have different objectives and ways of thinking, and different baggage they're carrying, and so their practice for the relay hasn't been going well.

What is required to make a team? What does Haruka, whose heart is trapped in the medley relay of the past, think during this new event?

High Speed! -Free! Starting Days- depicts these boys trying to find the answer, and discovering new ideas about swimming.

The boys' sparkling youth, and the future they've bet on swimming, begins.

Yasuhiro Takemoto (Amagi Brilliant Park, The Disappearance of Haruhi Suzumiya) will take over as director for the film, while Futoshi Nishiya will return to design the characters from the television series and serve as chief animation director. Nishiya was already credited for original character design.
Masahiro Yokotani, the head writer for the earlier television anime seasons, is credited with film's story composition, and Maiko Nishioka (Free! Eternal Summer episode 5) is writing the actual screenplay. Joji Unoguchi is returning from the television anime as art director, along with color key artist Yūka Yoneda, prop designer Seiichi Akitake, director of photography Kazuya Takao, sound director Yota Tsuruoka, and music composer Tatsuya Katou.
The film is directly inspired by the High Speed! novel that was loosely adapted into the original Free! television anime. Whereas the Free! anime centers on Haruka and the other swimmers during high school, High Speed! followed them during middle school. The second volume of the novel series shipped last July.
The first Free! anime from Kyoto Animation premiered in July 2013, and Crunchyroll streamed the anime as it aired in Japan. Discotek released the first season on DVD in North America. Free! Eternal Summer, the second television anime season, premiered last July, and Funimation is releasing the second season for streaming and home video in North America with an English dub.
Images © 2015 Kōji Ōji, Kyoto Animation/High Speed Production Committee
[Via My Game News Flash]
---
This article has a follow-up:
Oldcodex Performs High Speed! Free! Starting Days Film's Theme
(2015-09-21 08:20)