News

Crane Game Girls Short TV Anime Announced With April Premiere

posted on by Rafael Antonio Pineda
5-minute animated episodes accompany 16-minute live-action segment featuring cast
---
The Kyotoma (JK Meshi!) animation studio announced on Thursday that it is animating an original anime titled Bishōjo Yūgi Unit Crane Geeru (Beautiful Girl Play Unit Crane Game Girls). The anime will premiere on Tokyo MX on April 6 at 10:00 p.m., and later on BS Fuji on April 11 at 1:00 a.m. Each anime part of the episode will be five minutes long, and each live-action segment will be 16 minutes long and will feature the cast playing arcade crane games.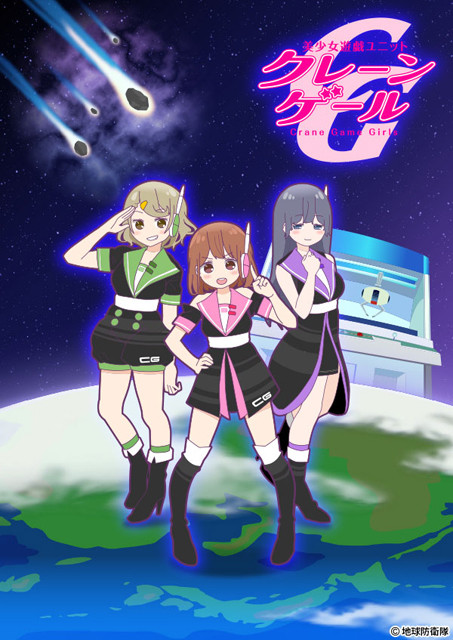 The cast includes:
Natsuko Hara as Mirai
Sora Tokui as Ayaka
Riko Sasaki as Kyōko
Sarara Yashima as Sayo
Aina Suzuki as Newscaster
The staff includes:
Director: Tommy Hino
Scenario: Uematsu Inoue
Character Design: Fuyuri
Backgrounds: Shizuka Nakayama
Animation: Hiroshi Namiki, Naoko Tokumaru
Sound Effects: Wolli
Supervision: Dr. Nakajima
Production: Kyōfū Tomato (Kyotoma)
The story centers on three girls: Mirai, Ayaka, and Kyōko. The three are the only ones who can save Earth from being destroyed by a group of asteroids. They are hired by Sayo, the representative of a shadowy organization, and the organization starts work on turning them into an idol group. While the trio are more than prepared to be idols, they are instead taken into an arcade.
Source: Animate.tv
---
this article has been modified since it was originally posted; see change history