×
remind me tomorrow
remind me next week
never remind me
Contest Extended Until MIDNIGHT Nov 1! • Your guys' entries are the pick of the patch, so we're adding an additional 48 hours to get your pumpkins in!
read more
Anime Spotlight - In Search of the Lost Future
by Anthony Foronda,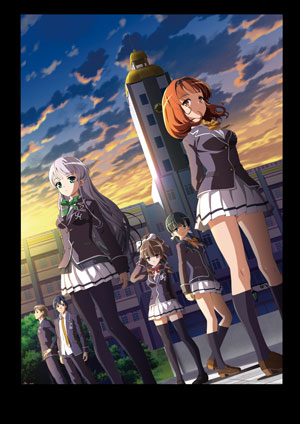 Broadcast Begins October 2014 (JST)

Key Staff
Director: Naoto Hosoda

(The Devil is a Part-Timer! (TV), Shuffle (TV), The Future Diary (TV) )

Sound Director: Satoshi Motoyama

(Dragonball Z Kai (TV), Oreimo (TV), The Comic Artist and His Assistants (TV) )

Opening Theme Song Performance by Satomi Sato

(K-ON (TV), Is the Order a Rabbit (TV))
Story
In Uchihama district during an autumn early in the 21st century, Uchihama Academy was showing an upsurge greater than anything in history. The Comprehensive Academic Festival, hosted by the executive committee, was the greatest showcase for every liberal arts division. It was the very last festival in the old campus building, which was going to close its doors for good with the building of a new campus building. Of course, starting with the chairman of each liberal arts division, all students were combining all their powers to guide this very last liberal arts festival to become a success. An art exhibit from the Fine Arts division that has won many awards, a giant concert featuring every member of the Wind Ensemble division, a fruitful biology seminar featuring plant genetic engineering... Each time a skilled division raised their hand to join the festival, the overall morale went up.
And-- The high morale led to the expectations of the Astronomy department which the main character, Sou Akiyama, is a part of.
Activities unknown, nothing to report, but with them something is sure to happen, or rather they can surely make something happen. Based on such optimism, they were given just one mission for the festival: "Calming down the overly rowdy festivities of each department and removing anything impeding the festival, while solving the mysterious incidents that started before the start of summer."
The most well-known division members, the best of the academy, stood up for the job.
The person behind every rowdy incident of campus: the department chief and master of aikido, Airi Hasekura. Winner of the 33rd Girl to Make Your Bride tournament, 2nd year students by a landslide, Kaori Sasaki. A reticent transfer student that joined the academy out of season, Yui Furukawa. Malicious tongue and breaker of teachers, Nagisa Hanamiya. Member of the Astronomy department as well as an exchange student from the United States, Eitaro Kenny Osafune. With the expectations of the entire academy on their backs, they got into motion for the very last liberal arts festival---
Characters
Kaori Sasaki
VA:Hatsumi Takada

class: 2nd year, class B
department: Astronomy
height: 152cm
blood type: B
birthday: March 2
zodiac: Pisces
color: light pink

A very normal girl. Has good conduct, laughs often, gets angry often, shouts often. She is strong-willed and is not good at being sweet to others, but can use her own will to back up at important facets. She is the type that withstands hardships quietly with a smile. She thinks of Sou as her elder brother, but secretly longs for a romantic relationship.

Yui Furukawa
VA: Akane Tomonaga

class: 1st year, class A
department: Astronomy
height: 157cm
blood type: ?
birthday: ?
zodiac: ?
color: silver

Mild-mannered and somewhat of a natural airhead. The type to be quietly smiling and listening to everyone else during a discussion. At first glance she looks pragmatic, but she does listen well while reflecting on what she hears in her own way.

Sou Akiyama
VA:Takuma Terashima

class: 2nd year, class B
department: Astronomy
height: 175cm
blood type: B
birthday: July 26
zodiac: Leo
color: green

Base abilities are normal, and is the type that can do basically everything but doesn't try much of anything. Can be pretty irresponsible, but thinks carefully about important things, and is the type to make the best effort towards important things once he makes up his mind. His sales point is his nonchalant kindness.

Airi Hasekura
VA:Kei Mizusawa

class: 2nd year, class A
department: Astronomy
height: 162cm
blood type: B
birthday: April 10
zodiac: Aries
color: blue

Beautiful and cannot be ignored, the type that becomes the leader among a group of friends. Quick-witted, sharp-minded, and always wants things to be black or white. No matter what she's doing she is proud and believes that she is the best, but that is all thanks to her continued efforts. Also, perhaps due to her training in aikido, she was always the winning one in fights.

Nagisa Hanamiya
VA:Tomoe Tamiyasu

class: 3rd year, class C
department: Astronomy
height: 148cm
blood type: AB
birthday: February 16
zodiac: Aquarius
color: violet

Always mild-mannered and with an elegant personality, and never breaks her composure... but she is the epitome of sadistic. Even claims for herself that she is the North Pole. Doesn't like special treatment and such. Therefore, she pretty much likes the department members that hang out with her regardless of wealth or nobility.

Eitaro Kenny Osafune
VA:Kappei Yamaguchi

class: 2nd year, class C
department: Astronomy
height: 180cm
blood type: B
birthday: July 16
zodiac: Cancer
color: yellow

Though Japanese by blood, he was born and raised in the United States. Doesn't really care for petty details. In a good way, very benevolent. Physically touches good friends. Takes good care of his friends, and dashes over to their side in a crisis.
Cast
Sou Akiyama

Takuma Terashima

Kaori Sasaki

Hatsumi Takada

Yui Furukawa

Akane Tomonaga

Airi Hasekura

Kei Mizusawa

Nagisa Hanamiya

Tomoe Tamiyasu

Eitaro Kenny Osafune

Kappei Yamaguchi

Yaeko Azuma

Atsumi Tanezaki

Sakunoshin Honjo

Akio Otsuka

Karin Fukazawa

Satomi Sato
Staff
Original story

Atelier Hi-Key

Original character ideas

Kurehito Misaki
Shinobu Kuroya

Director

Naoto Hosoda

Series Supervisor

Rie Kawamata

Scenario writers

Sadayuki Murai
Tatsuya Takahashi
Tomoko Shinozuka

Character design

Ikuo Yamakado

Sound director

Satoshi Motoyama

Music

Fuga Hatori

Music production

Starchild Records

Animation production

feel.




©Atelier Hi-Key/In Search of the Lost Future production committee
---
discuss this in the forum (1 post)
|
back to Anime Spotlight Fall 2014 - The List
Anime Spotlight homepage / archives