×
remind me tomorrow
remind me next week
never remind me
Subscribe to the ANN Newsletter • Wake up every Sunday to a curated list of ANN's most interesting posts of the week.
read more
Interview: The Crew of Cowboy Bebop, 20 Years Later
by Kalai Chik,

In memory of the recent news that screenwriter Keiko Nobumoto has passed away, Anime News Network would like to once again share this interview with her and the rest of the staff of from Cowboy Bebop from their appearance at New York Comic Con in 2018.

Scriptwriters Keiko Nobumoto and Dai Sato, character designer Toshihiro Kawamoto, mechanical designer Kimitoshi Yamane all banded together for Cowboy Bebop's 20th anniversary panel at New York Comic Con 2018. The band was back together to reflect on their legendary series, and were excited to hear about how the series had impacted the lives of their American fans over the last 2 decades.

Prior to the big panel, the Cowboy Bebop staff spoke to ANN and dove into the subject of animation and Hollywood, the cross cultural influence of Bebop, the teamwork they experienced on the show, and a whole lot more.
ANN: Looking back on the past 20 years, Cowboy Bebop has influenced both Japanese and Western animation. What do you think made Bebop so lasting?
Toshihiro Kawamoto: The question feels odd to us because when it was being produced, the staff were looking at past American movies and being influenced by them. Now we're being told that we were influential.
Dai Sato: In comparison to Dragon Ball, Bebop's target audience was more adult, I think.
Right, the show aired late at night in America on Adult Swim - mostly teenagers or adults would be watching at that time.
Kimitoshi Yamane: In Japan, that was the case as well.
What was your proudest achievement on this show?
Dai Sato: For me, that was my debut work. Before Bebop and after Bebop, those are two different things. That's what started me in the world of anime and started me off as a screenwriter.
Kimitoshi Yamane: And for me, that was the first original design work that I did.
Keiko Nobumoto: How old were we all when we worked on the show 20 years ago?
Kimitoshi Yamane: I think I was 32.
Toshihiro Kawamoto: Maybe 35.
Dai Sato: 28?
Keiko Nobumoto: 33? Director Watanabe was 29? 30? I think he was a couple years younger than me. In any case, that was the generation that was making it. The characters are also about that age. Director Watanabe's rhetoric was, "Let's make something we want to see." Our target audience was not kids, but ourselves and our peers. The truth is that kids want to watch what adults are watching. And so, that was perhaps one of the reasons why it attracted a broad audience.
Kimitoshi Yamane: In some ways, the storyline is adult but in other ways it's about family.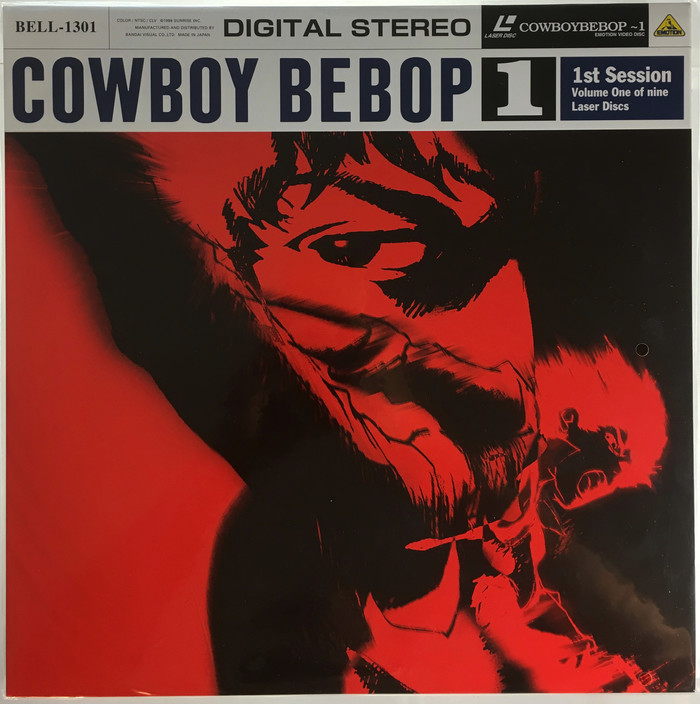 What are you favorite episodes or scenes, including the movie?
Toshihiro Kawamoto: Mushroom Samba, episode 17. I had quite a bit of involvement in that one. I enjoyed working on that one.
Kimotoshi Yamane: It wasn't an episode that I was involved with, but I liked Hard Luck Woman. When Ed eats a hardboiled egg, there's a feeling of sadness and loneliness. The music that accompanied it was also great. When leaving Bebop, there's a scene when Ed is looking back, and you get the sense that Bebop was home.
Toshihiro Kawamoto: Ein's expression was similar. There's a cut that shows Ein looking back at Bebop with a nostalgic look, longing for home. I asked the director specifically to keep that scene.
Dai Sato: Episode 12-13, Jupiter Jazz. The ending that we saw was different from the past episodes. It's something that tied together with the past, and was cinematic like a movie. When I saw those two episodes, I'm taken aback by the mood of the work. The feeling that I got was, "This is a piece of art." Not in the sense that it would bring in a huge box office, but that it was really good art.
Keiko Nobumoto: I can't choose, but I'd like to ask American fans what they think.
I'd like to ask about the title - the word "cowboy" evokes an image of old Westerns, like those starring John Wayne, but it's a science fiction show...
Keiko Nobumoto: So like Woody? Seems like a lot of people have also felt that way about the characters. What happens when you have the title that's called "Cowboy Bebop"? What happens in the minds of Americans? Do you get a feeling that the show is old?
Kimitoshi Yamane: Was it perceived as science fiction?
It's obvious once you watch the opening, but at first - back in the early 2000s anyway, before the show was so widely beloved - if you told someone to "watch Cowboy Bebop" they would often ask if it was a Western.
Kimitoshi Yamane: So you get that image of science fiction after watching the opening? Actually, when the title Cowboy Bebop was first introduced, the reception wasn't great. Not for me though, I loved it.
Originally the show was going to be called Shooting Star Bebop - what went in to the decision to change it?
Kimitoshi Yamane: There was a long period of time where we were debating what to put in front of Bebop. Everyone on the staff was asked to give their opinion.
Dai Sato: "Space Jazz" in lieu of "Space Opera" was decided early on. So the idea of "Bebop" itself was okay.
Keiko Nobumoto: I had heard about the song Space Cowboy by Jamiroquai and in my mind "space" and "cowboy" were compatible terms. So it was natural to think of Cowboy Bebop.

There's a balance between comedy and drama in Bebop for both the story and characters. How do you find that balance?
Keiko Nobumoto: One thing is, everyone has all sorts of facets to who they are. In your entire life, there are different times in the day where you change. In regards to the director, we kept telling them that are three dimensions and to address those different aspects. Because Mr. Kawamoto managed to depict that properly and completely, that's why each of the characters is so complete and well developed.
Dai Sato: I think it plays into the music as well. Sometimes you want to hear ballads, and other times you want to hear sambas. Ms. Yoko Kanno composed music that help expose more of the depth and dimension of the characters.
Toshihiro Kawamoto: The term "session" comes up relative to music in Bebop. The writers would bring their writing to the director, then the characters are drawn, and other people would have their input. We had a really great, cohesive team.
Kimitoshi Yamane: We were called the mechanical, prop designers, and the directors gave us real characters to work with. In some ways, more so than the directions we were getting from the directors, the drawings we got from Mr. Kawamoto gave us a better feel of what to do as prop and mechanical designers.
Keiko Nobumoto: One person would say, "I can do some ad-libbing here" and others would say "Well I want to do that too!" We'd be goading each other on.
Kimitoshi Yamane: But in some ways, that's the classical way in which anime was made. Nowadays, the staff can be so large that it's difficult for members to communicate with each other. Luckily, we formed a cohesive bond.
In your interview at Japan Expo, you mentioned that your favorite designs ever are Hammerhead and Swordfish. Did you design those ships for the characters that would ride them? Was this a collaboration with Mr. Kawamoto to make this happen?
Kimitoshi Yamane: Yes, I mentioned that there was considerable matching up with the character's personality and the ships design. We wanted to make them compatible. In some cases, in the course of generating animation, there were times where he'd say "there are too many lines here, can we reduce the number of lines." Like I mentioned earlier, compared to the direction of Director Watanabe, the rough character sketch from Kawamoto helped with the character design.

As the character designer, what's the most difficult part of designing a character?
Toshihiro Kawamoto: This isn't just for Bebop, but you have to come up with a character who can deal with various situations later on, but you don't know what those situations are. Yet you still have to design a character who can do whatever it is. You try to figure that out from what you learn from the writers and directors, then you try to figure out what silhouette and hairstyle they have. With Spike, that went well. It's been 20 years but I can still draw Spike.
You also design animals, such as Ein and the wolves from Wolf's Rain. Did owning a corgi help with the design?
Toshihiro Kawamoto: When I was doing the design work, I had not acquired the corgi as a pet. I just knew that the characteristics were long bodies and short legs. I started studying and looking up reference materials for dogs with long torsos and bodies and think of how they would move. Ultimately I figured that it would be easier if I had a corgi as a pet. She helped me when I was thinking of how the character would move and how they would express themselves.
Is there anything you'd like to say to your fans?
Toshihiro Kawamoto: We are so fortunate and grateful that fans are still our fans after 20 years. At the same time, I want to express our gratefulness to the staff who helped localize the series. They're the reason why this show was so well received.
Dai Sato: Gratitude is all that we have.
Kimitoshi Yamane: We tried our best to pay homage to Hollywood. Thank you for your continued support.
Our thanks to Dai Sato, Kimitoshi Yamane, Toshihiro Kawamoto, Keiko Nobumoto and New York Comic-Con 2018 for this opportunity.
---
discuss this in the forum (14 posts)
|
this article has been modified since it was originally posted; see change history