Interest

New Monthly Pikachu Plush is Rain-Ready

posted on by Carlos Cadorniga
As if he ever wasn't, Pikachu of Pokémon fame remains one of the most popular mascots in history. It's no wonder that many collectible trinkets are being released in his image.

The third edition of the Monthly Pikachu Plush series is well-prepared for wet weather fashioned in a new Yellow Raincoat outfit—his pointy ears surprisingly snug within his hood—and holding an adorable little umbrella. Priced at 1,600 yen (about US$13), this rain-ready Pokémon will see a release on May 16 with an online release on the Amazon Pokémon Store on May 23.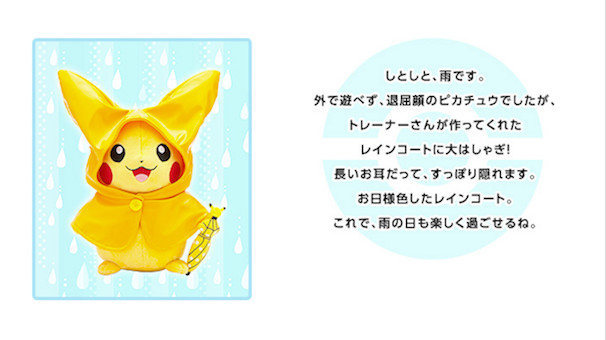 Starting in March, Pokémon Centers in Japan began this yearlong campaign of releasing a different Pikachu plush each month. The first was Fresher Pikachu, sporting a traditional businessman suit with glasses and a briefcase. The second was Children's Day Pikachu clad in a traditional samurai helm and wielding carp kites (one was modeled after everyone's favorite useless water-type, Magikarp).


The next Pikachu Plush—whose outfit is still undecided—will be released on June 20.

Furthermore, Tomy Company, Ltd. is set to release a special Pikachu clip plush that can be worn on your shoulder, much like how Ash Ketchum does with his best buddy in the Pokémon XY anime; this plush even comes with his own version of Ash's hat. This plush is priced at 2,000 yen (US$17).
In the past, Pikachu has been released in the form of a life-sized 13-pound plush. Another popular Pokémon, Eevee, and its many subsequent evolutions also have their own line of goods being released later this month.
[Via Kai-You]
---