Interest

Ajin: Demi-Human Turns Part-Timers into Investigators

posted on by Carlos Cadorniga
Ever wanted to turn monster hunting into a part-time job? This new collaboration can help with that.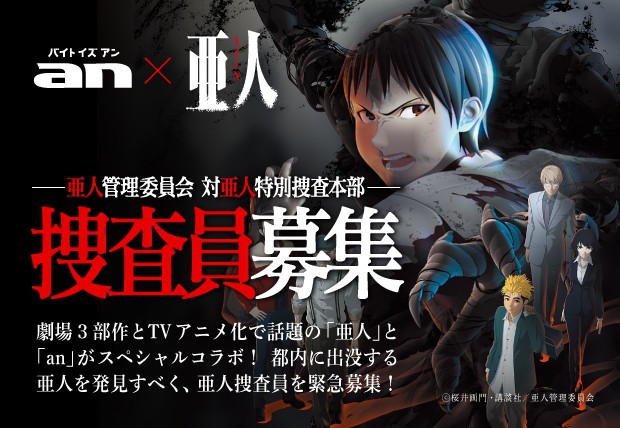 The upcoming anime Ajin: Demi-Human film trilogy is teaming up with part-time job source "an" for a special event that plans to "hire" up to 20 people for a special case. Participants will be asked to investigate the supernatural beings in the movie, the immortal demi-humans that are disguised among the populace, and prevent them from moving about in the city.
Winners will be awarded 10,000 yen (about US$83), a promotional windbreaker jacket, and movie tickets. Applications opened on October 19 and will be accepted until November 1. A total of 20 participants will compete. The event will take place in Tokyo on November 27, the day of the movie's premiere.

The movie is the first in a planned trilogy of films. A television series will follow shortly after the films on January 15, 2016.
[Via Kai-You]
---