Interest

Happy New Year from the Anime World 2018!

posted on by Lynzee Loveridge
New Year's is the most important holiday in Japan, with families gathering to share big feasts and visit their local temple. New Year's cards (nengajō) are often sent to friends, family and acquaintances. Figures from the anime, manga and video game fields draw their own (usually featuring their own characters) and share them with the rest of us online. Here, then, is ANN's annual New Year's greetings round-up. As 2018 is the Year of the Dog according to the Chinese zodiac, many of the greetings feature puppers and good boys.
We'll have more greetings posted soon!
ACCA: 13-Territory Inspection Dept.
Animation Do (Free!)
Kohei Ashiya (JoJo's Bizarre Adventure animation director)
Atlus
Barakamon/Handa-kun
ClassicaLoid
Etotama
feel.
Frame Arms Girl
Takuya Fujima (Magical Girl Lyrical Nanoha ViVid)
Studio Ghibli
Studio Ghibli Museum
Gust
Hanayamata
Harikamo (Urara Maze Town Book)
Rin Hitotose (Lady's Maid)
Is the order a rabbit?
Masakazu Ishiguro (And Yet the Town Moves)
Kase-san and Morning Glories
Kazue Katō (Blue Exorcist)
Kemono Friends Pavilion
Kingdom Hearts
Kirara Fantasia
Gen Kobayashi (Square Enix art director)
Satoshi Koike (animator)
Hideo Kojima (Metal Gear Solid creator)
Chūya Koyama (Space Brothers)
Shinichi Kurita (animator)
Shinya Kusumegi (Mobile Suit Gundam 00 animator)
Kyoto Animation
Love, Chunibyo & Other Delusions! Take On Me
Love Live!
Shinov Mimori (Thunderbolt Fantasy character designer)
Mobius Final Fantasy
Mr. Osomatsu
Kinriki Mantou (Space Dandy designer)
Nitroplus
Yui Ogura (voice actress)
Natsume Ono (ACCA: 13-Territory Inspection Dept.)
Hiro Mashima (Fairy Tail)
Mob Psycho 100
Hiroki Mutaguchi (BB Senshi Sangokuden illustrator, Gundam Build Fighters animator)
New Game!!
Persona 5
PlayStation Japan
Koushi Rikudou (Pandora in the Crimson Shell: Ghost Urn)
Rokuhōdō Yotsuiro Biyori
Tsukasa Saimura (Igai: The Play Dead/Alive, Tokyo Undead)
School Girl Strikers
Kouji Seo (Fūka)
Eiichi Shimizu x Tomohiro Shimoguchi (Ultraman manga)
Starmyu
Sunrise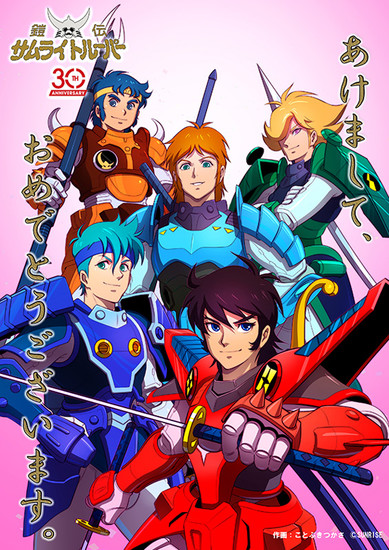 [
Link
]
Sword Art Online Alternative Gun Gale Online
Junichiro Taniguchi (Puella Magi Madoka Magica chief animation director)
Tatsunoko Pro
Shōtarō Tokunō (New Game!)
A Town Where You Live
Santa Tsuji (Super Sonico)
Ukami (Gabriel Dropout)
Violet Evergarden
Wake Up, Girls!

[
Link
]
Satomi Watabe (Aikatsu animation director)
Wixoss
XBox Japan
Kouji Yokoi (SD Gundam original character design)
Kenichi Yoshida (Eureka Seven character designer)
Miki Yoshikawa (Yamada-kun and the Seven Witches)
Yuyushiki
ZEXCS
Z/X
---
This article has a follow-up:
Happy New Year from the Anime World 2018! - Part II
(2018-01-01 03:00)