Interest

Happy New Year from the Anime World 2018! - Part II

posted on by Lynzee Loveridge
New Year's is the most important holiday in Japan, with families gathering to share big feasts and visit their local temple. New Year's cards (nengajō) are often sent to friends, family and acquaintances. Figures from the anime, manga and video game fields draw their own (usually featuring their own characters) and share them with the rest of us online. Here, then, is ANN's annual New Year's greetings round-up. As 2018 is the Year of the Dog according to the Chinese zodiac, many of the greetings feature puppers and good boys.
We'll have more greetings posted soon!
Acquire
Shingo Adachi (animator)
Aggretsuko
Toshinao Aoki (Kimi no Koe o Todoketai character design)
Asai (Kine-san no 1-ri de kinema)
Batman Ninja
Blend-S
Bravely Default
Bungo Stray Dogs
Death March to the Parallel World Rhapsody
Detective Conan
Kio Edamatsu (conceptual artist)
Fate/Apocrypha
Ryoko Fukuyama (Anonymous Noise)
Hackadoll
Hakumei and Mikochi
Akira Himekawa (The Legend of Zelda manga)
HoneyWorks
IDOLiSH7
Junko Ike (Mizutama Honey Boy)
Ayasa Itou (voice actress)
Junji Ito "Collection"
Katana Maidens: Toji no Miko

[
Link
]
Killing Bites
Kimi no Koe o Todoketai
Kogetaokoge (The Ryuo's Work is Never Done! manga)
Kotoyama (Dagashi Kashi)
Yūsuke Kozaki (BBK/BRNK character design)
Mizuho Kusanagi (Yona of the Dawn)
Laid-Back Camp
LaLa Magazine
Shun Matsuena (KenIchi the Mightiest Disciple)
MinatoSoft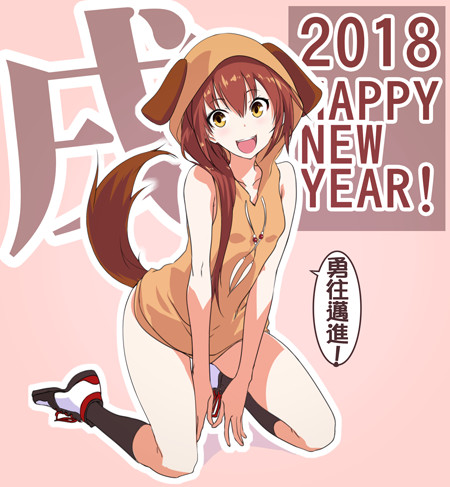 [
Link
]
Monster Hunter Stories

[
Link
]
George Morikawa (Hajime no Ippo)
Yasunari Nitta (animator)
One Piece
Project Eevee (Pokemon merch)
Rara Maji
Record of Grancrest War
Rokuhōdō Yotsuiro Biyori (manga)
Namimi Sanjo (Fate/Grand Order: First Order director)
Sanrio Danshi
Science Adventure series (Steins;Gate)
Takashi Shiina (Zettai Karen Children)
Shinkansen Henkei Robo Shinkalion the Animation
Kamome Shirahara (manga artist)
Shiratori Shirow (The Ryuo's Work is Never Done light novel)
Shinobu Takayama (Amatsuki)
Meca Tanaka (Meteor Prince)
Team Draco (Automaton)
Toyotarō (Dragon Ball Super (manga))
Naoto Tsushima (Fighting Foodons)
ufotable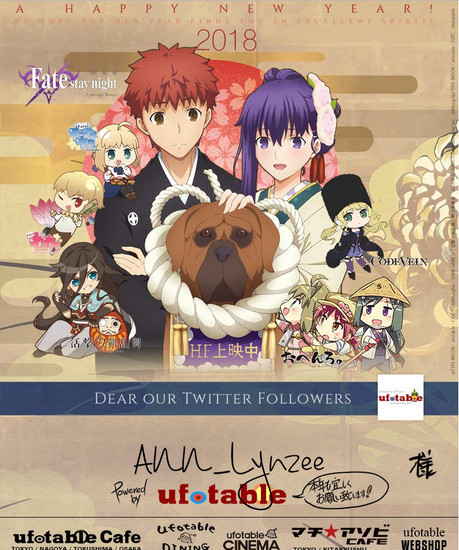 [
Link
]
Utena Musical
Kiyotsugu Yamagata (Märchen Mädchen manga)
Soichiro Yamamoto (Teasing Master Takagi-san)
Yowamushi Pedal
---
This article has a follow-up:
Happy New Year from the Anime World 2018! Part III
(2018-01-01 13:45)
follow-up of
Happy New Year from the Anime World 2018!