Interest

Happy New Year from the Anime World 2018! - Part II

posted on

2018-01-01

03:00 EST by Lynzee Loveridge
New Year's is the most important holiday in Japan, with families gathering to share big feasts and visit their local temple. New Year's cards (nengajō) are often sent to friends, family and acquaintances. Figures from the anime, manga and video game fields draw their own (usually featuring their own characters) and share them with the rest of us online. Here, then, is ANN's annual New Year's greetings round-up. As 2018 is the Year of the Dog according to the Chinese zodiac, many of the greetings feature puppers and good boys.
We'll have more greetings posted soon!
Acquire
Toshinao Aoki (Kimi no Koe o Todoketai character design)
Asai (Kine-san no 1-ri de kinema)
Batman Ninja
Blend S
Bravely Default
Bungo Stray Dogs
Hackadoll
IDOLiSH7
Junji Ito "Collection"
[
Link
]
Killing Bites
Kimi no Koe o Todoketai
Kogetaokoge (The Ryuo's Work is Never Done! manga)
Laid-Back Camp
LaLa Magazine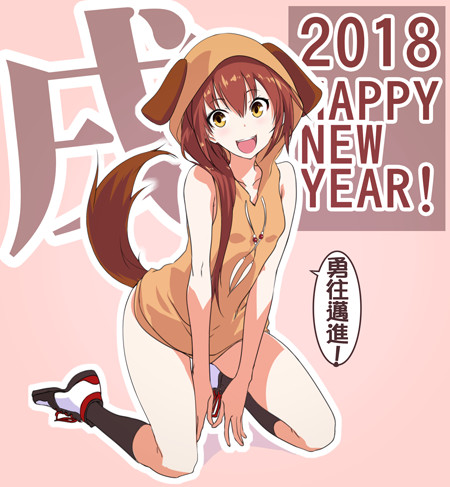 [
Link
]
Monster Hunter Stories
[
Link
]
Project Eevee (Pokémon merch)
Rara Maji
Record of Grancrest War
Sanrio Danshi
Science Adventure series (Steins;Gate)
Kamome Shirahara (manga artist)
Team Draco (Automaton)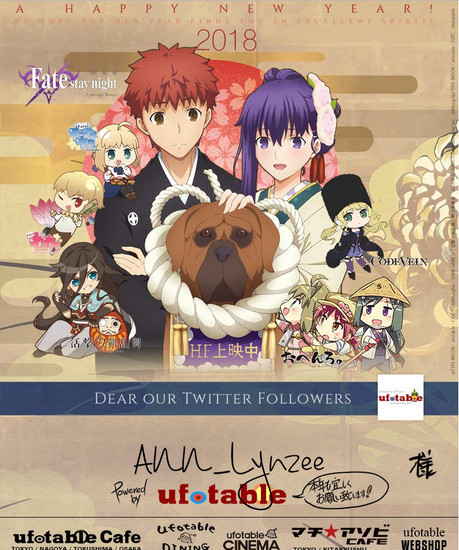 [
Link
]
Utena Musical
Yowamushi Pedal
---
This article has a follow-up:
Happy New Year from the Anime World 2018! Part III
(2018-01-01 13:45)
follow-up of
Happy New Year from the Anime World 2018!