News

NisiOisin's Next Monogatari Books Slated

posted on by Joanne Mertz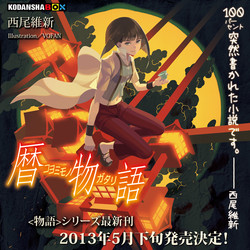 Koyomimonogatari, novelist NisiOisin's latest addition to his popular Monogatari series, will be published by the Kodansha BOX imprint in late May. The book will once again be illustrated by VOFAN, and sell for 1,600 yen (about US$17). Koyomimonogatari will contain 12 short stories that will chronicle twelves months in the life of Koyomi Araragi. It starts with the new semester after Koyomi's encounter with a beautiful vampire during spring break, and ends with university exams.
Although Owarimonogatari was already announced before, it will be published after Koyomimonogatari in the summer. A Zokuowarimonogatari book was previously slated for next year, although NisiOisin has not said if this is still the case.
As a popular franchise, the stories from the Monogatari series are gradually being turned into anime. Nekomonogatari (Black) ran on television last December. The anime of the novels' "Second Season arc" — Nekomogatari (White), Kabukimonogatari, Hanamonogatari, Otorimonogatari, Onimonogatari, and Koimonogatari — is planned for this year.
Source: AnimeAnime.jp
---