×
remind me tomorrow
remind me next week
never remind me
Subscribe to the ANN Newsletter • Wake up every Sunday to a curated list of ANN's most interesting posts of the week.
read more
News

Newspaper: Space Battleship Yamato Gets Hollywood Film

posted on by Egan Loo
Sports Nippon: Mission: Impossible 5 helmer McQuarrie aims for 2017 opening
---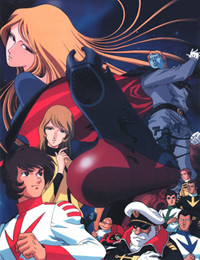 The Sports Nippon newspaper is reporting on Monday that a Hollywood live-action film adaptation of the hit anime series Space Battleship Yamato has been green-lit. According to the newspaper, the film will open as soon as 2017 under the title Star Blazers. Shoji Nishizaki, the adopted son of the late Yamato producer Yoshinobu Nishizaki, is listed as the executive producer, and Sports Nippon indicates that it is possible that Japanese actors will appear in the cast.
Skydance Productions, the Hollywood company behind Tom Cruise's Mission: Impossible – Ghost Protocol and Brad Pitt's World War Z, would be producing the project. 46-year-old Christopher McQuarrie would direct as soon as he finishes next year's Mission: Impossible 5. Sports Nippon reports that the project began when McQuarrie, a huge fan of Star Blazers, brought the property to the attention of Skydance.
The newspaper quoted McQuarrie, "My favorite characters are Captain Jūzō Okita [Abraham Avatar in the English dub] and Earth Defence Force's Commander Hajime Saitō [Webb Knox]." With Japanese fans' expectations in mind, McQuarrie added, "I am extremely honored to be entrusted with a wonderful work such as this. I cannot wait to present it in (Yamato's homeland) Japan. I'm looking forward to meeting everyone."
The cast and character roster has not been decided yet. Sports Nippon speculates that it is possible that stars of Skydance's previous films would play the main lead Susumu Kodai [Derek Wildstar].
The Deadline website reported last October that McQuarrie had been attached to direct Skydance Productions' planned live-action film remake of Star Blazers. McQuarrie is the screenwriter of The Usual Suspects, Valkyrie, Jack Reacher, and Jack the Giant Slayer, and he had already been attached to write the project when Skydance (True Grit, World War Z, Star Trek: Into Darkness, G.I. Joe: Retaliation) was negotiating for the rights in 2011.
Star Blazers is the dubbed and partly rewritten adaptation of Yoshinobu Nishizaki and Leiji Matsumoto's Space Battleship Yamato space opera anime franchise. Deadline noted that Space Battleship Yamato predated Star Wars and Battlestar Galactica, and described the premise: "Earth's atmosphere has been obliterated by a distant alien race, and the survivors have one year before radiation will reach their underground refuge and wipe out the human race. The survivors get a shot of hope in the form of alien technology that can deliver a small crew across the universe and back with the means to stave off extinction."
McQuarrie had revealed in an interview in December 2012 that the film was still in negotiations. Skydance registered the "Starblazersthemovie.com" domain last year.
A live-action film remake of the original Space Battleship Yamato anime opened in Japan in 2010. In addition to a string of sequels, the franchise spawned the Space Battleship Yamato 2199 re-imagining, which will have a compilation film and a brand-new film this year.
Update: Comic Natalie notes that Voyager Entertainment, the rights holder for Yamato, made the announcement. Star Blazers is the tentative title for the project for now. Skydance Productions CEO and the project's executive producer David Ellison discussed the timeframe, "I can't say definitely, but I want the film to open in 2017 or 2018."
Update 2: More info from MyNavi News added. Ellison added, "There is no doubt this is going to be a great work if we combine modern technology and McQuarrie's directing talent to adapt the wonderful characters, action, and story." Dana Goldberg, McQuarrie, and Josh Klein will serve as producers.
---