News

Terraformars Revenge Anime Sequel Series' New Visual, Cast Revealed

posted on by Rafael Antonio Pineda
---
The official website of the Terraformars Revenge TV anime sequel series revealed a new visual on Thursday, as well as more returning cast and new cast members.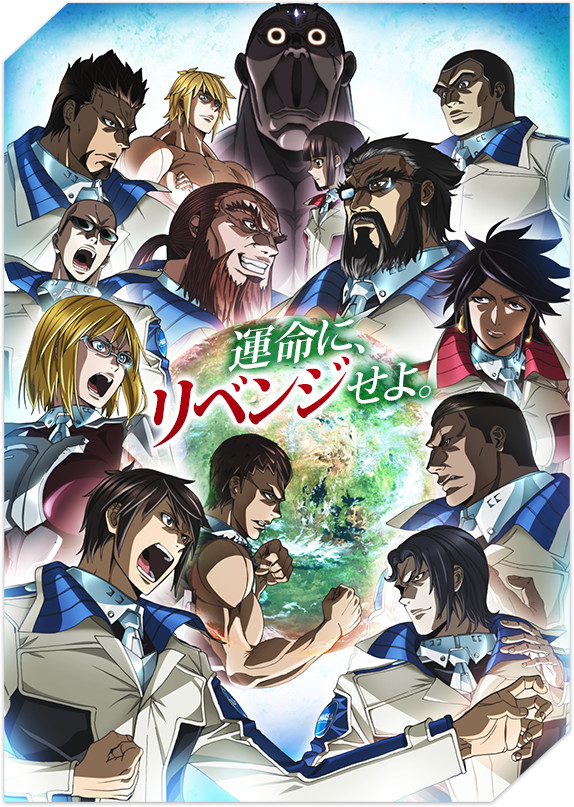 The visual contains the text "Revenge against fate."
The returning cast includes:
The newly announced cast includes:
They will join the rest of the returning cast:
The series will premiere in April.

The show's staff will differ from the first season. Michio Fukuda (Hyakko, Nura: Rise of the Yokai Clan: Demon Capital) is taking over for Hiroshi Hamasaki as director at the studios LIDEN FILMS and TYO Animations. Cagetzu Aizawa (Rage of Bahamut Genesis sub-character designer) and Atsushi Ikariya (Fate/stay night: Unlimited Blade Works, Fate/Zero, Harmonie) are designing the characters, and Naruhisa Arakawa (MAOYU, Kingdom) is taking over for Shogo Yasukawa to handle the series composition.
Masanori Shino and Satoshi Kimura had served as main character designer and character designer, respectively, for the previous TV anime series.
Kenichi Tachibana and Yū Sasuga launched the original Terra Formars manga in 2011, and as of the series' 15th volume, which shipped on November 19, it has 14 million copies in circulation. Viz Media is releasing the manga in North America, and it describes the story:
In the late 26th century, overpopulation on Earth is reaching the breaking point, and humanity must find new frontiers. The terraforming of Mars has taken centuries, but is now complete. The colonization of Mars by humanity is an epoch-making event, but an unintended side effect of the terraforming process unleashes a horror no one could ever have imagined...

After humanity's first manned mission to the Red Planet was lost, a second expedition arrives. The explorers prepare to exterminate the cockroaches that were used to transform the Martian environment. They are shocked to discover that the insects have mutated into giant, aggressive humanoids with one overriding goal: exterminate the humans! But this crew of explorers has each undergone the "Bugs Procedure, " terrifying experimental surgery designed to make them more than human...
The first 13-episode television anime series adapting the Annex 1 arc of the manga premiered in September 2014, and Crunchyroll streamed the series as it aired. The companion original video anime (OVA) project adapted the Bugs 2 arc on discs bundled with the 10th and 11th manga volumes. The Annex 1 arc takes place 20 years after the Bugs 2 arc.
The manga is also inspiring a live-action film directed by Takashi Miike (live-action films of Ichi the Killer, Phoenix Wright: Ace Attorney, Yatterman, As the Gods Will, Crows, Mogura no Uta). Kazuki Nakashima (Gurren Lagann, Kill la Kill) penned the screenplay for the film. The film will open in Japan on April 29. The film is in turn also inspiring a live-action television prequel, which will air on April 24.
Source: Anime! Anime!
---