News

Interviews with Monster Girls/Demi-chan wa Kataritai Anime's Promo Teases Character Voices

posted on by Rafael Antonio Pineda
Anime about human teacher at "demi-human" girls high school premieres in January
---
Aniplex began streaming a promotional video for the television anime of Petosu's comedy manga Interviews with Monster Girls (Demi-chan wa Kataritai) on Wednesday. The video introduces the show's characters, and features the voice acting for the characters for the first time. It does not reveal the voice actresses for the female cast, but the anime's staff is hosting a contest to Twitter to guess the cast members.
Text: Cute demis have cute problems.
Logo: Demi-chan wa Kataritai
Tetsuo: I just want to talk to demi-humans.
Hikari: I'm a demi-human, too. A vampire, actually.
Kyōko: Can I come again to talk another time?
Yuki: I'm a snow woman!
Sakie: I'm a demi-human. A succubus.
Himari: I'm Himari Takanshi from class C.
Text: A heartful academy demi-human comedy!
Voice and Logo: Demi-chan wa Kataritai, premieres January

The cast includes:
Junichi Suwabe as Tetsuo Takahashi, a biology teacher

Hikari Takanashi the vampire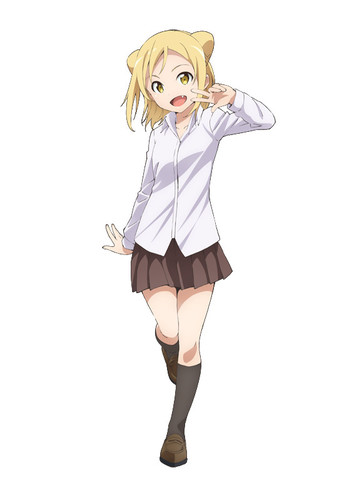 Kyōko Machi the dullahan


Yuki Kusakabe the snow woman


Sakie Satō the succubus


Himari Takanashi the human twin sister of Hikari


The staff will reveal more cast members at the end of this month.
The anime will premiere in January and will air on Tokyo MX, MBS, and BS11.

Ryo Ando (chief episode director for both seasons of GATE) is making his directorial debut with the series at A-1 Pictures. Takao Yoshioka (Elfen Lied, Ikki Tousen, The Familiar of Zero) is both writing and overseeing the scripts. Tetsuya Kawakami (The Asterisk War: The Academy City on the Water) is designing the characters, and Masaru Yokoyama (Mobile Suit Gundam: Iron-Blooded Orphans, Garakowa -Restore the World-, BBK/BRNK) is composing the music.
Kodansha Comics is releasing the manga in English, and it describes the story:
Monsters of legend walk among us, going by the name "demi-humans." Ever since he's discovered the "demis," one young man has become obsessed with them. So when he gets a job as a teacher at a high school for demi-girls, it's a dream come true! But these demis, who include a rambunctious vampire, a bashful headless girl, and a succubus, have all the problems normal teenagers have, on top of their supernatural conditions. How to handle a classroom full of them?!
Kodansha published the manga's fourth volume in Japan on September 20. Kodansha Comics released the manga's first volume in English on November 1, and will release the second volume on January 17.
Thanks to Dennis R for the embedded video
---
this article has been modified since it was originally posted; see change history