News

Shōnen Hollywood Anime Gets Expanded 'Complete Edition' of Final Episode

posted on by Rafael Antonio Pineda
Staff crowdfunded longer 26th episode, aims to finish by next fall
---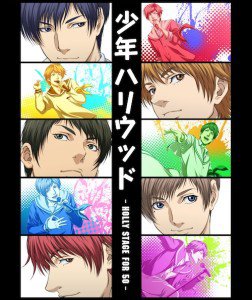 Scriptwriter Ikuyo Hashiguchi confirmed on Monday that the Shōnen Hollywood - Holly Stage for 50 anime will get a "complete edition" of its 26th and final episode. (While the anime has 13 episodes, the episode count includes the 13 previous episodes from the Shōnen Hollywood - Holly Stage for 49 anime.) The episode was funded by a crowdfunding campaign that sought 15,000,000 yen (about US$133,793) for the production. The campaign eventually raised 59,582,000 yen (about US$528,000) before ending on Tuesday.
The episode will be over 45 minutes long, and will feature hand-drawn footage of the characters performing in a concert. The staff planned to complete and preview the music and main character voice parts by December 24, and complete the episode itself next fall, after an event between July and August.
The Shōnen Hollywood anime series is inspired by Ikuyo Hashiguchi's mixed-media project Shōnen Hollywood and is produced by anime studio ZEXCS (Diabolik Lovers, Cuticle Detective Inaba) and the music label Starchild Records. The first season premiered in July 2014, and the second season premiered in January 2015, and ended in April of the same year. Funimation streamed both seasons as they aired in Japan.
The anime tells an original story, set 15 years after the novel's story. It takes place at a fictional theater called Hollywood Tokyo in Harajuku, where members of the idol group "Shōnen Hollywood" develop their talents with diligent work and studying. The cast includes several original members of Shōnen Hollywood from the novel.
---