The Power of Love to Renew, Redeem and Reconnect is Explored in Poignant New Films Premiering at Viz Cinema in February
Jan 26th 2010

Theatre Is Proud To Present Two Films By Director Isshin Inudo And Announces A Special Encore Anime Double-Feature

San Francisco, CA, January 26, 2010 – February is the month of love and VIZ Cinema, the nation's first and only movie theatre dedicated to Japanese film, sweetens this theme with a pair of captivating love stories by director Isshin Inudo, presented in association with Asmik Ace Entertainment. Don't miss the chance to attend the West Coast premieres of these heartwarming cinematic masterpieces. How far would you go in the name of LOVE?

VIZ Cinema is privileged to present director Inudo's Josee, The Tiger and The Fish, screening February 5th –18th; and La Maison De Himiko, showing February 18th – March 4th. To celebrate the spirit of Valentine's Day for the entire month of February, filmgoers who also bring a date (or a friend) will receive a special 50% discount on the second person's admission.

Anime fans can also look forward to a special double-feature encore showing of Gurren Lagann: The Movie 1 & 2 – for one night only – on Sunday February 21st at 5:00pm and 7:30pm respectively. VIZ Cinema will offer special combo tickets for $15.00 to attend both showings. Preview trailers and screening times for all films are available at: http://www.vizcinema.com.

Isshin Inudo first gained fame as an innovative director of television commercials. But he started garnering international accolades with his first feature film, Two, Talking (1994), which won the Grand Prix award at the Sundance Film Festival in Tokyo and the Best New Director award from the Japanese Film Director's Association.

Josee, The Tiger and The Fish, February 5th – February 18th REGIONAL PREMIERE
Love blooms between two unlikely people when college student Tsuneo meets Kumiko, aka "Josee," a young woman who embraces life with a feisty personality, despite cerebral palsy and her need for a baby buggy for transport. Isshin Inudo deftly adapts author Seiko Tanabe's short story into a poignant feature film that was a genuine crowd pleaser and won numerous awards including a Best New Director Award from The Japanese Minister of Education. The Tiger and The Fish takes a place alongside memorable films such as Benny & Joon, What's Eating Gilbert Grape and Rory O'Shea Was Here and captures the resilience of the human spirit in the face of physical handicaps and shows how love can flourish with pride and self-determination.
La Maison De Himiko, February 18th – March 4th REGIONAL PREMIERE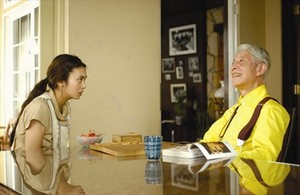 Family secrets, redemption, and the power of love to renew family bonds are explored between a father and daughter who can't understand each other and a man and a woman who can't love each other. Their odd and beautiful stories are brought to life by director Inudo against a backdrop of a colorful homosexual retirement home. Teenage Saori despises her father, who chose to leave her mother to live a new life out of the closet. But family ties are recalled as she learns of her father's terminal cancer; and her curiosity is piqued by a beautiful and mysterious young man who delivers the message and claims to be her father's lover. La Maison De Himiko explores homosexuality in Japan and also how people affirm or deny the stereotypes society imposes and how they embrace their decisions and individuality, and love's ultimate power to redeem.
Gurren Lagann the Movie –Childhood's End-
Sunday, February 21st 5:00pm
Based on the hit animated television series, this sci-fi feature takes place in a fictional future in which human beings have been forced to live in closed-off underground villages. Kamina and Simon are constrained by the limits imposed by the village elder. Yet, all this will change when Simon stumbles across a fantastic mechanized device – just as the village's peace is broken by a violent intrusion.
Gurren Lagann The Movie 2: The Lights in the Sky are Stars
Sunday, February 21st 7:30pm
Overcoming the loss of loved ones, Simon survived mortal combat with the Beastmen leader Lordgenome. Seven years later, humans have returned to the surface to build a flourishing civilization. But, the peaceful times don't last forever as humans begin developing beyond their world into outer space and encounter an unknown enemy.
VIZ Cinema is the nation's first movie theatre devoted exclusively to Japanese film and anime. The 143-seat subterranean theatre is located in the basement of the NEW PEOPLE building and features plush seating, digital as well as 35mm projection, and a THX®-certified sound system.
NEW PEOPLE offers the latest films, art, fashion and retail brands from Japan and is the creative vision of the J-Pop Center Project and VIZ Pictures, a distributor and producer of Japanese live action film. Located at 1746 Post Street, the 20,000 square foot structure features a striking 3-floor transparent glass façade that frames a fun and exotic new environment to engage the imagination into the 21st Century. A dedicated web site is also now available at: www.NewPeopleWorld.com.
---