Puffy AmiYumi Headlines for FETES, Released 2 Albums in the US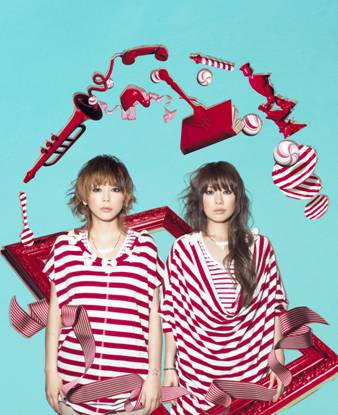 NY Anime Festival's official music event "Far East To East Showcase" (FETES), headlined by Puffy AmiYumi, is finally coming up this Sunday, October 10 at the Irving Plaza!

In accordance with their performance, Puffy AmiYumi's albums "Bring It!" and "honeycreeper" were both released on October 5 (Today!) in the U.S.

Album Info
Artist: Puffy AmiYumi
Titles: "Bring It!", "honeycreeper"
Label: SIN/Sony Music Independent Network
Release Date: October 5, 2010 (Available on all major digital outlets)

Far East To East Showcase
Date: October 10, 2010 (Sunday)
Venue :Irving Plaza (17 Irving Pl, New York NY 10003)
Lineup :Puffy AmiYumi, Boom Boom Satellites, Zazen Boys, Echostream

Special video message from Puffy AmiYumi for their fans in the U.S.


http://www.youtube.com/watch?v=EL1q3HK60F8
FETES is produced by Superglorious, a live event production firm responsible for orchestrating events with a very eclectic and exciting mix of artists. The New York Anime Festival, an anime, manga, and Japanese pop culture convention, will take place October 8-10, 2010 at the Jacob K. Javits Center in Manhattan. It is created by and co-located with the New York Comic Con. Puffy AmiYumi will be appearing at NYAF prior to their FETES performance. NYAF has already announced Japanese rock band VAMPS will appear as guests, and comics legends
Stan Lee
, John Romita, Sr., and John Romita, Jr. will headline the New York Comic Con.
FETES -- going into its third year -- is a night of music that brings together musical artists from both America and Japan, focusing on the borderlessness of song, and creating an evening appealing to anime fans, audiophiles, and casual New Yorkers interested in something new. Presented in Irving Plaza (East 15th Street, New York, NY) for the first time, FETES is proud to take place in this historic venue, and will be presenting a roster of performers fully befitting the concert hall.
"FETES has been a unique attraction at the New York Anime Festival since 2008," NYAF and NYCC Show Manager Lance Fensterman said. "And, in 2010, we're excited to welcome in a new year of FETES -- with our biggest group of artists from both the US and Japan that we've seen yet."
"I'm very happy to work with the renowned Puffy AmiYumi," FETES Director Hayden Brereton said. "Their exceptional body of work and global appeal will promise a very exciting show for our audience."
Boom Boom Satellites、Zazen Boys、Echostream、and Puffy AmiYumi will be appearing at the New York Anime Festival and New York Comic Con throughout the weekend for panel discussions and autograph signings before taking the stage on Sunday night at the Irving Plaza.
Tickets are $22 in advance and $25 at the doors and are available from below sites:
www.superglorious.com
or
www.livenation.com
Tickets for NYAF or NYCC may be purchased at:
www.nyanimefestival.com
www.nycomiccon.com
*Please feel free to contact me for any inquiries including interview requests for both Boom Boom Satellites and Puffy AmiYumi.
/ / / / / / / / / / / / / / / / / / / / / / / / / / / / / / / / / / / / / / / / / / / / / / / / / / / / / / / / / / / / / / / / / / / / / / / /
Puffy AmiYumi
Puffy AmiYumi, composed of singers
Ami Onuki
and
Yumi Yoshimura
, debuted in 1996 with the million selling single Asia No Junshin. Since then, their music has made them household names in Japan, leading to numerous hit songs, commercial appearances, and even their own television show. In 2000, Puffy AmiYumi began releasing albums and touring in the US. In 2004,
Cartoon Network
created an original cartoon,
Hi Hi Puffy AmiYumi
, which became one of the most watched cartoons in the world -- having been broadcast in 110 different countries. In 2006, Puffy AmiYumi were appointed the Goodwill Ambassadors of the Visit Japan Campaign for the US. In 2009, Puffy AmiYumi performed in Europe for the first time in front of 5,000+ people in Paris's Japan Expo. In the same year, they sang the theme song to the
Naruto
film
Naruto Shippūden
3: Inheritors of the Will of Fire. Their latest album, Bring it!, includes All Because Of You and I Don't Wanna written by
Avril Lavigne
and her producer Butch Walker, Hiyori Hime written by the Japanese female rock icon Sheena Ringo, the theme song to the new Genji anime series, and other songs written by numerous stellar song writers. In September 2010, Puffy AmiYumi will perform in Hong Kong and Taiwan. In the following month, they'll be coming to NYC.
www.puffyamiyumi.com
---