×
remind me tomorrow
remind me next week
never remind me
Subscribe to the ANN Newsletter • Wake up every Sunday to a curated list of ANN's most interesting posts of the week.
read more
Oshi no Ko
Episodes 1-2
by Lauren Orsini,
How would you rate episode 1 of
Oshi no Ko ? Community score: 4.7
How would you rate episode 2 of
Oshi no Ko ? Community score: 4.3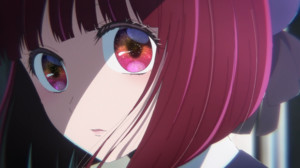 This anime almost made me lose my social group's reputation as an anime fan with good taste because I simply couldn't stop recommending it. But with a premise that sounds like a barely concealed fetish, it's a suggestion that relies on the recipient to make a leap of faith. Fortunately, Oshi no Ko (Just Trust Me, Bro) has made good on the hype promised by its explosive first manga volume, and now we're primed to see how deep and dark this rabbit hole can go.
Sure, things started out a little weird. If you think you experienced a disturbing introduction to this series, pour one out for your reviewer—a mom still breastfeeding her son while reading the manga chapter about Ai's interactions with her babies. I originally bought the volume just to live-tweet it for laughs. But like every other nonbeliever, I ended up humbled and heartbroken when I reached the story's first shocking twist, made even more morbid in anime form. It's a good thing the first episode was a cinematic 90 minutes because it takes the viewer on a journey. One minute you're wondering if the person who told you to watch it was a lot kinkier than you thought, and by the end of it all you're Ai Hoshino's biggest fan.
By the time you're reading this review, you're fully on board. You've either listened to a fellow fan or simply trusted in the towering reputations of the story's co-authors, Aka Akasaka (Kaguya-sama: Love is War) and Mengo Yokoyari (Scum's Wish). Now, we've all adjusted to the unusual premise and fast-forwarded to the twins' high school lives. Even though Ai is no longer physically present, her star power haunts every scene. She may have had the telltale side ponytail, but her story is far deeper than your average dead mom arc. In that movie of a premiere, she went through a character development arc about understanding the reach and constraints of her charisma, which can both help and hurt her in the twisted world of showbiz. Both episodes excel at showing the dark side of the business, which often seems to punish talent more than it rewards it. In the second episode, Aqua and Ruby recall Ai in flashbacks that include a little static, like the video on a CRT TV, further emphasizing the unreality of her larger-than-life persona. With 10 years removed from the events of her death, even their real-life memories of her have the feel of a TV show.
Ai may have been the specter haunting every scene, but she was far from the only mother in this episode. Miyako has proven herself to be quite a resilient woman. Once portrayed as a shallow gold digger, she has since stepped up as the twins' sole guardian and the president of Strawberry Productions after her husband disappeared (although I can't help but think we haven't seen the last of him). Her scenes with the twins are tender and sincere; it seems that her disturbing first conversation with the baby "deities" didn't rattle her permanently. Miyako truly supports Ruby as her daughter. Even though she knows what happened to Ai, she can't bring herself to crush her dreams in the name of safety, as Aqua would prefer. They may be a bizarre showbiz family that includes two reincarnated idol stans, but they're family, and when push comes to shove, both Aqua and Miyako are united in their goal to protect Ruby—even if it means a haphazard subterfuge in which Aqua disguises himself as a talent scout.
By the second episode, Aqua is already cooking up all sorts of schemes. His continued work relationship with the director introduces us to Mom #3 of the show. The gag with the director's mom repeatedly interrupting her son's heartfelt speeches was overdone but useful in emphasizing the contrast between these two characters: the director, an overgrown manchild giving speeches about adulthood from his childhood home, and Aqua, a supposed teen playing life on New Game Plus. Tragedy has hardened him, and he barely resembles the carefree gynecologist we met at the beginning of Oshi no Ko. Other than the flashback to Ai's gruesome mask of death, Aqua is the one who gives us the most unsettling faces now. It's as if these characters have been designed with these excessive eye sparkles just to show us how disturbing they can look when they're inverted or gone.
Ai and the twins don't have a monopoly on the eye game either. When she encounters them in the school hallway, Kana's eyes look like twin galaxies. This show can look really pretty when it wants to. Both the opening theme "Idol" and ending theme "Mephisto" are bangers, as you'd expect for a show about the entertainment business. This show offers a potent combination: the glitz of the industry and the gritty darkness just underneath—and I'm certain we haven't even scratched the surface.
Rating:
Oshi no Ko is currently streaming on HIDIVE.
Lauren writes about model kits at Gunpla 101. She spends her days teaching her two small Newtypes to bring peace to the space colonies.

---
Disclosure: Kadokawa World Entertainment (KWE), a wholly owned subsidiary of Kadokawa Corporation, is the majority owner of Anime News Network, LLC. One or more of the companies mentioned in this article are part of the Kadokawa Group of Companies.
---
discuss this in the forum (105 posts)
|
this article has been modified since it was originally posted; see change history
back to Oshi no Ko
Episode Review homepage / archives