×
remind me tomorrow
remind me next week
never remind me
Subscribe to the ANN Newsletter • Wake up every Sunday to a curated list of ANN's most interesting posts of the week.
read more
Shelf Life
Corpse Bride
by Erin Finnegan,

what is best in life
, but now that I'm marathoning anime series every weekend, for a job, some of the fun has worn off. But, far from making me less of a fan, I think Shelf Life has made me more of an anime fan than ever. Now I recognize costumes at conventions like nobody's business.
I've also grown a lot as a writer. (I'm embarrassed of that first column now!) Being absolutely forced to do something every week and given a mountain of feedback has (hopefully) made me improve rapidly. I'm grateful to have had this opportunity to sharpen my skills.
And I repeated that to myself all weekend while I marathoned My Bride is a Mermaid Part 2.
I didn't see any Eyeshield or Corpse Princess cosplayers at New York Comic Con/Anime Festival, but it was fun - although ridiculously crowded. Friday during Pro-only hours was the best time to see the show. I had a decent turnout for my panels (thank you!), but the best turnout was at the ANN panel.
Next up is MangaNext, where I'm an industry guest. Does it count as cosplay if you wear your Halloween costume?

This week's shelves are from Jenn, who hails from beautiful Colorado.
"I don't really know what to say,though I do believe my collection speaks for its self on how much I love Anime and Manga. Lets see I Have been collecting Manga and anime for about 9 years now..
I love to read more than watch T.V. ,so I have more Manga than Anime.I have 3 bookcases that all have mangas that are double deep with some manga still on the floor because I am running out of room for them all. I am afraid to keep stacking more books on top of the others because I have started to notice that some of my shelves are bending.So one day I expect a shelf to just give up the fight of holding my manga and just come crashing down. When I last counted all of my manga I had 996 and that's not counting magazines,art books or novels.So I could have over 1000 by now.
Also not all of my anime is pictured but those are mostly old VHS tapes that consist of Tenchi Muyo!,Masion ikkoku,Card Captor Sakura,DBZ ,Esclaflowne,Tokyo Babylon , Sailor Moon and some others that I can't remember. I also have a hole bunch of figures from DBZ in a box that is in my closet."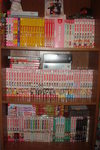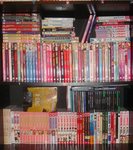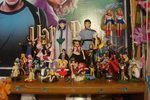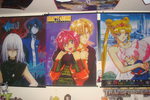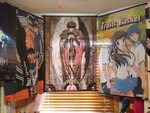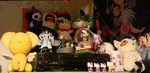 Love it! Super cute plushes, too!
Want to show off your stuff? Send your jpgs to shelflife at animenewsnetwork dot com. Thanks!
---
discuss this in the forum (53 posts)
|