×
remind me tomorrow
remind me next week
never remind me
Subscribe to the ANN Newsletter • Wake up every Sunday to a curated list of ANN's most interesting posts of the week.
read more
Anime Spotlight - Etotama (Chinese Zodiac Souls)
by Anthony Foronda,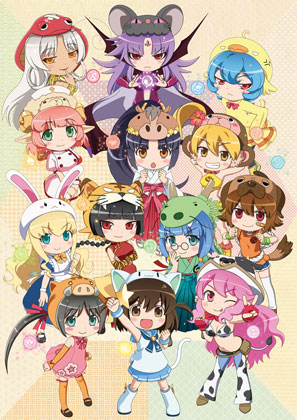 Broadcast Begins April 2015 (JST)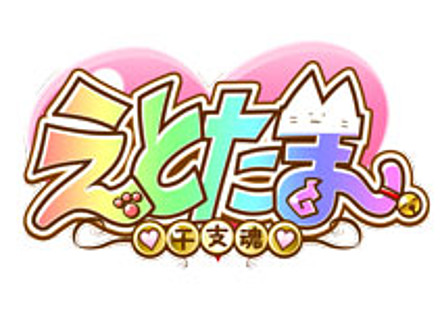 Key Staff
Director: Fumitoshi Oizaki

(Romeo X Juliet, Place to Place)

Series Composition: Deko Akao








Introduction
Video production group Shirogumi teams up with Tablier Communications, known for hosting radio shows and events related to anime and video games, to create an entirely original TV animation!
◆The comical day to day scenes drawn out in 2D by Encourage Films are mixed in with powerful 3D action sequences by Shirogumi to create a mesmerizing series!
◆2D (adult mode) character design by Akio Watanabe of the "Monogatari" series 3D (pretty mode) character design by QP:FLAPPER of "Sora no Method."
◆A serialized comic adaptation is currently being published on monthly magazine "Dengeki Daiou," with a differing plot from that of the anime!
◆12 zodiac animal spirits+1 cat = girls✕battling✕everyday story
Story
Eto-shin(Zodiac God). "Eto-shin" are the 12 divine messengers chosen from "Eto-musume," or zodiac girls representing all kinds of animals. From ancient times, these 12 divine messengers have protected the land of the rising sun. They are powerful beings who have survived through "ETM 12," a divine tournament held every sixty years, and admired by all Eto-musumes.
Fast forward to now, the present day, and the year ETM 12 will be held. From all over Japan, Eto-shin candidates, or in other words, Eto-musumes gather in great numbers.
Within that group exists a single cat Eto-musume.
Her name is Nya-tan (nya, as in meow). She is thought of as the one closest to becoming an Eto-shin, but is a misfortunate girl who always ends up undermined by evil rodents.
The only way to become the 12 zodiac signs is to beat all the Eto-shins. However, the power of the Eto-shins is so great, and no Eto-musume has ever won in the tournament for the past two thousand years.
When Nya-tan meets an ordinary high school boy, Takeru Amato, the story begins!
Characters
Nickname: "Nya-tan"
Cat Eto-musume
Eto ranking: Eto-musume (Unranked)
Meow'm (I'm) going to become a divine Zodiac no meowtter (matter) what!!"

◆An Eto-musume representing the cat genus.
◆Enters ETM12 in hopes of becoming one of the 12 Eto-shins.
◆Pursues her dreams and ambitions, never looking back.
◆An innocent girl but a bit of a natural klutz.

Nickname: "Takeru Amato"
Protagonist/Human
Eto ranking: N/A
"...Sorry, I don't understand a word you're saying"

◆Living on his own in Akihabara.
◆Ends up being freeloaded by Nya-tan who is after his tremendous "Moe* power," known as "Sol/Lull."
◆A languid, benevolent, and the comedic "straight man."
◆The only "normal" character in this story with common sense.
Nickname: "Chu-tan"
Rat Zodiac
Eto ranking: 1st
I need no salvation..."

◆The mightiest Eto-shin representing the rat genus.
◆Hard working and loyal to her duty
◆Harbors a deep animosity against the cat genus and disgust towards the interaction between humans and Eto-musumes.

Nickname: "Mo-tan"
Cow Zodiac
Eto ranking: 2nd
Leave the finishing blow up to me!"

◆An Eto-shin representing the cow genus.
◆A large breasted herbivorous vegetarian.
◆Her distorted affection toward Nya-tan makes her uncontrollably perverted.

Nickname: "Shima-tan"
Tiger Zodiac
Eto ranking: 3rd
See with the mind, not with the eyes."

◆An Eto-shin representing the tiger genus.
◆A Naniwan* Kung-fu master.
◆As a mentor, she helps develop Nya-tan's physical strength and martial arts techniques.
*"Naniwa (former name of Osaka) -may refer to particular personality trait (e.g. warm-hearted, caring, fun-loving, etc.)

Usa-tan
VA:Yuuka Aisaka

Nickname: "Usa-tan"
Rabbit Zodiac
Eto ranking: 4th
"I knew it!"

◆An Eto-shin representing the rabbit genus.
◆A business genius, who speaks and behaves like a princess.
◆The owner of "Usa-tan Company" (UTC).

Nickname: "Dora-tan"
Dragon Zodiac
Eto ranking: 5th
"I met the most interesting human."

◆An Eto-shin representing the dragon genus.
◆A legendary mythological Eto-shin and Sol/Lull master.
◆As a mentor, she helps develop Nya-tan's mental strength and Sol/Lull power.

Nickname:"Shar-tan"
Snake Zodiac
Eto ranking: 6th
"You are still trapped in the darkness of your mind..."

◆An Eto-shin representing the snake genus.
◆Mighty goddess, but she tries to never exercise her full power.
◆A mysterious girl who would rather keep to herself.

Nickname: "Uma-tan"
Horse Zodiac
Eto ranking: 7th
"No one remembers the signs of the zodiac after the horse!!!"

◆An Eto-shin representing the horse genus.
◆Takes things rather negatively, and is hard to deal with.
◆Is a dreamer, but many times a failure.

Nickname: "Mei-tan"
Sheep Zodiac
Eto ranking: 8th
"You're totally gone, huh!"

◆An Eto-shin representing the sheep genus.
◆Has a laid-back, easy-going, and soothing personality.
◆A healing specialist who delivers every possible therapeutic treatment.
◆Represents Mother's love herself.

Nickname: "Key-tan"
Monkey Zodiac
Eto ranking: 9th
"Are you serious!?"

◆An Eto-shin representing the monkey genus.
◆Thinks positive and tries to be positive in everything.
◆Impulsive, mischievous, and naïve but she learns from her mistakes.
Nickname: "Piyo-tan"
Rooster Zodiac
Eto ranking: 10th
"I'll never forgive you! Stupid cat..."

◆An Eto-shin representing the Rooster genus.
◆After three steps, she forgets everything.*
*Japanese proverb
◆But as she still senses the remaining emotions and
the mood she was in, the negative feelings accumulate in her mind.
Nickname: "Inu-tan"
Dog Zodiac
Eto ranking: 11th
"What a reward!"

●An Eto-shin representing the dog genus.
●Thinks positive and tries to be positive in everything.
●Enjoys fooling around with Key-tan.
●An honest and innocent girl.
Nickname: "Uri-tan"
Boar Zodiac
Eto ranking: 12th
"Sesame oil is human kind's greatest treasure."

◆An Eto-shin representing the boar genus.
◆Mascot-like character among the 12 zodiac girls,
and is treated like a younger sister by everyone.
Cast
Nya-tan

Rie Murakawa

Chu-tan

Sayaka Ohara

Mo-tan

Eriko Matsui

Shima-tan

Yuiko Tatsumi

Usa-tan

Yuuka Aisaka

Dora-tan

Maaya Uchida

Shar-tan

Hitomi Nabatame

Uma-tan

Ari Ozawa

Mei-tan

Mai Fuchigami

Key-tan

Megumi Toda

Piyo-tan

Mikoi Sasaki

Inu-tan

Mariko Honda

Uri-tan

Yumiri Hanamori

Takeru Amato

Hiro Shimono




(C)ETO
---
discuss this in the forum (12 posts)
|
back to Anime Spotlight Spring 2015 - The List
Anime Spotlight homepage / archives