×
remind me tomorrow
remind me next week
never remind me
Subscribe to the ANN Newsletter • Wake up every Sunday to a curated list of ANN's most interesting posts of the week.
read more
Interview: "Queer Japan" Filmmaker Graham Kolbeins
by Deb Aoki,

Blushing school boys kiss in BL manga, magical anime girls coyly hint at their "more than friends" relationship. Male kabuki performers dress up as elegant women, and androgynous female actresses in Takarazuka theater troupes have legions of female fans. But there's much more to being gay, lesbian, bi or transgender in Japan than what you see in manga and anime.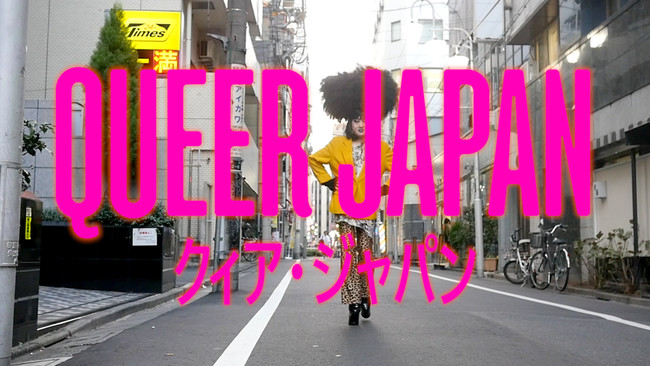 Los Angeles-based filmmaker Graham Kolbeins and New York City-based translator and producer Anne Ishii know this well. Kolbeins and Ishiii are responsible for the influx of Japanese gay manga translated into English in print over the past three years. Before the publication of The Passion of Gengoroh Tagame in 2013, gay manga was a comics genre that was mostly only available in English as scanlations. Since then, Kolbeins and Ishii have introduced English readers to even more gay manga creators, like Jiraiya, Seizoh Ebisubashi, and Takeshi Matsu with the first anthology of gay manga, Massive: Gay Erotic Manga and the Men Who Make It, published by Fantagraphics Books in 2014. Kolbeins and Ishii also run a website, Massive Goods where they sell clothing, books and accessories featuring the work of the gay manga creators featured in Massive.
Now, Kolbeins and Ishii are teaming up again for an even more ambitious project: Queer Japan. Queer Japan is a documentary that's now in the works that will feature interviews with "artists, activists, community leaders, and everyday people" to provide an "intimate look into the everyday triumphs and struggles of being a sexual minority in modern Japan."
Besides interviews with gay manga master Gengoroh Tagame and Hiroshi Hasegawa, co-founder of G-Men magazine, Queer Japan also aims to talk with a diverse cross section of gay, lesbian, transgender and gender-queer people from various parts of Japan. Kolbeins and Ishii have several interviews in the can, and are now aiming to return to Japan for several more months of filming and production to complete the documentary and produce a companion photo book. To do this, they're hoping to raise $45,000 via their recently launched Kickstarter campaign.
ANN correspondent Deb Aoki reached out to Kolbeins via email to learn more about the Queer Japan project, and get some updates on even more gay manga that's in the publishing pipeline.

What was the inspiration behind the Queer Japan documentary? Was there a particular moment or incident that made you realize that you and Anne wanted to, HAD to make this film?
Graham Kolbeins: Rather than a specific moment, I think it's been a slow broil. Back in 2012 when Anne and I were working on The Passion of Gengoroh Tagame, I was reading a lot of non-fiction texts on the subject and became fascinated with the many complex queer cultures that have existed in Japan over the centuries. On our first trip to Tokyo to interview Tagame-san and the other artists in Massive, I got a taste of just how rich and layered queer life in Japan can be. My interest has only increased from there. 
You and Anne are the editors of the Gengoroh Tagame manga collection, The Passion of Gengoroh Tagame (PictureBox) and Massive: Gay Erotic Manga and the Men Who Make It (Fantagraphics), but tell me a little bit more about your background in film and storytelling.
Around the same time that Anne and I were doing research and conducting interviews for those two collections of gay manga, I began directing a documentary web series called Rad Queers. Each episode focused on different artists and activists, including transgender artist Edie Fake, playwright Ian MacKinnnon, and Payasos L.A., a non-profit group of gay and bisexual Latino men in L.A. who dress like clowns (sexy leather clowns, not the scary kind you find a children's birthday parties) and raise money for charitable causes. 
My most recent short doc is called The House of Gay Art. It explores the world of the titular archive of gay art in the suburbs of Tokyo. It's one of the only institutions in Japan collecting gay art, and it's run out of the modest apartment of curator and writer Masahiro Ogizaki. He sleeps surrounded by hundreds of paintings, illustrations, books and magazines-- it's like a mini Library of Alexandria for gay Japanese art, and he's the one person with the passion to keep it going. I'd like to continue exploring Ogizaki-san's archive in the feature film. 

Besides raising money via Kickstarter for the Queer Japan documentary, you also received a grant for this project! Who is the grant from, how much was it for, and what did the grant make possible so far?
Yeah, it's pretty wild! I received a Creative Artist Exchange Fellowship from the Japan-U.S. Friendship Commission, a program run jointly by the National Endowment for the Arts (NEA), the Agency for Cultural Affairs in Japan (Bunkacho), and the International House of Japan (I-House).
The residency program annually chooses 5 artists from the U.S. to live in Japan for 3-5 months, learning about Japanese culture and working alongside local artists. The grant covers $28,000, which will cover my housing, living, and professional expenses for the five months we're shooting. The rest of the budget that we're raising on Kickstarter will go towards full-time crew members, travel costs to shoot in locations across Japan, production equipment, original score, and the print publications that will supplement the documentary. 
I love the interview clips you showed on the Kickstarter preview video. How did you find and select the other subjects you've interviewed so far? What factors go into how you are selecting your interview subjects?
I've received invaluable assistance from my liaisons at I-House, Sawako Nakayasu and Manami Maeda, who've been incredibly supportive of my process and connected me with the truly divine drag queen and artist, Vivienne Sato. Butoh dancer Atsushi Matsuda is someone who's been a big supporter of MASSIVE GOODS, and I met him at a party we threw in Tokyo in 2014.
I got Masaki C. Matsumoto involved after reading their writings on queer issues and amazing Twitter page, QueerESL, which helps teach English to Japanese speakers through radical queer theory. I found out about artist Nogi Sumiko after she participated in the great photo project "Out in Japan," organized by Gon Matsunaka and photographer Leslie Kee. I felt a strong attraction to Nogi-chan's artistic sensibility. Anne and I have been working with Rokudenashiko for the past year, adapting her manga memoir What Is Obscenity? into English (coming in May from Koyama Press!) Her inclusion felt natural to me as a path to examine how sexism and institutional misogyny intersect with queer issues. 
Do you have a list of people that you know you'll be interviewing in the coming months? Can you tell me a little bit about them or give some hints about the spectrum of people you'll be interviewing?
Aside from the people we've already interviewed, I already have a couple dozen more individuals I've contacted and/or would like to get involved, but I can't confirm the participation of anyone beyond those in the trailer at this early stage. The list will continue expanding as we spend more time shooting and meet new people. It's important to me that the scope of the film includes individuals of all different ages, backgrounds, and experiences: gay and lesbian, trans and cis, gender non-binary, intersex, bisexual, and people who feel these terms fail to fully describe their gender and sexuality. There are also Japanese specific identities like X-Gender and New Half that I'd like to explore in the film. 
I've not heard of X-Gender and New Half before. Could you explain what those terms mean, and why they are uniquely Japan-specific gender identities?
X-Gender (x-jendaa) is a gender identity used by people who identify as neither male nor female. It's not dissimilar from English terms like "non-binary" and "gender queer," in that it rejects the male/female dichotomy implied by terms like "MTF" and "FTM," which are currently in popular usage (along with "GID" - Gender Identity Disorder) in Japanese trans circles.  X-Gender people are neither F or M, but X. The term originated from the Kansai region and became popular online and in the media in the late '90s. X-Gender people sometimes identify as FTX, MTX, or XTX. 
New Half (nyuuhafu) is a controversial yet popular term for transgender women that many consider problematic. The label originates from Osaka gay bar Betty's Mayonnaise. In 1982 (a time when gender reassignment surgery was illegal in Japan), transgender bar owner Betty dispatched the term, which is a play on the word for mixed-race Japanese people, "hafu," to refer to the trans entertainers who worked in her bar. New Half means "half man and half woman," which, as you might guess, is a characterization many transgender people take issue with. Regardless, New Half continues to be used in the media and celebrity culture. 

Gengoroh Tagame was an obvious choice as an interview subject for Queer Japan, given your connections, and his role as an influential gay manga artist as well as an art historian. I've seen him talk at TCAF and he always has really smart, interesting things to say. Will your documentary interview other gay manga or BL manga creators that might be of special interest to anime and manga fans? 
Yes, I'm hoping to interview mangaka of all different sexual orientations and genders. There are a couple of lesbian mangaka and a prolific intersex mangaka who I'd love to get involved. I'm very interested in exploring BL culture and observing how it intersects with the gay community. I'd love to cover some of the shops that cater to girls who love BL on "Otome Road" in Ikebukuro.
The ways in which female manga artists, starting the Year 24 Group, have used the shojo genre, and BL in particular, as a pathway to sexual liberation is fascinating to me. BL, at its best, is as a really useful tool for deconstructing patriarchy and homophobia. 
A couple years ago at Tokyo International Comics Festival, Tagame-san introduced me to a friend of his who began her career as a shojo mangaka before crossing over into the gay manga world under a male pen name. She's someone I'd love to feature in the film.
Will you be touching upon Boys Love (BL) and yuri manga and anime and their role in Japanese popular culture, as far as how it has impacted people's perceptions and/or misperceptions of gay life in Japan?
I certainly hope to work those themes in naturally, by including mangaka who are interested in sharing their stories. While it would certainly be possible to make a film focusing entirely on queerness in manga and anime, that might be a separate project. It would be foolish to make a movie all about manga without putting in a lot of good animation, but that would require a bigger budget and a different kind of production. 
If you only went from manga and anime, all-male kabuki, and all-female Takarazuka performers, you'd almost assume that Japan is a gay paradise -- that gender-bending and same sex relationships are fairly normal and readily accepted. But in reality, compared to US or Europe, gay culture in Japan appears to be comparatively underground.  Can you perhaps speak to the hows and whys of this -- what should western fans know about the challenges that LGBTQ people in Japan face that may not be obvious to people from western cultures?
That's a big question! I'll start by qualifying that I try to avoid binary comparisons like Japan vs. the West or Japan vs. U.S., because it's easy to start making blanket statements-- and the boundaries between these categories are less stable than they may seem. Nonetheless, these are comparisons that will inevitably be drawn, and it's easy for people to get an oversimplified picture of LGBTQ issues on both sides of the coin.
If you look only at gender bending theatrical traditions like kabuki and groups like the Takarazuka Revue, or historical precedents like the Edo period's plethora of representations of nanshoku (male-male desire) in literature and art, you may get this overly rosy picture of Japan as a "haven" for queer people. It may be true that very specific kinds of male-male relationships (and certainly not lesbian ones) were accepted in Japanese antiquity, but it's important to note that after Japan's doors were forcibly opened to the West in the Meiji Restoration, that tradition was deemed part of Japan's "uncivilized" past and swept under the rug. 
Medico-scientific concepts of sexuality imported from Germany and elsewhere became popular in the early 20th century and terms like homo replaced nanshoku. After the Pacific War, gay culture flourished in uniquely Japanese ways. Gay bars stated popping up in major cities, and their gender bending employees, dubbed gei boi (gay boys) were widely reported on in the press throughout the 1950s, a time when the word "gay" had yet to even enter the popular consciousness in America. The hentai zasshi (perverse magazines) of the same presented a variety of sexual minorities alongside each other: gay, lesbian, transvestite, and BDSM erotica could co-exist in the same magazine. A variety of queer communities formed and evolved over the late 20th century, but there was no major gay rights movement paralleling America's in the late '60s and '70s. Generally, sexuality remains a part of people's private lives in Japan. It's not uncommon for people to have a relatively open queer life that they would, however, never bring up at work or with their family. 
That's not to say queer people live in cozy co-existence with straight society in Japan. According to the non-profit group Nijiro Diversity, 70% of sexual minorities have experienced bullying in school. Less than 19% of major corporations in Japan offer non-discrimination policies for LGBT workers (compared, for instance, to over 95% of Fortune 500 companies in the U.S.). There are no national and very few local anti-discrimination laws preventing housing and financial discrimination against LGBTQ people. So while there are some really robust and inspiring queer scenes in contemporary Japan, queer people still face a lot of institutional discrimination. 
Are things changing now? It seems like LGBTQ culture has been more in the news in recent years in Japan than ever. 
Yes, the last few years have seen increased attention to LGBTQ issues in the Japanese media. Same-sex marriage has entered the national conversation and in 2015, several wards have introduced partnership certificates that could be a step towards full marriage equality. This movement began in Shibuya, followed by Setagaya ward and more recently Iga and Takarazuka, the birthplace of the Takarazuka Revue. Outside of these gestures toward marriage equality, however, Japan lacks any serious policies protecting LGBTQ people. 
The Tokyo gay pride parade has existed in various forms since 1994. Nogi Sumiko told me a revealing anecdote about how the media covered the first gay pride parade. Following the footage of participants celebrating, the male newscaster's unapologetic commentary was, "Well, that was disgusting." This same reporter, Nogi mentioned, is now frequently seen on panels enjoying spending time with "onee" (drag queen TV talents). Last year, the conservative prime minister Shinzo Abe's more liberal wife, Akie Abe, made history by appearing in the Tokyo Rainbow Pride, alongside Hiroshi Hasegawa. So, the perception of LGBTQ pride movements seems to have shifted significantly in just two decades. 
In N. America, as gay culture became more visible, and less of a subculture/underground thing, it took several decades to get to acceptance and relative social normalcy that you see today. That said, a fair amount of the resistance to LGBTQ rights that you see today comes from conservative Christians. In Japan, Christianity is not as big a cultural or political force as it is in N. America. Given that, what factors make being "out" in Japan difficult? 
It's interesting-- in some ways being a non-Christian country has made it easier for queer people in Japan to get along without being bothered by bigots. At the same time, homophobia exists on a more implicit level than it does in nations like America and England, where religious anti-queer rhetoric is predominant in public and political discourse.
In his great book Contact Moments: The Politics of Intercultural Desire in Japanese Male-Queer Cultures, Katsuhiko Suganuma discusses the seminal activist group OCCUR's attempts to dismantle state-sanctioned discrimination in Japan by exposing the "quiet" (otonashii) nature of homophobia in Japan. As long as queer culture doesn't pose a threat to the hetero-normative culture, it will be "tolerated" to a certain extent. "And when it appears 'intolerabe,' the otonashii homophobia awakes and deploys a cynical defense against the deconstructing force. In such circumstances, the otonashii homophobia keeps its pretense of being 'tolerant' about homosexual culture, but it does its job to condemn it in an implicit manner."
As a non-Christian nation, there are also separate issues preventing same-sex marriage from gaining traction in Japan. Here's what Hiroshi Hasegawa said on the matter in our interview: "[In the Japanese LGBTQ rights movement], everyone was looking to copy America and Europe in gay activism. When it comes to gay marriage-- in the West, in Christian cultures, God issues the right to marriage based on a relationship between a man and a woman in an equal contract. In Japanese society, however, marriage is a union of ancestors and families. It's a family issue. I believe it's similar in China. Marriage is not a union of individuals but a union of households, so the framework of marriage is very different from the West."
I'm not familiar with other documentaries on queer culture in Japan -- but have there been other films on this subject?
Shinjuku Boys is a great 1995 film focusing following the lives of three transgender men in Tokyo. Heart TV is an ongoing documentary news series on Japanese TV network NHK that discusses queer issues. Director Hikaru Toda (2014's excellent Love Hotel) is currently shooting a doc called Lawyers about Masafumi Yoshida and his partner (in law and love) Kazuyuki Minami, who also happens to be on Rokudenashiko's team of advocates. Kazu is one of several lawyers defending Rokudenashiko against obscenity charges that have their roots in her infamous arrest for making a 3D-printed vagina kayak. 
It's not a traditional documentary by any means, but Toshio Matsumoto's 1969 film Funeral Parade of Roses is hugely important to me. It combines narrative storytelling with documentary interviews and surreal, experimental sequences to tell the story of several female-presenting gei boi living their lives openly while working in a Shinjuku gay bar. 
Tell me your vision for your documentary! What themes or ideas do you hope to explore with Queer Japan?
I want this film to give a voice to the everyday experiences of queer people without sensationalizing them. I want to meet people who are living examples of resisting patriarchy and dismantling heteronormativity, but also those who are simply bravely living their lives in an honest and unabashed way. Personally, as I continue to learn the Japanese language, the theme of language itself has emerged, and how it shapes the formation of identity. 
What makes your film project unique, special and/or timely?
I think what makes this film unique is that it's not an "issue-based" documentary-- it's a series of character studies. I'm setting out to produce portraits of fascinating individuals, and discussing social issues only as they come up naturally, as they pertain to lived experiences. In this way I hope to make a film with multiple subjectivities rather than a piece of journalism with a singular message. 
Japan is in a fascinating moment politically and historically, grappling with big issues and generational conflicts as it adjusts itself to the 21st century. So I think the "timeliness" will seep into the film naturally. 
How long will this film be? an hour or more? 
At least 90 minutes-- but the scope is still expanding, so this may end up being kind of epic!
Are you hoping for a theatrical/film festival release eventually?
Yes! It's my hope that Queer Japan will screen at film festivals in 2017. Following that, a theatrical release would be amazing.
What's your target date for completion?
I may be overly optimistic about this, but I'm hoping to complete editing by October 2016.
Anything else you'd like to add, or say to encourage people to support this project?
I'm proud to say that Queer Japan is an entirely independent production free of the commercial constraints of Hollywood filmmaking. We're relying on word of mouth and the generosity of individual donors to help make this project a reality. If any of the subjects in the trailer pique your interest, please get involved and donate so we can continue telling their stories and many more from the queer community in Japan.
Besides working on the Queer Japan documentary, you and Anne also work with publishers to get gay manga published in English.  I'm hoping and assuming that Massive was a good seller for Fantagraphics. Is there a second volume of the Massive manga anthology in the works? Or are you two working on other gay manga titles that we can look forward to seeing in 2016 - 2017?
Massive was a big project with lots of disparate pieces which took two years to fully assemble, and I couldn't be happier with the results. Its success has in my mind achieved our initial goal of introducing a variety of gay manga artists to English readers, paving the way for full volumes of their work to be published.
Rather than repeat the process and make a direct sequel, Anne and I are working with publisher Bruno Gmunder to release standalone books by artists included in the Massive anthology and beyond. They've already put out works by Tagame, Seizoh Ebisubashi, Takeshi Matsu, and Mentaiko Itto, and they're printing an expanded, hardcover edition of The Passion of Gengoroh Tagame later this year! 
That's great news! I know PictureBox published the paperback edition of The Passion of Gengoroh Tagame in 2013, but since they've pretty much stepped away from graphic novel publishing, that edition has gone out of print. It's great to hear that it will be re-released with additional material too.  What else can we look forward to seeing from Massive in the coming months?
Our latest major book project is Rokudenashiko's manga memoir, What Is Obscenity?, coming out from Koyama Press in May 2015. It's all about the artist's July 2014 arrest for "digital distribution of obscenity," stemming from a 3D file of her vagina that was used to create the world's first manko (pussy) kayak. 'Nashiko has been in court over the past few months fighting obscenity charges from her second arrest.
Hopefully she'll be able to join us this year at the Toronto Comic Arts Festival in May 2016, but we won't know the verdict in her case until early May. We're hoping, whatever the outcome, that her arrest won't affect her ability to travel internationally. 
I hope so too. I'm looking forward to meeting her at TCAF. Wow, that's a lot going with Massive, so thanks for taking the time to answer my questions, and congratulations on a strong launch for your Kickstarter campaign. I hope you meet your goal and then some!
Thank you for your support!
---
Find out more about the Queer Japan documentary at their Kickstarter page, https://www.kickstarter.com/projects/grahamk/the-queer-japan-project. For even more about gay manga, follow Gay Manga on their Tumblr, or visit Massive Goods.
---
discuss this in the forum (31 posts)
|