House of 1000 Manga
Drops of God
by Shaenon K. Garrity,


Ten Cent Manga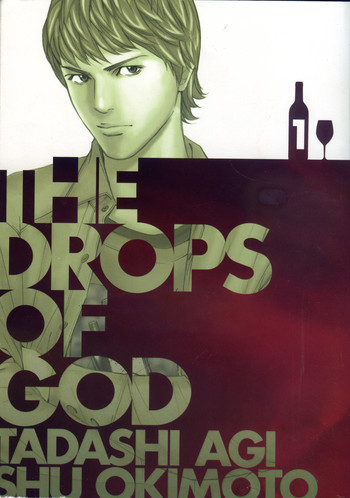 I've never met a food manga I didn't like. And there are so many! The king of the genre is Oishinbo, by Tetsu Kariya and Akira Hanasaka!, which has been running since the 1980s and is now over 100 volumes long. There are countless other variations on the concept of "manga + food," like the equally venerable Cooking Papa, which focuses on an ordinary guy cooking for his family and includes recipes for home-cooked meals, or action/competition cooking manga like Iron Wok Jan!, or autobio foodie diaries like Fumi Yoshinaga's Not Love But Delicious Foods. But in a culture that takes its cuisine as seriously as Japan does, Oishinbo's combination of soap opera, food facts, and mouth-watering drawings of elaborate dishes provides an irresistible draw to white-collar workers looking for something fun but technically educational to read on the daily commute.
The Drops of God, witten by Tadashi Agi (the pseudonym of a brother-sister team also responsible for scripting the excellent mystery series Kindaichi Case Files) and drawn by Shū Okimoto, is one of the most recent tweaks on Oishinbo's winning formula. Basically, it's Oishinbo for wine. Okimoto updates the cartoony 1980s art of Oishinbo and Cooking Papa, replacing it with Death Note­-esque realism and lots of handsome bishonen dudes, but the premise and the melodrama remain suspiciously similar to Oishinbo's story of a cocky young foodie trying to prove his tastebuds against his disapproving gourmet father. But what the hell. The result is the funnest wine manga in the universe.
As Drops of God opens, young beer-company executive Shizuku Kanzaki learns of the death of his estranged father, legendary wine critic Yutaka Kanzaki. (You can tell they're estranged because he abandoned wine for beer!) Yutaka's will leaves his estate—including his priceless wine collection—to whoever can correctly identify and locate the "Twelve Apostles," twelve wines Yutaka singled out as exceptional. The only clues are the tasting descriptions Yutaka left behind. When the Twelve Apostles have been assembled, the would-be heir must also find the "Drops of God," the Jesus of wines, which stands atop even the twelve.

Shizuku has no interest in this contest until he meets his competition, arrogant up-and-coming wine critic Issei Tomine. The two lock horns, and Shizuku decides to claim his inheritance despite knowing nothing about wine. But wait! It turns out that the rigorous childhood training to which Yutaka subjected his son—traveling the world, tasting things like dirt and rocks—was secretly training to become the greatest wine taster ever born! Although Shizuku initially seems to have no wine-related powers aside from flawless decanting form (because he used to have to pour wine for his dad), his nose and palate turn out to be phenomenal. With the help of cute sommelier-in-training Miyabi and some sympathetic coworkers at the beer company, which decides to use the wine contest for publicity (another element lifted from Oishinbo, in which the main character works for a newspaper publicizing his quest for the ultimate menu), Shizuku just might find those amazing wines.
But the quest moves slowly, as the characters routinely get distracted by other wine-related adventures. Did I previously use the word "melodrama" when describing this manga? I'll let you decide for yourself whether that's an accurate description after telling you that, in the first four volumes, the following events occur:

A woman suffers from amnesia that can only be cured by drinking a wine she remembers from her past and was inspired to memorialize in a painting. If Shizuku can find the wine with a taste exactly reminiscent of the painting, he can restore her memory.

The scent of wine brings a man out of a coma. This is in the same storyline where wine cures amnesia.

Shizuku and Miyabi seek advice from Monsieur Robert, a homeless man who lives in a cardboard box in a Ginza park but is secretly a top wine connoisseur who keeps priceless vintages of wine buried near in the park.

Deciding he needs to strengthen his "thirst for wine," Issei travels the Silk Road by camel. In an ancient ruin, a native woman named Loulan strips naked to keep him warm through a freezing desert night. When they awaken, they find buried in the ruins…a bottle of rare wine!

A connoisseur refers to a prematurely uncorked wine as "infanticide" or "abortion." After the wine is properly decanted, she upgrades her opinion: drinking the wine is now like having sex with an underage girl. "When a certain someone forcibly undressed her," she says, "she turned out to have a very nice body."

Even more ornate are the tasting descriptions, which plunge Shizuku, Issei and other tasters into elaborate fantasy tableaus. Various wines are depicted as a lavish masquerade ball, a herd of buffalo, riding a pegasus to a soccer game, and a Queen concert. The Twelve Apostles themselves are lavished with increasingly convoluted descriptions as each new envelope is opened. "Back then, I was brimming with surety," begin Yutaka's tasting notes for the Seventh Apostle. "Whether standing in a wilderness or roaming deep forests alone, having lost the way, or rocked by waves on a vast ocean on a tiny boat alone, I was convinced that I would never be agitated. Every time I pour this wine into a glass I cannot but remember myself behaving like a ferocious young lion that has left the pride." This goes on for another nine pages, ending with a comparison between the wine and Antoni Gaudí's Sagrada Família BASiLiCA. (Oh, right—each of the Twelve Apostles is also compared to a work of art.)
Meanwhile, you learn a lot about wine. Like most gourmet manga, The Drops of God is partly about vicariously enjoying amazing food and drink, partly about educating yourself for the next trip to a restaurant or fancy grocery. The characters declare that wine is a blend of "Heaven, Earth, and Man," and the manga spends time on each of these three characteristics: vintage (Heaven), terroir (Earth), and the vintner's skill and ingenuity (Man). Since Shizuku doesn't know crap about wine at the start, the reader can learn along with him. At first the characters don't get to see much in the way of actual wine production, being stuck in Japan, but later they travel the world and see winemaking techniques up close. There are also the general lessons about cuisine familiar to gourmet manga: that the most expensive product isn't necessarily the best, that it pays to be educated and open-minded, and that most consumers are way too easily swayed by trends.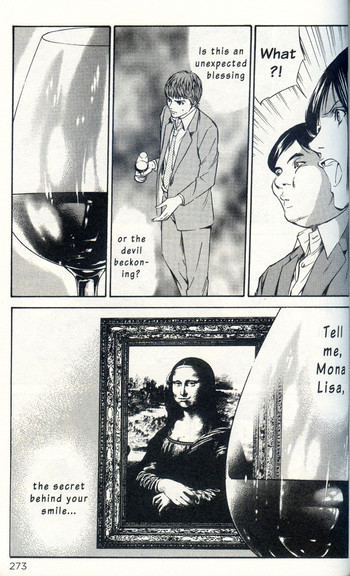 Vertical published four omnibus volumes of Drops of God, each collecting two volumes of the Japanese edition. One suspects they weren't selling well, despite critical praise (the series won a 2009 Gourmand Cookbook Award), because Vertical then jumped forward to The Drops of God: New World, a later storyline set in the U.S. and Australia. As annoying as it is when publishers imagine American readers only want to read stuff about America, I have to admit that, as a resident of Northern California, the manga's clear favoritism toward French wines was starting to tick me off. We kicked France's ass in the Judgment of Paris, dammit! And so English-reading audiences get to follow Issei as he rides the Napa Valley Wine Train and samples a 2007 Clos Pegase (lucky devil), while Shizuku saves an ecologically-minded vineyard from developers in Australia.
New World, which came out in 2012, is the last volume Vertical has published to date. Over in Japan, however, The Drops of God is 44 volumes long and still has two Apostles to go. The manga—and its 2010 live-action TV adaptation—have influenced the Japanese wine industry; distributors, stores, and even airlines now know to order extra crates of wines mentioned in Drops of God. It's helped introduce Japan to an area of Western cuisine that previously wasn't well-known. (For a sample of the wine ignorance displayed by Japanese drinkers in previous decades, check out the wine-themed storylines in the Sake volume of Oishinbo.)
I'm currently nine months pregnant, so I haven't been able to drink wine for quite a while. In some ways, reading The Drops of God is exquisite torture. I love the Beringer winery! I'd enjoy a tasting there more than that smug bastard Issei! But mostly it's just exquisite.
---
Shaenon K. Garrity is an award-winning cartoonist best known for the webcomics Narbonic and Skin Horse. Her prose fiction has appeared in Strange Horizons, Lightspeed, Escape Pod, and Daily Science Fiction. Her writing on comics appears regularly in The Comics Journal and Otaku USA. She lives in Berkeley with two birds, a cat, and a man.
---
discuss this in the forum (13 posts)
|