Interest

Sword Art Online Holds Giveaways in Akihabara For Winter Festival

posted on by Kim Morrissy
Sword Art Online will be holding a giveaway campaign in Akihabara from November 23 to December 25 for the "2018 Winter Fall Akihabara Electric Town Festival." Customers who make purchases over a certain value at participating stores will receive various Sword Art Online-related freebies and enter a draw for limited edition goods. The event's key visual, which shows Kirito and Asuna on a shopping trip with Alice and Eugeo from Sword Art Online: Alicization, will be displayed throughout Akihabara throughout the duration of the campaign.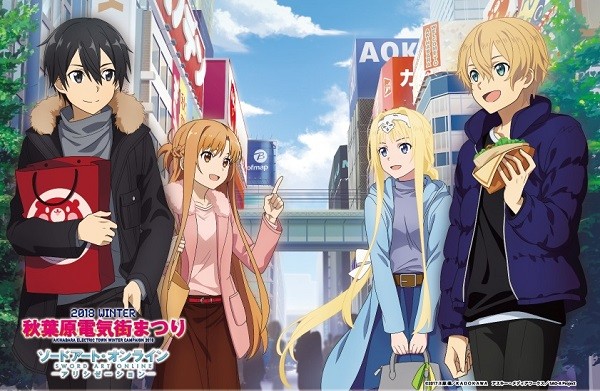 Participating stores will be marked with a logo of the Akihabara mascot character Akibear, which is seen on Kirito's bag in the key visual. The stores will give a postcard to any customer who purchases over 2,000 yen worth of items. Customers will automatically be entered into a draw for a 10,000 yen gift card (which will be given out to 100 people), and for an acrylic panel (30 people). The stores will also give out plastic sheets showing an illustration of Akibear with the Sword Art Online characters while stocks last.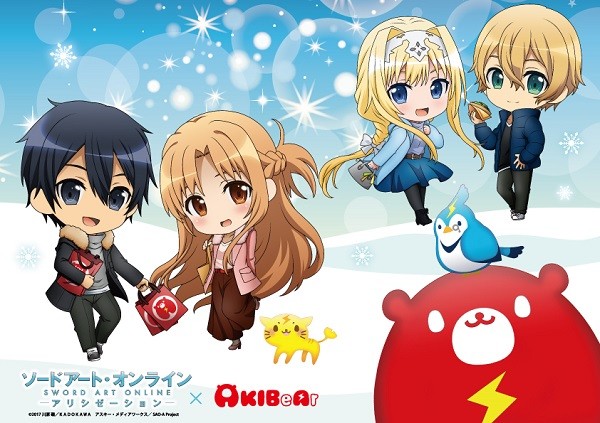 In addition, Akihabara UDX parking, Adores, Vstone Robot Center, Edion, Onoden, TSUKUMO, Dospara, Bic Camera/Softmap, and Laox will give out a different postcard to customers who purchase over 500 yen of items. The postcards are sorted into two groups, each with 10 unique illustrations. Postcards from the first group will be given out from November 23 to December 7, while the second group will be given out from December 8 to 25.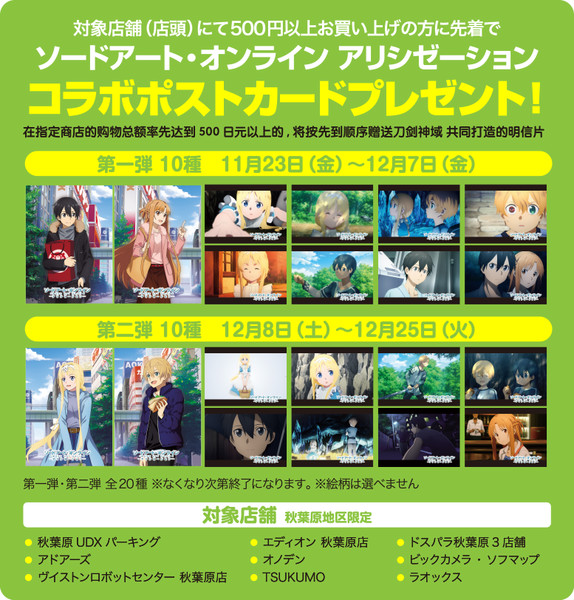 During the campaign period, 10 flags with Sword Art Online illustrations will be displayed in the Chuo Dori main street. These flags will be given out to 10 people who follow the @akiba_denkigai twitter account and who quote-retweet their campaign tweet with the hashtag #秋葉原電気街まつり_SAO in their message. One of the flags will be signed by the voice cast.
Source: LN-News
---