News

Dubbed Gundam UC #2, Zakuro, Hidan no Aria Promos Streamed (Update 2)

posted on by Egan Loo
New Gundam UC cast members announced; UC #2, Otome Yōkai Zakuro to premiere in October
---
ANN is now
streaming
a new English-dubbed trailer for the second volume of the
Mobile Suit Gundam UC (Unicorn)
video anime series. The anime
adapts
Harutoshi Fukui's 10 novel volumes of the same name, which are set in the same Universal Century (UC) timeline as Yoshiyuki Tomino and Sunrise's first Gundam series, Zeta Gundam, and the other sequels. Bandai Visual's Blu-ray Disc volume will
ship
simultaneously in multiple countries with Japanese and English dubbing, as well as Japanese, English, French, Spanish, and Chinese subtitles, in November. It will also be available in the PlayStation Store for the Sony PlayStation 3 and PSP game consoles on October 30.
The new English cast members are as follows:
Riddhe Marcenas: Yuri Lowenthal
Full Frontal: Keith Silverstein
Angelo Sauper: Michael Sinterniklaas
Otto Mitas: Michael Sorich
Liam Borrinea: Cindy Robinson
Daguza Mackle: Richard Epcar
Mihiro Oiwakken: Michelle Ruff
Alberto Vist: JB Blanc

A 93-second promotional video for the television anime adaptation of Lily Hoshino's Otome Yōkai Zakuro supernatural historical manga has began
streaming
on the anime's website on Wednesday. (The video debuted at Tokyo's Comic Market 78 event earlier this month.) The story
is set
in an alternate version of Japan where humans and
yōkai
(demons) co-exist. The government has established a Ministry of Yōkai and Humans to deal with the incidents that flare up between the two races. The ministry is composed of human representatives,
yōkai
representative, and one girl named Zakuro with half-human, half-
yōkai
blood. The anime will premiere in Japan on October 4.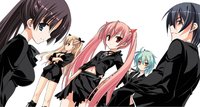 The Japanese publisher Media Factory began
streaming
a promotional movie for the anime adaptation of Chūgaku Akamatsu's Aria the Scarlet Ammo (Hidan no Aria) school detective action light novel series. The video does not contain actual footage from the anime. The story
takes place
in Tokyo Butei High School, a special school where armed detectives — "Butei" — are trained to use weapons.
[Via Moon Phase]

Image © Sotsu, Sunrise

© Lily Hoshino/Gentosha Comics, Zakuro Production Committee

© Chūgaku Akamatsu/Media Factory
Update:
New Gundam UC cast members listed.
Update 2:
Sunrise has corrected its list of the new Gundam UC cast members. Richard Epcar will play Daguza Mackle.
---