News

Disgaea 5's Characters, Story Previewed in Video

posted on by Sarah Nelkin
Mamoru Miyano, Sarah Emi Bridcutt, Satomi Akesaka play main characters in strategy RPG game shipping next spring
---
Nippon Ichi Software began streaming a trailer unveiling its newest installment in the Disgaea strategy RPG video game series, Disgaea 5 for the PlayStation 4. Tenpei Sato will once again compose the music, and it is previewed in the video.
Kiria: Nippon Ichi Software presents...
Kiria: ...As if I could forget.
Kiria: Only revenge is supporting me.
Kiria: You are an avenger soaked in blood.
Kiria: There's nothing for you to protect anymore.
Kiria: Entrust yourself to rage...
Kiria: Set me free!
Kiria: And then... Destroy everything...!
The cast of characters includes:

Kiria (voiced by Mamoru Miyano), a young demon man who swears revenge on the "Demon Emperor Voiddark" for some reason. A lone, muscular demon who hides power of Overlord levels. His quote on his profile reads, "...As if I could forget. Only revenge is supporting me."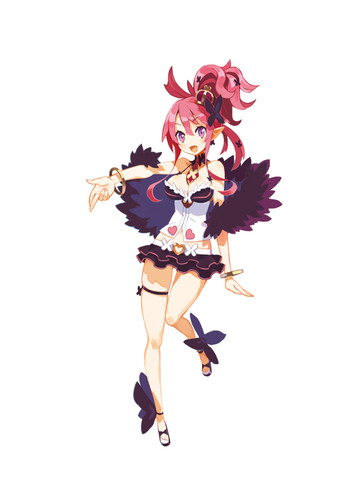 Seraphine (Sarah Emi Bridcutt), an Overlord girl who rules the "Gorgeous Netherworld," a place that prides in its wealth over the two other Netherworlds. Even though she's an Overlord, she ran away from home and her Netherworld because she didn't like the idea of being forced into a strategical arranged marriage by her parents. The quote on her profile reads, "It is the fate of all men to dance in the plam of Seraphine, the Overlord of this Gorgeous Netherworld!"

Usaria (Satomi Akesaka), the heiress to the throne of the Bunny Bunny Netherworld where de,pms tjat don't like to fight gather. Her home country was destroyed by Voiddark's henchmen. She has a curse cast on her that makes her go berserk if she does not eat curry. Her character profile's quote reads, "I am one who is being chased by the Lost. If I am here, you all will be put in danger as well."

Nippon Ichi describes the story:
The strongest and most evil Overlord, Voiddark. Under his control, many Netherworlds have been overrun by his underlings and kept under his power. Voiddark controls a large army of Lost, beings that have strayed from the path of any morality. It is rumored that the number of soldiers in his army is ten billion.

It appeared that no one in the Netherworld had the power to stand up against Voiddark and his army... However, the Netherworld is vast. In order to take their revenge on Voiddark due to their personal grudges, multiple Overlords quietly take a stand.

The game will ship for the PlayStation 4 in Japan in spring 2015. The limited edition package of the game will come with an "Usaria & Yellow Prinny" Niitengo mini figure, a hard cover art book, a 2-disc original soundtrack, and a box to contain everything that has original artwork. Those who pre-order the game will receive a download code for an alternate bunny girl outfit for Seraphine. The limited edition pack of the game will retail for 10,200 yen (about US$102), the normal version will sell for 7,200 yen (US$72), and a downloadable copy will cost 6,171 yen (US$62).
The franchise spawned four console mothership titles, the spin-off Makai Kingdom, and the PSP Prinny hack-and-slash games. The series has also been adapted into an anime in 2006 and multiple manga series.
[Via 0takomu]
---