×
remind me tomorrow
remind me next week
never remind me
Subscribe to the ANN Newsletter • Wake up every Sunday to a curated list of ANN's most interesting posts of the week.
read more
News

Former Sailor Moon Musical Star Returns as Sailor Cosmos

posted on by Jennifer Sherman
Usagi actress Satomi Okubo appears in visual with Chibi Chibi actresses
---
The official website for the Sailor Moon franchise announced on Thursday that Satomi Okubo, who played Usagi Tsukino/Sailor Moon in the 2013-2015 stage musicals, will play Sailor Cosmos in Bishōjo Senshi Sailor Moon -Le Mouvement Final-. The website also revealed a new visual for the upcoming production in the Sailor Moon stage musicals. In addition to Okubo, the visual features Hinari Yamaguchi and Chise Niitsu, who are double-cast as Chibi Chibi.

Okubo and the actresses for the other Inner Guardians graduated from their roles after the third new musical, Bishōjo Senshi Sailor Moon -Un Nouveau Voyage-, in 2015. The new Sailor Moon musicals debuted with Bishōjo Senshi Sailor Moon -La Reconquista- in 2013 to celebrate the 20th anniversary of Naoko Takeuchi's Sailor Moon manga. The second new musical, Bishōjo Senshi Sailor Moon -Petite Étrangère-, ran in 2014.

The new cast for the Inner Guardians that debuted in last year's Bishōjo Senshi Sailor Moon -Amour Eternal- musical are returning for the new musical.
Kaede as Makoto Kino/Sailor Jupiter
Yume Takeuchi as Ami Mizuno/Sailor Mercury
Hotaru Nomoto as Usagi Tsukino/Sailor Moon
Karen Kobayashi as Rei Hino/Sailor Mars
Rimo Hasegawa as Minako Aino/Sailor Venus
The cast for Tuxedo Mask and the Outer Guardians are returning from earlier Sailor Moon musicals, with the exception of Karin Takahashi, who played Sailor Saturn. She is replaced by actress Mirai.
Syu Shiotsuki as Haruka Tenō/Sailor Uranus
Sayaka Fujioka as MICHIRU Kaiō/Sailor Neptune
Mirai as Hotaru Tomoe/Sailor Saturn
Mikako Ishii as Setsuna Meiō/Sailor Pluto
Airi Kanda as Chibi-Usa/Sailor Chibi Moon
Yūga Yamato as Tuxedo Mask/Mamoru Chiba
The cast also includes:
Meiku Harukawa as Kō Seiya/Sailor Star Fighter
Riona Tatemichi as Kō Taiki/Sailor Star Maker
Saki Matsuda as Kō Yaten/Sailor Star Healer
Asami Okamura as Princess Kakyū
Koko Isuzu as Sailor Galaxia
Shion Aoki as Sailor Iron Mouse
Miyu Hashigaki as Sailor Tin Nyanko
Yuka Kobayashi as Sailor Aluminun Siren
Iriya Yūto as Sailor Lead Crow
Additionally, Yukari Shiihara, Yoshimi Hidano, Ayumi Sagisaka, and Ayano Nagasawa will play Shadow Galactica.
The website describes the musical as the "final chapter" of the Sailor Moon musicals, and it will conclude the story that began in the first new Sailor Moon musical in 2013. The musical will run at the AiiA 2.5 Theater Tokyo venue from September 8-18. The musical will then run at the Ai Plaza Toyohashi venue in Aichi Prefecture from September 23-24, followed by Umeda Arts Theater's Theater Drama City venue in Osaka from September 29 to October 1.
Bishōjo Senshi Sailor Moon -Amour Eternal- ran in October and November in Tokyo, Fukuoka, and Osaka. A DVD with a filmed performance of the musical shipped on March 15.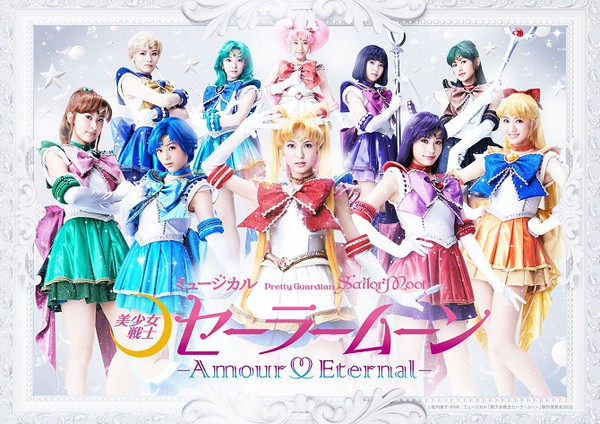 The cast of Bishōjo Senshi Sailor Moon -Amour Eternal-, except Kanda, appeared in a one-hour Sailor Moon musical performance at Houston's Anime Matsuri on April 7. The cast also hosted Q&A and autograph sessions and participated in a tea party during the convention.
The Inner Guardian cast for -Amour Eternal- replaced the main cast from Bishōjo Senshi Sailor Moon -Un Nouveau Voyage-. Nomoto is the sixth actress to play the title character in a stage musical, including those who played Sailor Moon in the first string of productions that ran from 1993 to 2005.
Source: Comic Natalie
---