News

Sanrio Boys Anime Announces More of Cast, 7 Unaired Anime Shorts

posted on by Egan Loo
3rd promo video, theme songs also revealed
---
The 2nd anniversary event for the Sanrio Danshi (Sanrio Boys) project debuted the third promotional video for the upcoming television anime at the Sanrio Puroland theme park on Sunday. The video reveals additional cast members, and the anime's website also revealed the anime's theme songs and seven original anime shorts that will not air as part of the television anime's broadcast.
The video describes the anime: "This is the story of how 'I' became 'we.'"
The newly announced cast includes:
The five main voice cast members are singing the opening theme song "Seishun Interlude" (Adolescent Interlude) and the ending theme "Now on dream!" under the group name Sanrio Danshi. The CD with both songs will go on sale on February 21, followed by the anime's soundtrack on March 21.


The first Blu-ray Disc/DVD volume on March 21 will contain the first two television episodes and two unaired original anime shorts "Hajimete no Otsukai Danshi" (First-Time Errand Boys) and "Okuyukashii Danshi" (Refined Boys). Each of the remaining five monthly volumes will contain two more television episodes and one more unaired anime short: "S Rare Danshi" (S Rare Boys), "LINE Danshi" (LINE Boys), "Miteshimatta Danshi" (Boys Who Were Spotted), "LINE Danshi" (LINE Boys), and "Moeagaru Danshi" (Flaming Boys). The website lists a total of 12 television episodes and seven unaired original anime shorts.
The project's premise follows Kōta Hasegawa, a high school boy who loves the yellow Pom Pom Purin dog. By mere coincidence, he ends up attending the same school as Yū Mizuno, a boy who likes the bunny My Melody. Yū tells Kōta that there's nothing to be ashamed of for liking Sanrio's cute characters. Together, Kōta, Yū, Shunsuke Yoshino, Ryō Nishimiya, and Seiichiro Minamoto learn to accept their love of the characters instead of feeling embarrassed.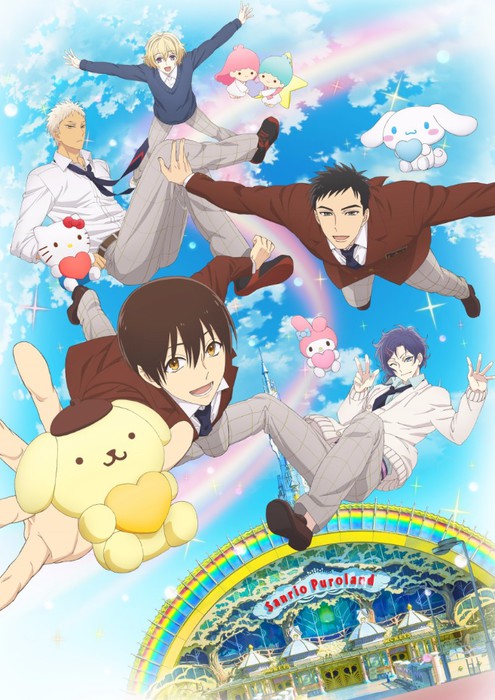 The anime's main cast members are (from left to right in the image below):

The anime will premiere in Japan on January 6 on Tokyo MX and MBS. The show will also premiere on TVQ Broadcasting Kyushu on January 8, and on TV Hokkaido on January 11.
The overall project launched in January 2016, and Sanrio launched a merchandise line for the project in April 2016. Mai Andō is handling two different manga adaptations of the project, with a manga in the Manga ONE app that launched in April 2016, and one in Sho-Comi that launched in June 2016. The first follows the everyday lives of the boys, while the second depicts the romance between a heroine and the boys.
The Sanrio Danshi Birthday Memorial CD series of five character CDs shipped this year around each character's birthday from March to September.
Sanrio also released a smartphone game adaptation last September, and the voice actors released a song single titled "Fun! Fantastic girl!" last November. The song is the theme song to the game.
Sources: Comic Natalie, MoCa News
---