News

Doreiku Anime's Promo Video Reveals Theme Songs, April 12 Premiere

posted on by Crystalyn Hodgkins
---
The official website for Doreiku The Animation, the television anime adaptation of Shinichi Okada and Hiroto Ōishi's Doreiku: Boku to 23-nin no Dorei (Slave District: 23 Slaves and Me) manga, began streaming a promotional video for the series on Monday.
The site also revealed the show's theme songs. Shōgo Sakamoto (The Royal Tutor) is performing the opening theme song "Karakara na Kokoro" (Dried-Up Heart), and Pile (World Trigger, King's Game the Animation) is performing the ending theme song "BJ."
The anime will premiere on BS11 on April 12 at 25:00 (effectively April 13 at 1:00 a.m.) before later airing on Tokyo MX and on AT-X. The anime will stream exclusively on Netflix in Japan at first, with other services streaming the series after its television broadcast.
The show stars:
Hibiku Yamamura (Seraph of the End's Asuramaru, Kiznaiver's Noriko Sonozaki) as Eia Arakawa


Ryouta Suzuki (King's Game The Animation's Teruaki Nagata, Recovery of an MMO Junkie's Hayashi) as Yūga Ōta


Sayaka Senbongi (Kabaneri of the Iron Fortress' Mumei, Girlish Number's Chitose) as Julia Katsushika



Hikaru Midorikawa (Fushigi Yugi's Tamahome, Blood Blockade Battlefront's Zed O'Brien) as Seiya Shinjuku


Suzuna Kinoshita (Ojisan to Marshmallow's Machida, King's Game The Animation's Mitsuki Yukimura) as Ayaka Toshima


Katsuyuki Konishi (Gurren Lagann's Kamina, The Seven Deadly Sins' Dreyfus) as Ataru Chūō


Nozomi Nishida as Rushie Suginami


Yasuhiko Kawazu as Masakazu Meguro


Showtaro Morikubo as Shinnosuke Tachikawa


Yusuke Shirai as Takio Minato


Hikaru Yūki as Sachi Shibuya


The other new cast members include:
Kazuyuki Okitsu as Tsubaki Setagaya
Sarara Yashima as Shiwori Adachi
Ayumu Murase as Taiju Nakano
Tetsu Inada as Zenichi Bunkyō
Kouki Miyata as Zushiōmaru Sumida
Saki Hayakawa as Maria Chiyoda
Kengo Kawanishi as Gekkō Itabashi
Sachi Kokuryu as Zero Shinagawa
Kenyuu Horiuchi as Muon Nerima
Saeko Kamimura as Minami Kita
Ryōichi Kuraya (Tsugumomo) is directing and handling series composition at Zero-G and TNK. Junji Goto (School Days, High School DxD) is designing the characters and serving as chief animation director.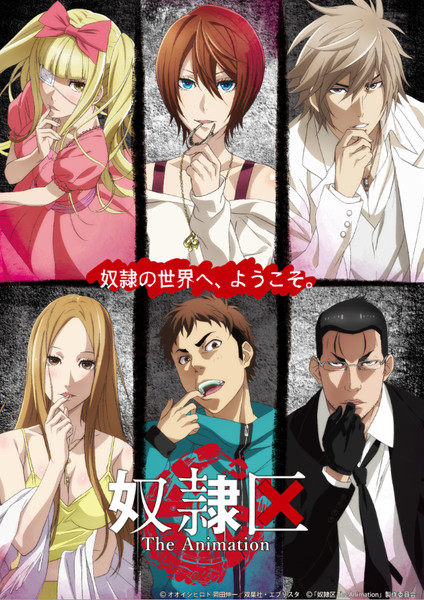 The story is a survival game between 24 people who each have a device called an SCM (slave control method), which can make their opponent into their slave. Each person has their own reason for participating in the game.
The manga is an adaptation of Okada's Boku to 23-nin no Dorei novels, which initially serialized on the novel submission site Everystar. Futabasha published three volumes for the main series, as well as the Doreiku 2nd Shinjuku Kikō Kai sequel and the Doreiku: Boku to 23-nin no Dorei.ex side story. Okada and Ōishi are publishing a new sequel titled Dai Doreiku: Kimi to 1-Oku 3-Senban no Dorei, and the second compiled book volume shipped on December 1. The Doreiku series' physical and digital volumes have a total of more than 3.3 million copies in circulation.
Ōishi launched the manga adaptation on Everystar in 2012, and Futabasha published the full series in 10 compiled volumes.
A live-action film adaptation starring Sayaka Akimoto and Kanata Hongō opened in Japan in June 2014.
Source: MoCa News
---