News

2nd Joker Game Stage Play Reveals Visual, Cast, Debut Dates

posted on by Rafael Antonio Pineda
7 cast members return for new stage play based on
Production I.G
anime
---
The staff of the second stage play adaptation of Production I.G's Joker Game spy anime series opened a new website on Wednesday. The site revealed a new visual for the stage play, the play's cast members, and the debut dates.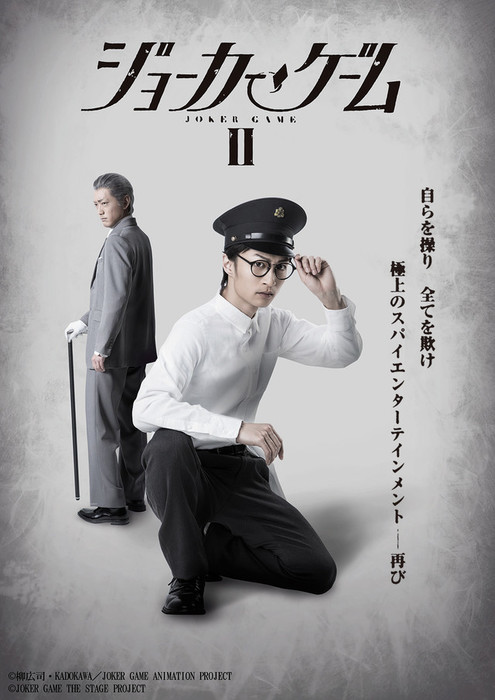 The above visual shows Yūya Kido (right) in costume as Jitsui, and Masashi Taniguchi (left) as Lieutenant Colonel Yūki.
The play will run at the Theater 1010 in Tokyo from June 14 to 20, and at the Mielparque Hall in Osaka from June 23 to 26.
The cast, all returning from the first stage play, includes:
Yūya Kido as Jitsui
Ikkei Yamamoto as Amari
Chihiro Okutani as Tazaki
Gaku Matsumoto as Hatano
Kōji Saikawa as Kaminaga
Takeshi Maeda as Fukumoto
Masashi Taniguchi as Lieutenant Colonel Yūki
The previous stage play adaptation ran last May.
The anime itself is an adaptation of Kōji Yanagi's novel of the same name. The original novel is set in 1937, before World War II begins in earnest. Lieutenant Colonel Yūki of the Imperial Japanese Army forms the "D Agency," an army intelligence outfit under his command and tutelage. Army General Staff attaches Lieutenant Sakuma to observe the unit's performance. D Agency casts a wide net to find agents beyond Japanese military personnel, and Yūki establishes D Agency's tenets, which go against IJA doctrine: "Don't kill, don't get killed, don't get captured." With this, Yūki trains a team of operatives who conduct missions against domestic and foreign powers.
Production I.G's television anime adaptation of the novel premiered in April 2016. Crunchyroll streamed the series as it aired in Japan, and Funimation streamed an English dub for the anime.

Subaru Nitō launched a manga adaptation of the anime in Mag Garden's Comic Garden magazine in February 2016, and ended it on January 5. Mag Garden published the manga's fifth and final compiled book volume on March 10.
Yanagi published the original Joker Game novel in 2008. The novel won the Nihon Suiri Sakka Kyōkai-shō (Mystery Writers of Japan) award in 2009. Yū Irie directed a live-action adaptation of the novel, which premiered in Japan in January 2015. Yanagi followed up the original novel with three sequel novels — titled Double Joker, Paradise Lost, and Last Waltz — in 2009, 2012, and 2015, respectively. The series has more than 1 million copies in print.
Source: Comic Natalie
---