News

Live-Action Tonde Saitama Film Reveals 4 Cast Members in Costume

posted on by Rafael Antonio Pineda
Fumi Nikaido,
GACKT
, Masaki Kyōmoto, Yūsuke Iseya star in February 22 film
---
The official website for the live-action film adaptation of Mineo Maya's Tonde Saitama manga revealed four cast members in costume on Wednesday.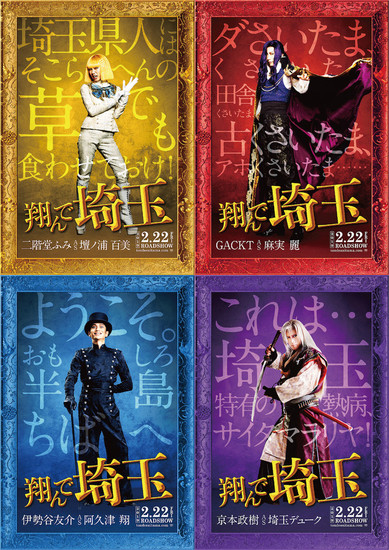 (Clockwise from upper left in both images above, character name romanizations not confirmed):
Fumi Nikaido as Momomi Dannoura
GACKT as Rei Asami
Masaki Kyōmoto as Duke Saitama
Yūsuke Iseya as Shō Akutsu
Other cast members include:
In addition, Ryō Katō will play Nobuo Shimokawa.
Hideki Takeuchi (live-action Nodame Cantabile, Thermae Romae) is directing the film, and Tomokazu Tokunaga (live-action Densha Otoko) is writing the script.
The film will open in Japan on February 22. Shooting for the film ran about two months and concluded on May 31. There are two parts to the film: a "legend part" that focuses on Rei and Momomi, and a "modern part" that focuses on a certain Saitama family through whom the legend is told.

In the story, those who live in Saitama Prefecture are ruthlessly persecuted by those who live in Tokyo, so the citizens of Saitama Prefecture hide this fact from others. High school student Momomi Dannoura is the son of the governor of Tokyo, and he is also the student council president at Hokuhodo Academy, the top high school in Tokyo. One day, he meets Rei Asami, a mysterious transfer student who has returned from America. Rei and Momomi are captivated by each other, but Momomi knows Rei is from Saitama Prefecture. The manga tells the story of two people split by a prefectural border, a Saitama "Romeo and Juliet." The couple try to elope and start a revolution to liberate Saitama Prefecture.
Maya originally launched the one-volume manga in Hakusensha's Hana to Yume magazine in 1982. Takarajimasha published a new compiled version of the manga in 2015 titled Kono Manga ga Sugoi! comics Tonde Saitama. The manga has 620,000 copies in print.
Maya also wrote the classic shōjo comedy manga Patalliro!. The manga inspired a stage play adaptation that ran in Tokyo and Osaka in March and April, and a live-action film adaptation with the same cast and staff was scheduled to open in Japan this fall. A previous stage play adaptation ran in Tokyo in December 2016.
The manga has inspired various spinoff manga, a television anime adaptation in 1982, and the Patalliro! Stardust Project anime film in 1983. The Patalliro Saiyuki! spinoff manga also inspired a television anime series in 2005.
Source: Tonde Saitama film's website, Comic Natalie
Images © Mineo Maya "Kono Manga ga Sugoi! comics Tonde Saitama" / Takarajimasha
---