DS Game "The World Ends With You" Vocalist SAWA on JapanFiles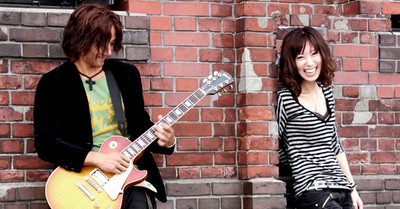 January 18, 2010 – JapanFiles Digital Music Store releases two albums by Japanese rock unit SAWA today, "Figure and Shadow" and "333."
SAWA (the group) features Sawa (vocalist), who performed the theme song to the hit Nintendo DS game "The World Ends With You."
SAWA Profile
SAWA is: Sawa (Vo.), Zizi (Gt.), Hizmi (arrangements)
Sawa began her career in November of 2006 as a solo singer and songwriter. A few months later, she got the chance to be a part of the soundtrack project of the well-known Nintendo DS game "The World Ends With You." Sawa wrote the lyrics for 18 songs and sang 8 songs including the opening theme "Twister." In November of 2009 Sawa participated in the movie project version of the game, "Movie001" by MMM that was released through iTunes.
In 2007 Sawa and Hizmi began to create original songs together which became the beginning of the unit SAWA. When they created enough songs to put together an album, they released the album titled "333" in December 2008.
They started performing their first live shows together in 2009. In October 2009 they released their first EP "Figure and Shadow." Right after the release of the EP they welcomed Zizi as an official member to SAWA.
SAWA links!
SAWA on JapanFiles Digital Music Store: http://www.japanfiles.com/sawa
SAWA official website: http://sawa333.com/index.html
SAWA official MySpace: http://www.myspace.com/sawaofficial
J-Pop World Interview with SAWA: http://www.j-popworld.com/Interviews/SAWA.php
ABOUT JAPANFILES:
Supporting Japanese artists since 2004, JapanFiles specializes in digital sales and media promotion for indie and major Japanese music artists. Music downloads at the JapanFiles Digital Music Store are DRM-free and only 99 cents each.
JapanFiles has sponsored Japanese artist appearances at Sakura-Con, Anime Boston, A-Kon, FanimeCon, Anime Mid-Atlantic, Pacific Media Expo, Anime Vegas, Animex (Mexico), SXSW, Slim's (San Francisco), and Knitting Factory (New York City).
JapanFiles has produced 18 USA CD releases for Japanese artists, including Morning Musume, girugamesh, LM.C, Hangry & Angry, ketchup mania, Swinging Popsicle, LiN CLOVER, Budo Grape, BESPA KUMAMERO, and three volumes of the "Fresh Cuts from Japan" compilation series.
JapanFiles Digital Music Store: http://www.japanfiles.com
MySpace: http://www.myspace.com/japanfiles
LiveJournal: http://japanfiles.livejournal.com
Twitter: http://www.twitter.com/japanfiles
Facebook: http://www.facebook.com/pages/JapanFiles-Digital-Music-Store/269293716258
JapanFiles is a division of Japanese education website YesJapan.com.
http://www.yesjapan.com
---