×
remind me tomorrow
remind me next week
never remind me
Subscribe to the ANN Newsletter • Wake up every Sunday to a curated list of ANN's most interesting posts of the week.
read more
The List
7 Christmas Anime To Ring In The Season
by Lynzee Loveridge,

Christmas is largely celebrated as a couples' holiday in Japan, with a focus on cake, with the usual decorated trees and Santa Claus cameos. Anime series will throw in a Christmas episode the same way there is a "beach" episode and cooking episode. Here are seven favorites to watch with a hot of hot cocoa.



7. Itsudatte My Santa! It's rare to get a whole anime about Christmas, but leave it to Love Hina creator Ken Akamatsu to retell the story of a Christmas humbug discovering the meaning of Christmas, with a romantic twist of course. The Christmas hater in this case is a guy born on Christmas Eve whose parents thought it'd be hilarious to name him Santa. He meets Mai (thus the "My/Mai Santa pun), a sort of santa-in-training who's determined to use her Christmas magic to turn Santa's attitude around.



6. Sailor Moon S Movie: Hearts in Ice This winter-themed Sailor Moon movie features cameos by Santa Tuxedo Kamen as Tokyo finds itself frozen solid by an evil ice space queen. If you like magical girls, topless monsters, and cats changing into humans instead of more traditional Christmas stuff, this hour-long movie is perfect.



5. White Album The second series is currently airing in Japan and streaming on Crunchyroll, but it has nothing on the wintery romance of the first season. The series follow a college-age protagonist Tōya Fuji as he attempts to date his sweetheart-turned-idol Yuki (get it?) in a time before cellphones. The series is one drama after another with Christmas as a major plot point.



4. Chocotto Sister Chocotto Sister is was skipped over by North American licensors but seems right up Media Blaster's alley. The show follows only child Haruma who, in his youth, asked Santa for a little sister. Now living alone as a twenty-something bachelor, Haruma is surprised when a female Santa on a sleigh brings him a little sister who he names Choco. Haruma is now responsible for raising his new little sister and teaching her about the world.



3. Polar Bear's Café Episode #37 The Polar Bear Café Christmas episode might be standard in plot. The characters mull over what gifts they're going to get and if there will be party. The difference is, of course, that the characters are a polar bear, penguin, llama, alpaca, and other furry folk. It's suddenly much cuter when a wolf shows up in a Santa costume with Christmas cake, a penguin tells his traditional comedy routine, an alpaca knits some socks, and a pair of otters go out on a date.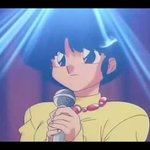 2. Ranma 1/2 OVA Episode #2, "Tendo Family Christmas Scramble!The Tendo/Saotome family decide to throw a huge Christmas party at the dojo and literally everyone shows up. The usual jealous hijinks ensue but it all comes together with a Christmas karaoke and gift exchange. The episode is like an anime version of Four Christmases or any of those other wacky family holiday films (but with characters you actually like).



1. Tokyo Godfathers A warm-and-fuzzy holiday movie about forgiveness and family, Tokyo Godfathers follows three homeless friends who find a baby on Christmas Eve. The three unlikely godparents encounter a series of coincidences revealing each others past while searching for the baby's birth parents. Directed by the late Satoshi Kon, if you were going to choose one anime Christmas film to end the season on, stick with this one.




The new poll: Which anime have you dropped due to length?

The old poll: What's your favorite anime to watch during the holiday season?
Tokyo Godfathers
Toradora! Eps 17-19
Yuri!!! on Ice Ep. 10
Sailor Moon S Movie: Hearts in Ice
Card Captor Sakura Ep 35
K-on Ep 7
Ranma 1/2: Tendo Family Christmas Scramble
Azumanga Daioh Ep 17
Hetalia: Axis Power Ep 31
Clannad: After Story Ep 13
Today's Menu for the Emiya Family Ep 12
Sword Art Online Ep 03
Digimon 02 Ep38: A Very Digi-Christmas
Kimi ni Todoke Xmas episode
---
When she isn't compiling lists of tropes, topics, and characters, Lynzee works as the Managing Interest Editor for Anime News Network and posts pictures of her sons on Twitter @ANN_Lynzee
.
---
discuss this in the forum (36 posts)
|