×
remind me tomorrow
remind me next week
never remind me
Contest Extended Until MIDNIGHT Nov 1! • Your guys' entries are the pick of the patch, so we're adding an additional 48 hours to get your pumpkins in!
read more
Anime Spotlight - Hetalia - The World Twinkle
by Anthony Foronda,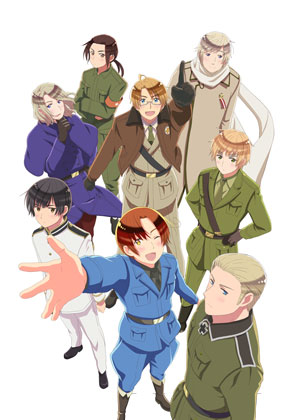 Broadcast Begins July 2015 (JST)

Key Staff
Director: Hiroshi Watanabe

(Fairy Princess Minky Momo, The Law of Ueki, Mythical Detective Loki Ragnarok)

Series Composition: Kazuyuki Fudeyasu

(Denki-Gai, Magical Warfare, Hajime No Ippo Rising)

Character Design: Mariko Oka

(Ghost Hound, Hell Girl, Hetalia The Beautiful World)







Introduction
The long-awaited newest title in the immensely popular anime series "Hetalia"!!
Story
The long-awaited new series for the anime "Hetalia" begins!!
The mega-hit personification comedy anime "Hetalia The World Twinkle" will bring you excitement and smiles♪
Characters
Italy
VA:Daisuke Namikawa

A Latin son that is mischievous, cheerful, and a crybaby. Likes pasta, pizza, siestas, and girls! He seems to show what he can do in front of girls.

Germany
VA: Hiroki Yasumoto

Overly serious and a worry-wort. A powerful young man but weak against rules. Part of the daily routine is to look after Italy.

Japan
VA:Hiroki Takahashi

A quiet, serious young man who excels at taking hints and being modest. Many feel he is mysterious, but he thinks everything is very normal.

America
VA:Katsuyuki Konishi

Because he loves #1, and is always positive about things, he always has too much power in him. A hero of a young man that loves freedom and fast food.

England
VA:Noriaki Sugiyama

Cynical and hates losing, but is a gentleman and romanticist. Excels at magic, and is friends with fairies and unicorns.

France
VA:Masaya Onosaka

A dandy fellow that loves anything that is beautiful. His hobbies are wine, artistic activities, and going on strikes.

Russia
VA:Yasuhiro Takato

A combination of rural simplicity and scary carefreeness of a child, this young man has indescribable intimidation. He wants a friend that he can open up to.

China
VA:Yuki Kaida

A wizard(?) that looks young despite being quite old. Has many disciples, and acts like an older brother, but isn't treated much like one too often...
Cast
Italy

Daisuke Namikawa

Germany

Hiroki Yasumoto

Japan

Hiroki Takahashi

America

Katsuyuki Konishi

England

Noriaki Sugiyama

France

Masaya Onosaka

Russia

Yasuhiro Takato

China

Yuki Kaida
Staff
Director

Hiroshi Watanabe

Series Composition

Kazuyuki Fudeyasu

Character Designs

Mariko Oka

Animation Production

Studio DEEN

Theme Song

"Hetalian☆Jet"
Vocals: Italy (CV: Daisuke Namikawa)










©2015 HIDEKAZ HIMARUYA,GENTOSHA COMICS/HETALIA PROJECT
---
discuss this in the forum (1 post)
|
back to Anime Spotlight Summer 2015 - The List
Anime Spotlight homepage / archives