×
remind me tomorrow
remind me next week
never remind me
Subscribe to the ANN Newsletter • Wake up every Sunday to a curated list of ANN's most interesting posts of the week.
read more
Anime Spotlight - Chio's School Road
by ANN Staff,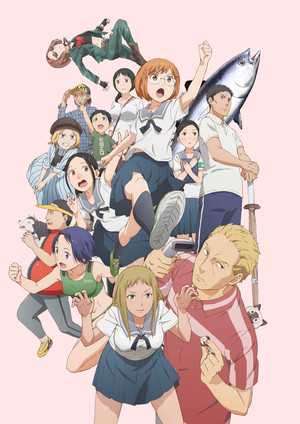 Premieres July 6, 2018

Key Staff
Director: Takayuki Inagaki

(Desert Punk (TV), My mental choices are completely interfering with my school romantic comedy (TV), Rosario + Vampire (TV))

Series Composition: Takayuki Inagaki

Character Design: Mayuko Matsumoto

(KanColle)







Introduction
High school first-year Chio Miyamo attends Sameshima Academy, an extremely ordinary school. Her motto of sorts is "to be below average." She's always tried to have a normal school life of not standing out, but for some reason, she encounters a variety of obstacles on her way to school.
Her childhood friend who seeks to escape from otaku-dom Manana Nonomura and top of the student body pecking order Yuki Hosokawa are just two of the individuals Chio will encounter, along with a number of nameless citizens as she attempts to commute. With her abundance of (useless) knowledge from hours of playing Western video games, will Chio be able to make it to school safely? It's time to commute!
Character Names & Descriptions
Chio Miyamo

Voice: Naomi Ōzora

A first-year high school student attending Sameshima Academy. She's a hardcore player of Western PC games. She hates to stand out, and her motto is "be less than average." Her physical strength is nothing to sneeze at.

Manana Nonomura

Voice: Chiaki Omigawa

Chio's childhood friend and a first-year high school student at Sameshima Academy. She's determined to escape being a nerd in order to become a normie. Despite their friendship, they always try to outdo one another.

Yuki Hosokawa

Voice: Kaede Hondo

Chio's classmate. She's cute, has a positive attitude, is pleasant, has lots of friends, and is the ace of the track team. Basically, she's the top of the top of the student body food chain.

Madoka Kushitori

Voice: Yō Taichi

A third-year high school student at Sameshima Academy and the president of the kabaddi club. She loves kabaddi​. Also, she has big boobs.

Mayuta Andō

Voice: Rikiya Koyama

A bosozoku member feared as a demon from the local rowdy youth. But when he bumps into Chio, he falls head over heels for her at first sight...!?

Gotō-sensei

Voice: Hiroki Takahashi

The teacher in charge of student guidance at Sameshima Academy. He stands at the school gates every morning and gives stern guidace (scolding) to all students that pass through.

Momo Shinozuka

Voice: Minori Suzuki

A second-year high school student at Sameshima Academy and a member of the public morals committee. She serves as the assistant to Mr. Goto who stands by his side every morning as he gives guidance to all the students passing by.
Cast
Chio Miyamo

Naomi Ōzora

Manana Nonomura

Chiaki Omigawa

Yuki Hosokawa

Kaede Hondo

Madoka Kushitori

Yō Taichi

Mayuta Andō

Rikiya Koyama

Gotō-sensei

Hiroki Takahashi

Momo Shinozuka

Minori Suzuki
Staff
Original Creator

Director / Series Composition

Takayuki Inagaki

Character Design

Mayuko Matsumoto

Animation Production

Produced by

Chio-chan's Production Partners

Opening Theme Song Performance by:

Naomi Ohzora as Chio Miyamo, Chiaki Omigawa as Manami Nonomura, Kaede Hondo as Yuki Hosokawa

Ending Theme Song Performance by:

Naomi Ohzora as Chio Miyamo, Chiaki Omigawa as Manami Nonomura
©2018 Tadataka Kawasaki/
KADOKAWA
/Chio's Production Committee
---
discuss this in the forum (5 posts)
|