Ninja Scroll Limited Edition Contest
August 20, 2003

Contest Winners:


Congratulations to all the winners of the Ninja Scroll TV DVD contest! We will be contacting you via e-mail shortly for your full name and your mailing address so we can put these great discs in the mail for you.

The 10 winners are, in no particular order: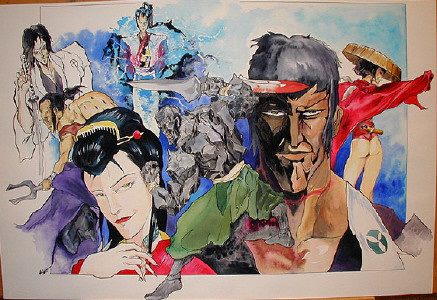 Lee Barber




Carl Greenblatt




John Ong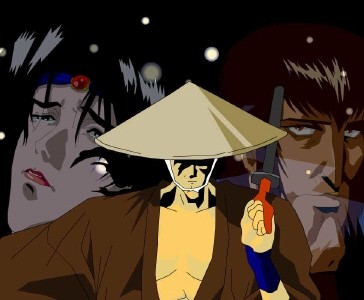 Mark McPherson




Cynthia Wang

Anthony Sutton
Josh Raines
Jonathan (?)
Danny Hui
Adam Reinart
Once again, congratulations! We enjoyed seeing your hard work!
=========================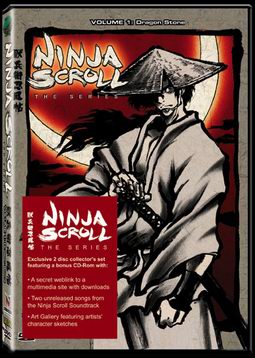 Anime News Network has been provided with ten copies of the upcoming limited edition Ninja Scroll release. This 2 Disc set contains the first volume of the Ninja Scroll TV series on DVD and a bonus CD-Rom with cool extras such as:
1) A secret web link to a multimedia site with downloads (the site will include wallpapers, desktop themes, and 30-second clips of songs from the soundtrack)
2) Two unreleased songs from the Ninja Scroll soundtrack
3) Art Gallery featuring artists' character sketches
In order to win a copy of this DVD, send us your Ninja Scroll Fan-Art.
You can find inspiration for fan-art from Urban Vision's Ninja Scroll Website at
Ninja-Scroll.com
.
From the submitted entries, our 5 favorite, and 5 random entries will be selected.
Submissions are due by August 31
st
, Winning entries will be announced on September 1
st
, and the prizes will be mailed out on September 1
st
as well (release date is September 2
nd
).
Please note
that due to reasons beyond Anime News Network's control, we received these DVDs later than expected. Contest winners should receive their prizes by September 30th.
The Fine Print: Anime News Network reserves the right to cancel this contest at any time (Unlikely to happen). Contest is open to any and all residents of the planet Earth and neighbour parallel dimensions, however prizes will only be shipped within the continental United States and Canada (So if you win, but you live in Antarctica, you have to arrange to have it sent to someone living in the appropriate area, and they can send it to you.) Contestant names, e-mail and mailing addresses will not be given out to any one and will be erased when the winners have been confirmed. Non-winners will not be contacted, spammed or harassed in any way. We reserve the right to retroactively add new rules when and how we see fit.
---