×
remind me tomorrow
remind me next week
never remind me
Subscribe to the ANN Newsletter • Wake up every Sunday to a curated list of ANN's most interesting posts of the week.
read more
Interview: The Staff of Welcome to the Ballroom
by Kevin Cirugeda,

Shortly before its first two episodes premiered at Anime Expo, we sat down with the staff behind this season's Welcome to the Ballroom, a visually ambitious action drama about the world of competitive dance. Animation Director Takahiro Chiba, Director Yoshimi Itazu, and Producer Tetsuya Kinoshita were excited to discuss how this project came to fruition.

ANN: What was your first personal reaction to the Welcome to the Ballroom manga? Did you read it first as a casual reader, or did you read it first as research for the project? What was your impression?

Itazu: I didn't actually know about this title. Ms. Matsushita, the producer from Production I.G, contacted me about it and that was the first time I'd heard of it. I felt like it was a really hot title.

Chiba: For me, it was also when Ms. Matsushita proposed the project, that was the first time I heard about the title, so I started reading it then. At first, I was worried about if we could really do that, but that was also like a trigger to realizing I had to try it for this project.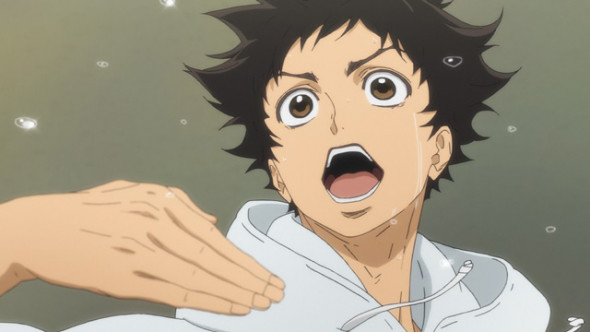 Kinoshita: I'm also in charge of Attack on Titan, Welcome to the Ballroom, and Yuki Yuna Is a Hero. I've been a really big fan of this comic for many years. I was looking for the right production company, so I went to many places, I talked to a computer graphics company and also an animation production company, saying it's about competitive dance. It's a really tough subject to express through hand-drawn animation or CG, so I could not find partners for a long time, but one guy working for Kodansha told me about an animation producer named Ms. Matsushita. She's also producing Haikyu!!, and she's so into that title and Welcome to the Ballroom, so that's why we're here.
That actually leads into my next question. This situation is similar in some ways to Yuri!!! on Ice, which was famously turned down a lot by a lot of different studios because of the super-complicated figure skating involved. I guess the ballroom dancing was the chief problem you had to solve before being able to produce the show for television?
Itazu: Of course, the dancing scenes are hand-drawn, so we had to find a person who can act as the head and manage all that. We found action animators who specialize in dancing scenes and just assigned two people to arrange all the stuff around that process.
This is the director's first TV anime, though you debuted as the director on Pigtails. Do you see yourself staying as a director or do you want to return to animation and character design work as well?
Itazu: Basically, you cannot continue to work if you don't get the offer to work as a director. If I'm satisfied with my work, I will for sure continue doing it.
Speaking of that debut, if things had gone differently, you would've been working on Satoshi Kon's final film, The Dreaming Machine. American fans in particular are obsessed with Satoshi Kon and that film. Do you have any anecdotes from your time working on that film? What was that like for you?
Itazu: Everything I'm able to do now, working on animation or even my opinion on movies and films, comes from what Mr. Kon taught me. So, still when I work nowadays, I often remember what Mr. Kon told me and taught me.
This team that you've assembled is very impressive, you're working with Shingo Takenaka as the main animator. You all have experience in television anime, but it also seems like this team would be exceptional at producing a feature. Do you feel restricted by working with this team on a television show?
Itazu: The team consists of mainly two parts, those who knew Matsushita and those I know from other works. Many of Matsushita's contacts draw the backgrounds and are excellent painters, so I care that this talent isn't given short shrift, that those precious pictures are featured. The people that I know personally, they capture scenes of realism. So if I want to express the feelings of characters or I want to capture dramatic moments, I rely on them. But it's not like they are stopping me or putting the brakes on what I want because it's television.

Speaking of the limitations of television anime, if you don't mind sharing: how far ahead are you on production for this show?
Itazu: We've mostly finished the scenario and we're done with half the layout.
For Takahiro Chiba, you worked as chief animation director on Haikyu!!, which is the same role you have on this production. The designs you're working with this time seem a lot more complex to supervise and crazy detailed than they were on Haikyu!! Did you notice a big difference, and was this show harder for you in that regard?
Chiba: Actually the character designs are the same in complexity, but the original work is totally different. In Haikyu!!, you don't have the sensual part to animate, that touch of eroticism. That's the kind of challenge we want to face.
Haikyu!!'s animation designs were also done by Takahiro Kishida. After working with his designs so much, do you feel like they're influencing your art?
Chiba: I myself believe I have been influenced by them, but I actually don't know how much it reaches you all. I believe I have my own style to draw, but it is heavily influenced. Actually, the beauty of Kishida's drawing are the several characteristic aspects he always has. His designs are simple, but sensitive and emotional, and I try to capture that too in my drawings. But I think you have to decide if this is successful.
Competitive dancing is a sport of constant movement, and we talked a little bit about the difficulty of animating this. Can you tell us about the solutions you used for animating complicated dancing sequences in a TV anime?
Chiba: As the director said, we have those great action animators who mainly manage this work. I just care for Mr. Kishida's will to create the image. For the dancing part, we used the choreography of professional dancers, just copy and draw the reference footage.
The manga is a little bit more like an action manga. The dancing is illustrated a lot more violently, not like a shoujo manga where there's sparkles and stuff. Did that illustrative style inform your decision to hire action animators?
Itazu: We care about the image of this boy. Normally, he's a nothing kind of guy, but when he starts dancing he's like the hot guy. We wanted to express the change between a useless boy and being that attractive dancer, to stress this difference and tease it out. Those scenes where there's a lot of movement have to be really clear, and the scenes where there's not much movement have to be very calm so that you have this stark difference.
For Mr. Kinoshita, you started as a production assistant at Production I.G and after joining Pony Canyon, you've been in charge of a lot of IG projects. Is that a coincidence or is that intentional?
Kinoshita: Intentional, intentional. Production I.G and Pony Canyon had never worked together before I came along. Basically, my boss and a Production I.G president had a meeting at my wedding party. So I used my wedding party.
Really? Congratulations.
Kinoshita: Yes, it's a start.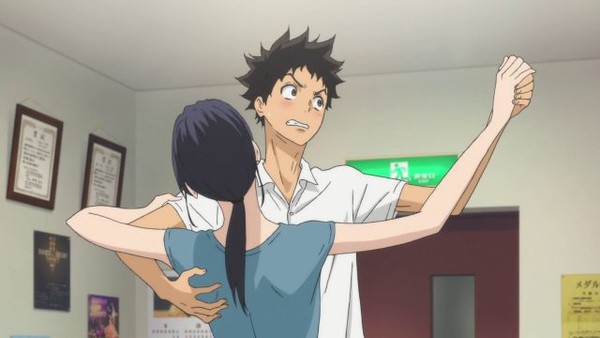 The biggest title you've ever produced is obviously Attack on Titan, which is a Kodansha manga just like this one, but they're published in different magazines. Do you think this has the potential to be anywhere as big as Attack on Titan was?
Kinoshita: Oh yeah, of course.
I like that, that's a good answer.
Thanks to Anime Expo and Pony Canyon for this opportunity.
---
discuss this in the forum (6 posts)
|