Interest

Figure Build Close-up: Super Saiyan 3 Son Goku, Kid Buu, and Perfect Cell

posted on by Lauren Orsini
Anime News Network's merchandise coverage sponsored by
Tokyo Otaku Mode
.

---
Figures are provided courtesy of Bluefin Distributors
Dragon Ball Z has given us some of the most iconic character designs in anime. Transformed into action figures, they're instantly recognizable.
This week, I built three of the latest versions of Dragon Ball Z model kits, all from the Figure-rise Standard collection. Bandai Japan released this line in 2016 to improve on the articulation and detail of existing Dragon Ball Z figures.
Based on my experience, the Figure-rise Standard lives up to its name by standardizing DBZ models. Each one came with accessories that were interchangeable among all three figures. And all of them work with existing Bandai accessories, like action stands. (And later, it turned out I really needed that to be the case!)

You can tell by the boxes that Kid Buu is the smallest and simplest model, but other than that the packaging is very standardized. It indicates that they are all roughly the same difficulty and scale. The Goku and Cell boxes even came with the exact same energy ball accessories.

I used fewer tools for these builds than for Vegeta's Saiyan Space Pod. Since they're already very colorful and detailed, I didn't see any opportunities for panel lining.

I did need my trusty tweezers though. The stickers were small and not very sticky, so I'm glad I didn't use my fingertips, which have oil on them that would have made them stick even less. In this photo, I'm applying the tongue sticker to Goku's face.

The faces were especially impressive. I snapped together green and white behind a realistic facial mask, and the difference is striking. I think it's the distance between the white and green parts that adds so much dimension to the eyes.

Goku's hair was made out of a harder plastic than the rest of the kit, and it was extremely pointy and sharp to the touch. You can see the hairline isn't quite matched up because it was just so painful to keep handling this porcupine of a head to adjust.

The color and detail on Goku's clothing is incredible. You can see I got him to stand on his own two feet here, but not without a lot of effort.

Kid Buu was even more difficult to pose; a little bit front heavy so he kept falling forward. That explains the awkward pose I used here!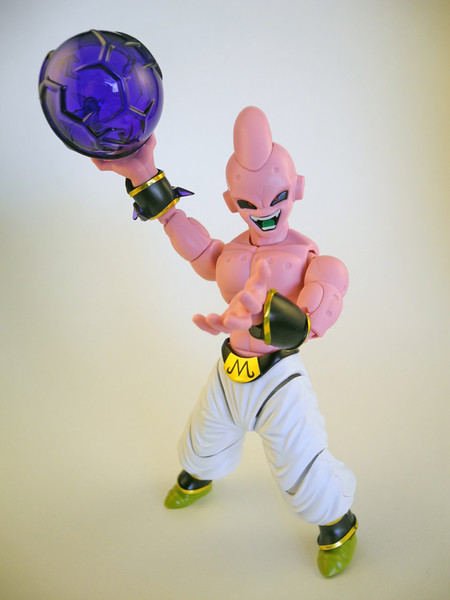 His energy ball actually works as a sort of balancer. He stands up much more easily with it attached to his wrist.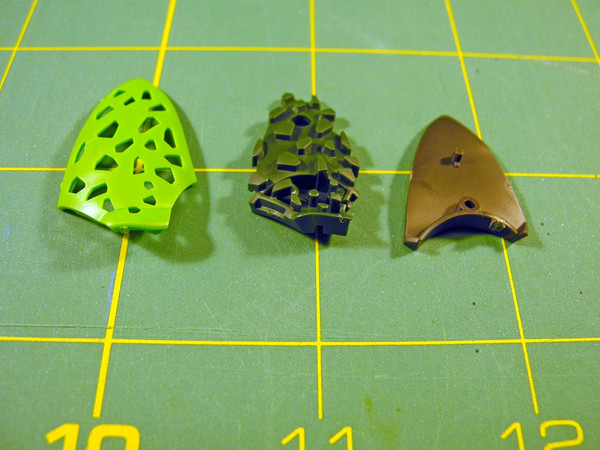 Hands down, my favorite of the three kits was Cell. Look at the texture on these pieces! Sure, I had to assemble three pieces every time I wanted to build one thing, but it paid off.

I mean, look at this exceptional detail. The molding is matched to the millimeter, so even something as complicated as the dark green texture snaps right in place.

Once again, the face is the best part. If you look closely, you'll see that Cell's pupils aren't just two red dots: the tips of the red pegs are at a sloped incline that's further back on top and closer to the front on the bottom. It adds depth to his gaze so he looks alive—and creepy!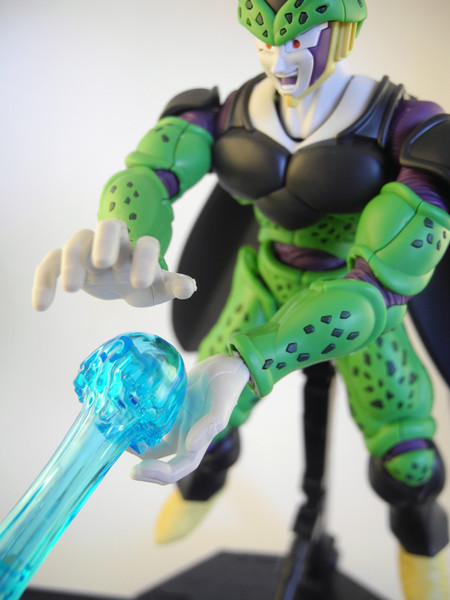 I could only get Cell to stand up by leaning him back on his own heavy wings, but the Figure-rise Standard collection works with any Bandai stand, sold separately. I just happened to have Bandai's Master Grade Gundam stand lying around, so I put him on that. He's a little tall for his Kamehameha, which I had to lean upwards, but otherwise fits and poses on it perfectly. (The kit instructions recommend the shorter High Grade Gundam stand for all three for a better fit.)
I was especially impressed with the texture on each kit's molding. From the sculpt of the face to the ripples in soft clothing, I was amazed at how much detail Bandai packed into 6" of figure. The intricacy of the finished product far outweighed any other quality, like the fact that I had a lot of trouble getting the kits to stand up on their own. These kits are gorgeous, but my recommendation if you get them? If you don't want these guys to fall over, invest in a stand.
---